I've noticed two things about the ad game. First, we're a business that - on the surface - changes and moves at a fast pace. As new technologies emerge brands are rightly inclined to ride the wave presented by each trend, thereby evolving their businesses against a changed fitness landscape. Some of these are big waves whereas others are smaller.
Yet - Second - as the waves break there are some steady truths that underlie the business that we're in: the need for scale, the significance of insights in gaining advantage, the importance of creativity and imagination. After all, humans are the constant in a world of changing technology.
As function of both of these dynamics, we're in an industry that is occupied with cracking the code: "How do I apply this tech?" "What's the insight?" "How did they do that?" "What is their secret sauce?"
And the truth is, the really good sauce, the super secret stuff, is often in our blind spots. The things that don't know that you don't know are often the most transformative. A recent article by the Fast Company points to the significance of seemingly random events as the birthplace of many category-changing companies, and the premise of Peter Thiel's book Zero to One is that all big companies should have a secret at their core. So, given the value of what we don't know, the question is: How can we improve our diets to include a bit more serendipity?
Ironically, there is a way you can plan for this. Introducing "unconferencing".
This is something introduced to me at WPP's Stream event, which has become an annual pilgrimage for me and many others, and it was originally conceived by Tim O'Reilly with Foo Camp. Before I share some of the nuggets this year's Stream event, here's a simplistic guide to how it works...
INGREDIENTS
Interesting people
Chairs
Whiteboards
Pens
Wine (optional, but recommended)
Sunshine (optional, but unreliable)
BASIC RECIPE
Lead a discussion...
Approach the whiteboard with the blank agenda (only showing room names and times)
Take a white marker and write down in a free slot on the agenda the headline for a topic that personally interests you
Go to your discussion at the right time/place and meet a bunch of cool and interesting people (between 7-30 people)
Kick things off for 10 mins (no slides!) and then give it to the floor
Drink some wine
Take part in a discussion
Approach the whiteboard with your personal agenda
Choose the discussions that turns you on that you would like to attend (they vary from "The future of (un)education", "Teen Girl Enthusiasts" and "The Internet is Changing in Africa!"). Follow your nose and nourish your interests.
Write the time and location in your agenda
Don't merely listen in, but also provide your perspective and expertise
Drink some wine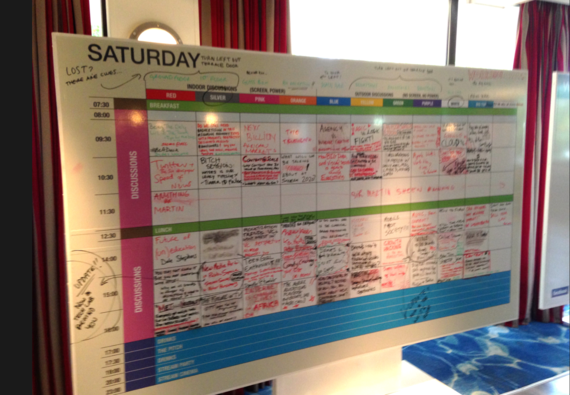 Here are some examples of what I took away from Stream this year...
New channels provide value beyond their reach
In a discussion led by David Roter at Twitter and Amber Lee from Visual Country, we discovered how the inherent constraints in working with Vine and Twitter offer amazing organizational and creative stress tests for brands; these channels have merit beyond their reach. We discussed whether there was a need for these channels to try and provide standard formats in an age of such diversity, and the conclusion seemed to be "YES".
The new toolset provided by digital influence practices is having a positive impact on how we approach traditional celebrity relationships
With Claire Holden and Candace Kuss from Hill & Knowlton, we touched on how the new techniques that have been developed for working with new-gen talent can be applied to more traditional celebrity engagements. YouTuber Alexis G Zall emphasized that brands need to learn how to hand over more control to these new influencers to be successful.
Media companies need to explore new revenue streams, including content creation and retail, to continue to grow their revenues
In a discussion led by Evan Orensten from Cool Hunting and Nick Hodulik from GoPro and Eric Kuhn from Layer3 TV entitled "Music, Porn... Content?", we debated whether media companies will go the same way as the music and porn industries in their struggle to monetize what they do. We considered that some of the bigger media companies will likely become key players in the content creation game, and that the biggest of the bunch could become "go to" providers in their categories (e.g. VICE = Millennials).
INTREPRENERUSHIP means having skin in the game I proposed a discussion about making "intrepreneurship" a reality in companies. We concluded it is important to go beyond talking about it and turn to the organizational structures that underpin the business. Sir Martin Sorrell emphasized the need for employees to have skin in the game if we're to expect them to have the level of accountability seen in entrepreneurs (which would require new remuneration approaches for some companies).
The variety of perspectives and the amount of progress you can make in a relatively short time, using this format, is impressive. And while it isn't a guaranteed way to get hold of the secrets we need in business to gain advantage, it's a great place to start.
NB. Although Stream is an invite-only event, they have a wild card competition each year offering four places based on merit. I look forward to seeing you there!
Calling all HuffPost superfans!
Sign up for membership to become a founding member and help shape HuffPost's next chapter