Vogue contributing editor Andre Leon Talley was in Washington last night to promote his new book about Oscar de la Renta, a fitting place as the late designer was a first lady favorite, and counted Henry Kissinger among his eclectic circle of friends.
A protégé and confidante of de la Renta since 1974, Andre recalled being at his atelier one winter morning doing research for a Vogue story.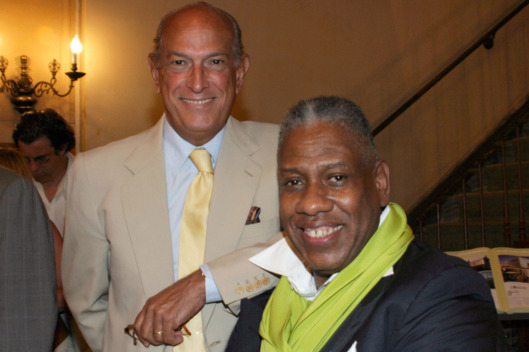 De la Renta very coyly asked Andre if he wanted to meet "a very nice lady" who also happened to be quietly "working" there that day.
"I asked him who it was and he said it was Laura Bush," explained Andre, who declined the invitation, a decision he now regrets.
"I was wearing a track suit under a big coat. I didn't want to meet the first lady wearing a track suit," he joked at a reception and book signing in his honor at the Smithsonian's Freer Gallery of Art.
The discussion was moderated by The Washington Post's Robin Givhan.
Laura Bush's affinity for Oscar began at the beginning of her husband's first term and culminated when she glowed in an embroidered cashmere coat dress to the second Bush inauguration in January 2005, the same month she appeared in Vogue wearing an Oscar silk shirtwaist evening dress.
Last year the George W. Bush Presidential Center launched a retrospective exhibition of de la Renta's relationship with first families, which included selections from the tenures of Nancy Reagan and Hillary Clinton, and the wedding gown he made for Jenna Bush Hager's nuptials.
Potential "first daughter" Ivanka Trump pulled out all the glamour stops in Oscar green silk brocade at the Met Ball in May 2014, and Chelsea Clinton has sashayed her way through New York society thanks to the house of de la Renta.
When her mother made her historic appearance on the cover of Vogue in 1998, she was radiant in Oscar ruby red silk velvet. ( Hillary's loyal aide, Huma Abedin, was equally luminous when she wore an Oscar gown for her wedding in 2010.)
De la Renta's rapport with political types worked so well, because he was the kind of designer who preferred dialogues, Andre said, owing to Oscar's time working under Balenciaga during an age when designers had long and substantive consultations with clients.
Fashion houses today simply send sketches and samples to the White House, hoping for interest.
"Oscar very much believed in the fitting where he could focus on what would work for the woman's figure."
Although he was a model of "impeccability," as Andre put it, de la Renta wasn't afraid to speak out when he thought a first lady stepped out of line.
Oscar famously criticized Michelle Obama for wearing a cardigan to meet Queen Elizabeth, but ever the gent, later apologized for any offense.
De la Renta's legacy, for first ladies and averages janes, is perhaps best summed up in a letter Laura Bush sent to be read at last night's event: "He made women look and feel beautiful."
*** "Oscar de la Renta: His Legendary World of Style" by Andre Leon Talley, Skira Rizzoli.