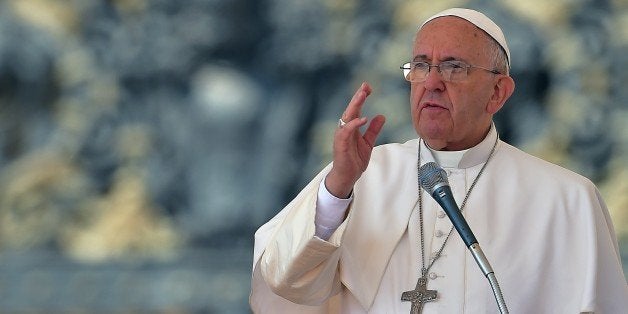 It's been quite the honeymoon. Not too long after Pope Francis succeeded Benedict XVI in March 2013 to become the new head of the Vatican, reporters, pundits and even comedians began to sing his praises. Why, exactly?
But, as the old saying goes, talk is cheap. Pope Francis can present himself as a more compassionate pontiff all he wants. With over 40 years experience working within the stubbornly Conservative Catholic Church, the 78-year-old is no liberal. The reality is he is quite content maintaining the status quo.
Let's start with LGBT rights.
Back when he was the Archbishop of Buenos Aires in his native Argentina, the former Jorge Bergoglio often butted heads with the government. In 2010, as legislators were debating the idea of legalizing same-sex marriage, Mr. Enlightened had this to say about it:
In the coming weeks, the Argentine people will face a situation whose outcome can seriously harm the family... At stake is the identity and survival of the family: father, mother and children. At stake are the lives of many children who will be discriminated against in advance, and deprived of their human development given by a father and a mother and willed by God. At stake is the total rejection of God's law engraved in our hearts.

Let us not be naive: this is not simply a political struggle, but it is an attempt to destroy God's plan. It is not just a bill (a mere instrument) but a 'move' of the father of lies [aka the devil] who seeks to confuse and deceive the children of God.

I invoke the Lord to send his Spirit on senators who will be voting, that they do not act in error or out of expediency, but according to what the natural law and the law of God shows them... We remember what God said to his people in a moment of great anguish: 'This war is not yours, but God's': defend us, then, in this war of God.
Bergoglio's ignorant, paranoid comments (not to mention his desperate prayer) fell on deaf ears. Argentina became the first Latin American country to officially recognize same-sex marriages that same year.
Since he became Pope Francis his views have remain unchanged. As recently as this past January, he told an audience in Manila, "The family is threatened by growing efforts on the part of some to redefine the very institution of marriage. These realities are increasingly under attack from powerful forces which threaten to disfigure God's plan for creation... Every threat to the family is a threat to society itself."
That same month according to Reuters, during an impromptu speech on a plane in front of journalists, "He told of an education minister he once knew who was offered loans to build schools for the poor, but on condition their libraries stocked a book on gender theory, the questioning of traditional male and female roles."
According to Reuters, without a hint of irony, he said, "This is ideological colonization. They colonize people with ideas that try to change mentalities or structures... But this is not new. This was done by the dictatorships of the last century." Reporter Philip Pullella notes that Francis was "citing the Hitler Youth and Balilla, its Italian equivalent under Fascist dictator Benito Mussolini." How progressive.
The very next month, he threw his support behind an unnecessary referendum in Slovakia that proposed "strengthening" the already existing bans on gay marriage and gay couples adopting children. The needless measure failed thanks to very low voter turnout.
Like his discredited views on homosexuality and gender roles, The Pope's views on women and reproductive rights are also out of step with modern times.
Besides being firmly anti-contraception, he is adamantly anti-abortion to the point of cruelty. Despite publicly asserting that the Vatican "obsesses" too much about this legal medical procedure, he continues to speak out against it. Consider this comment he made in 2013:
"Each child who is unborn, but is unjustly condemned to be aborted, bears the face of Jesus Christ, bears the face of the Lord, who, even before he was born, and then as soon as he was born, experienced the rejection of the world."
Actually, each child has the face of their biological parents but I digress.
Francis has also referred to abortion as an evil product of "throw-away culture" and believes that "Not to allow the further development of a being which already has all the genetic code of a human being is not ethical. The right to life is the first among human rights. To abort a child is to kill someone who cannot defend himself."
Tell that to the estimated 32,000 rape victims who get pregnant every year. I mean is it so terrible to not want to bring into the world a living reminder of your trauma? According to Mr. Open-Minded, it is.
Also unacceptable to the Holy See is artificial birth control. According to Reuters, "The Church approves only natural methods of birth control, principally abstinence from sex during a woman's fertile period." That being said, don't have too many kids. That's not "responsible parenthood". But don't be childless, either. That's "a selfish choice". "Infallible" Popes excluded, of course.
Recently, it was reported that Francis is offering to "pardon" women who have abortions as well as the professional caregivers who practice the procedure through intermediary priests known as "missionaries of mercy". As HuffPo's Carol Kuruvilla noted in reference to a statistic from a Guttmacher Institute report, "Catholic women have abortions at the same rate as all American women." And Catholics remain deeply divided on the issue: 46 percent in favor, 47 percent opposed. How many women who have undergone the procedure are looking forward to being paternalistically forgiven by these celibate male "missionaries of mercy"?
Which brings us to the subject of female ordination. In 2013, during a long interview with America Magazine, the pontiff was asked about the role of women in the church. This is how he started:
I am wary of a solution that can be reduced to a kind of 'female machismo,' because a woman has a different make-up than a man. But what I hear about the role of women is often inspired by an ideology of machismo.
As far as the ordination of women, the Church has already spoken out and the answer is no. John Paul II made the Church's stance definitive. The door is closed.
Despite recently speaking out against the low wages women receive compared to men, as you can plainly see he is far from a feminist. In his concretely conservative mind, women are "special", not "equal". As for members of the LGBT community, they're in the same boat. Until their sexuality is no longer considered "disordered" and "a sin against God" by a man who "stands firm" on "the discipline of celibacy" for male-only priests, the Pope's friendly overtures will remain empty pandering.
And considering what happened to former Australian priest Greg Reynolds, the idea of this Pope embracing any kind of significant reform is truly laughable.
So stop calling him "progressive" already.
Popular in the Community