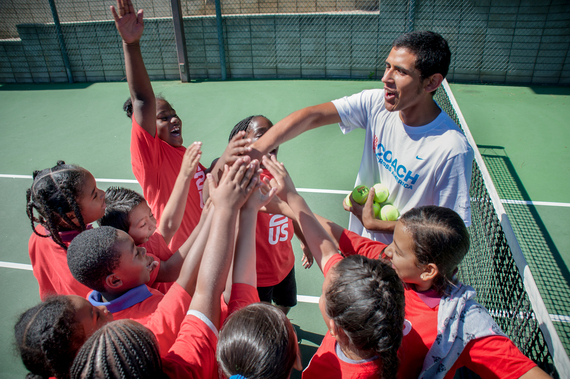 Youth sports are in desperate need of reform. Less and less kids are playing sports in America and kids from disadvantaged economic backgrounds are seeing their sports programs cut entirely. This is not just an issue of the decline of one our great pastimes, it is the loss of one of most effective tools for developing essential life skills in young people in this country.
I have spent my life not only calling for reform, but also implementing tools to carry out this reform. I launched Up2Us Sports in 2010 to train coaches on how to use sports to inspire success among youth. This means teaching coaches how they can impact health, violence and academic success using just a golf club or a tennis racket, a hockey stick or a soccer ball. In the poorest neighborhoods in this country, I also hire and train local adults as coaches to use sports to address issues of poverty. After all, kids who play sports are more likely to perform better in school and succeed in the future workplace. A recent evaluation of Up2Us Sports shows that the dollars invested in training coaches potentially saves society millions of dollars in costs associated with treating chronic diseases and/or incarcerating our youth. Both issues are preventable when youth have teams to belong to that inspire exercise and discipline.
Having spent my career in sports-based youth development, the most difficult part of my job is convincing donors that funding sports is not frivolous. It is a solution to violence prevention, health education and academic outcomes. But with a board member like the Pope, my job might just be easier.
If you haven't heard, the Pope recently gave a speech to the Pontifical Council for the Laity calling for reform in youth sports. He said that overemphasis on competitive sports have derailed the potential of sports to help lift children out of poverty. He said that training coaches is key to helping sports achieve its potential for all youth, but particularly those youth in disadvantaged communities. And he urged adults to reform youth sports so that it can be the solution that Up2us Sports envisions it to be. Okay, he didn't say "Up2Us Sports" by name but I'm sure if he knew about us he would have. And I'm sure if he read my recommendations for advancing the sports-based youth development movement, he might have included them in his pontifical lecture as well.
So Pope Francis, please consider this a standing invitation to be my Board Member. I'll schedule our first meeting during your trip to America. I'll have 3,000 trained Up2Us Sports coaches there to greet you to show that the reform you call for is underway.
And, I'll start the meeting with a prayer: that more people heed the cry for reform before more kids lose this invaluable platform to develop into healthy and contributing adults.
Calling all HuffPost superfans!
Sign up for membership to become a founding member and help shape HuffPost's next chapter