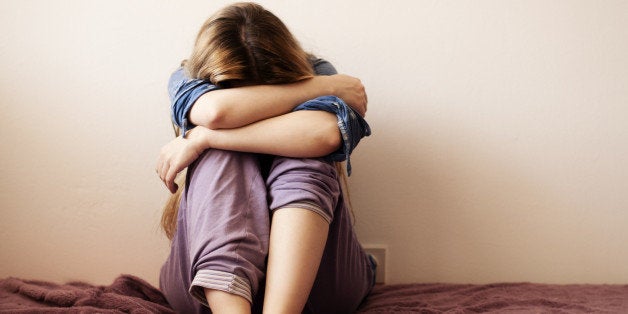 A little over two years ago, I gave birth to a beautiful, perfectly healthy baby girl. I had a smooth, uncomplicated delivery and was immediately enthralled with my daughter. Everything about her -- from her little button nose to her ridiculously tiny fingernails -- was absolute perfection. That said, the first six weeks were the closest thing to torture I've ever endured: zero sleep, a stitched up vagina, and no mental capacity to do anything more complicated than brushing my teeth.
What was all this nonsense about childbirth "being totally worth it"?! I'm kidding. Sort of.
After those first grueling weeks, which I endured like a champ, I was hit with postpartum depression seemingly out of nowhere. Right as I was sliding into a comfort zone as a new mother and gaining confidence that one day soon I'd be able to hold an adult conversation again, the proverbial rug was yanked out from underneath me.
I spent countless hours sobbing, I couldn't eat, suffered from insomnia, and was convinced my life was over. I felt like a terrible mother -- I have this gorgeous, happy and healthy little human being and I couldn't stop crying or screaming at my husband long enough to appreciate my good fortune.
I was crumbling on the inside and, like an out of body experience, was watching myself push loved ones away in the midst of uncontrollable outbursts.
It took weeks of urging from my husband, parents and friends before I relented and sought professional help. Today, I question why I waited. It boils down to one word: stigma. Women are supposed to love motherhood and embrace it with an almost unspeakable enthusiasm.
So what was wrong with me?
I've spent way too much time pulling at that thread, and while doing so, realized that the stigma associated with postpartum depression is not unlike that of other "women's" issues: rape, abortion, domestic violence. Each of these involves complex emotions and they are, statistically speaking, widely shared experiences. However, they are also largely shrouded in silence, with expectations of guilt and shame. The feminist community has rallied around rape and domestic violence victims and has worked tirelessly to eliminate stigma surrounding abortion. And while postpartum depression is a complicated multi-layered issue, its feminist component is coming into sharper focus by the day.
By definition, postpartum depression is entwined with motherhood, which itself is extremely politicized and scrutinized: from how and where a woman gives birth, to whether and how long she breastfeeds, to her decision to stay at home or work, etc. It's an issue that the feminist community has become increasingly vocal about.
So why the silence around postpartum depression?
Postpartum depression is deserving of attention and action from multiple communities, including the feminist community. We need to raise our voices to increase public awareness of the issue, so that women do not feel stigmatized, and demand availability and access to support services. While it is experienced exclusively by women, postpartum depression has a ripple effect; and unless it's addressed on a large scale, women and their families will continue to suffer in silence.
I firmly believe that speaking out about an issue is the first step in erasing its stigma. So this is me, speaking out and sharing my story, albeit a very abbreviated version.
Related