When you think public relations (PR), do you think social media or vice versa?
PR creates a two-way communication between an organisation and the people it wants to influence. Guess what social media does? Exactly the same thing!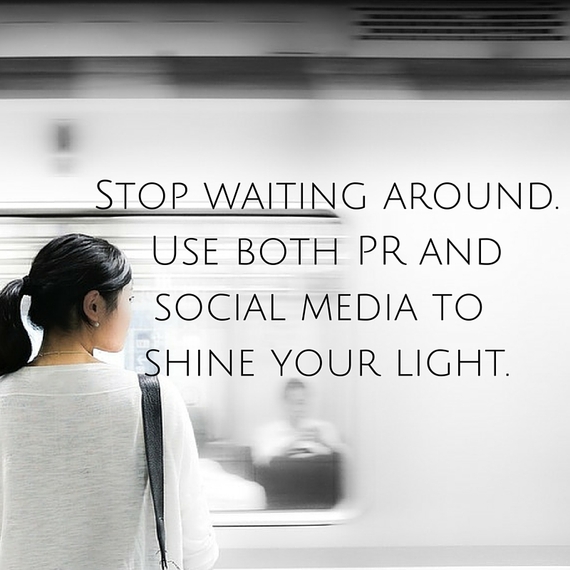 With more and more people on social media, it has become very difficult for businesses to ignore it. But have you thought about combining your PR and social media?
Why is it so powerful?
With PR, the media's representation of a story can significantly impact public opinion about an organisation, product or even a person. Editorial has a high credibility factor as it is seen as objective and endorsed by the publication.
With social media, you are developing relationships with huge numbers of people directly - often they feel that this relationship is one-on-one. It is a much quicker, more direct route of communication to a targeted audience who have chosen to engage with your brand on social media.
Where do you start with PR and social media?
You start with your story. Everyone has a story. So think about what stories you or your business has to tell. You can use the same stories across PR and social media - you just use different channels.
For example, for a specific story, using PR you might write a media release, but with social media you might write a blog post.
One technique for developing story ideas is to note which questions are commonly asked by customers and use these ideas to write a trends-based article. Don't forget you can also announce new products/services, new contract wins and new store openings.
Storytelling is a constant effort. Be strategic and plan your stories and the mediums you will use to tell them.
Key PR tactics
The most well known PR tactic is a media release, but there are other equally effective ways of telling your stories to your target audiences.
A media pitch is a targeted story idea (or media angle) that you "pitch" to a specific journalist in a publication or TV show that you know relates specifically to their readers or viewers.
Speaking engagements are an important aspect of building profile and credibility. They are a cost effective way of reaching large, influential audiences and positioning you as an expert within your industry.
Contributed articles also position you as an expert. Write articles on your area of expertise and pitch them to both print and online media.
Social media channels
While there are hundreds of social media channels, some key ones to consider are blogs, Twitter, Facebook, YouTube and LinkedIn.
Think about how you can place your story in each of the channels - not all will suit every story or audience. Just because your competitor is using Twitter, doesn't mean you need to.
Think carefully about your audiences, messages, stories and available time to keep them up to date.
Leveraging PR with social media
Getting media coverage is great, but by using social media you can boost the number of people who see the story in the media and further demonstrate your credibility and expertise.
Make sure any media coverage is posted to your social media channels (especially any online stories). You may also want to draft a short blog post or article for your website mentioning the story and the key points you made. Be mindful of copyright restrictions though.
PR and social media shouldn't be kept in separate silos but can be used together to strengthen communications and relationships with your target audiences.
About the author
Catriona Pollard is the author of From Unknown To Expert, a step by step framework designed to help entrepreneurs develop effective PR and social media strategies to become recognised as influencers in their field. www.unknowntoexpert.com
Catriona is also the director of CP Communications, which merges traditional PR tactics with cutting-edge social media strategies that engage consumers as well as business. www.cpcommunications.com.au
Support HuffPost
The Stakes Have Never Been Higher
Related
Popular in the Community