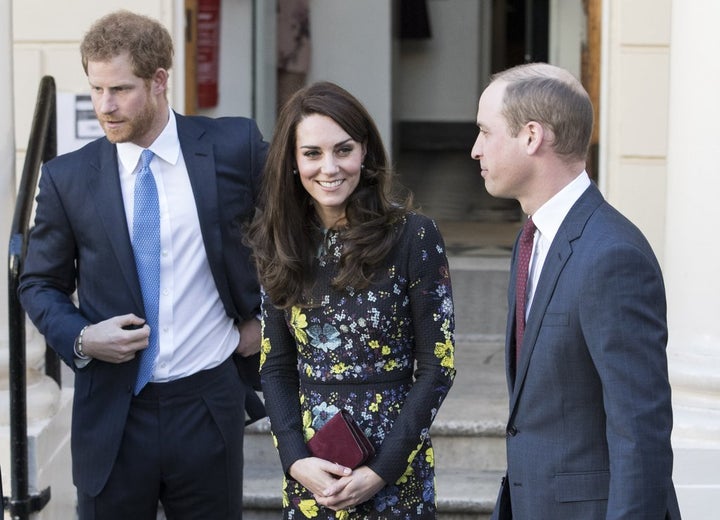 As an American, I think it's safe to say we're pretty obsessed with the British royal family. We're constantly approximating our own domestic alternatives ― is it the Kardashians? ― and follow their every move with nothing short of total adulation. I remember getting up early on a school day just to watch the wedding of William and Kate. It felt like we were just as thrilled for the couple as their actual subjects. And let's not forget about the popularity of series like The Crown and The Royals, which earn popular and critical support.
While William and Kate have managed to secure the image of the lovely, charming British aristocracy we're accustomed to, Prince Harry has always been a bit of a wild card. While his mother Diana was certainly known for her fair share of press attention, Harry has resembled his aunt the Duchess of York (Fergie) in the tabloid headlines that border on salaciousness. Who can forget the myriad "crown jewel" puns that were plastered across gossip magazines after he was photographed in the buff on a wild vacation in Las Vegas?
Now 32 years old, Harry seems to have quieted down. Perhaps it was the buzz over William and Kate's adorable children, George and Charlotte, but Harry largely dropped off of my radar. There was a bit of attention as to his relationship with Suits actress Meghan Markle, but that was by and large forgotten.
Imagine my surprise, then, when I came across an article in The Telegraph where Harry candidly talked about his struggles with his mental health. Following the death of his mother Diana when he was just 12 years old, the prince said he "shut down all his emotions." The result was almost two decades of a life closed off to others, trying to suppress the deep and profound grief he felt over his monumental loss. He went on to say "I have probably been very close to a complete breakdown on numerous occasions when all sorts of grief and sort of lies and misconceptions and everything are coming to you from every angle," and even admitted that he's been to therapy.
That might not seem like much, but the Prince's disclosure of his struggles with grief is monumentally important not just for the image of the royal family, but for men in the United Kingdom and abroad. The American Foundation for Suicide Prevention says that men are three and a half times more likely to commit suicide than women. Although women are more likely to attempt suicide, their male counterparts are more likely to be successful. An article in UK news outlet The Guardian cited a study which found that 28 percent of men who experienced some sort of mental health struggle didn't seek help. While women are more likely to be diagnosed with depression, often as a gendered "catch-all" diagnosis, they're managing to get into doctor's offices. Men are so afraid of the stigma and so ill equipped to handle the burden that they don't even make it that far.
There is immense power in having the man who is third in line for the throne of England admit that he's gone to see a psychologist. The "stiff upper lip" mentality and "Keep Calm and Carry On" mantra of British life have historically been maintained by the aristocracy and specifically the royal family. A quick view of The Queen with Helen Mirren reveals the traditional philosophy of emotions ― you deal with them quietly and in private. With this declaration, Harry has broken down barriers that have lasted centuries. No more are royals afraid to admit that they're vulnerable and have insecurities ― and that could very well ripple down to the general public.
When public figures or popular television shows bring up sensitive issues, it sends a message to the public that it's okay to get help. I'm hopeful that many men across the world will follow the example of Prince Harry ― a man who served his country in the military, and who, for all intents and purposes, is the epitome of machismo ― and reach out for support. Whether it's grief, unresolved trauma, depression, or even suicidal ideations, we as men need to break down the stigma around mental health. Prince Harry's revelation today is one huge crack in that wall ― and with any luck, the first of many more to come.
For more information on Prince Harry's and the Duke and Duchess of Cambridge's charity "Heads Together," visit their website at https://www.headstogether.org.uk/. If you're feeling depressed or suicidal, call the National Suicide Prevention Lifeline at +1 800-273-8255.