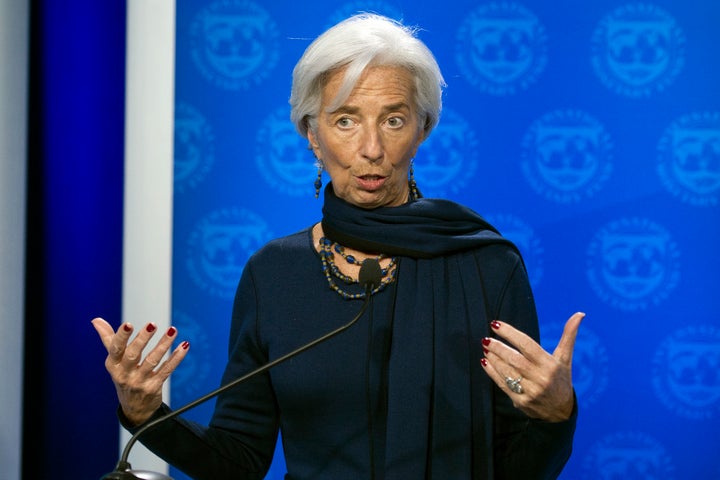 The refugee crisis in Europe might end up being a positive force for the largely stagnant European economy.
Refugees could prove especially valuable in Germany. Chancellor Angela Merkel has said publicly that the country is ready to welcome the estimated 800,000 refugees who will arrive this year (although unofficial estimates have now climbed to as many as 1.5 million people). While the influx is currently overwhelming German authorities, the country desperately needs more young workers to patch a big demographic hole in its population.
Here's a snippet from Isaac Chotiner's Q&A with Lagarde for Highline:
IC: Speaking of things that may not immediately seem like they are in the IMF's purview: the refugees in Europe. How have you been involved in the issue?

CL: I will give you an example. We have a program in place with Jordan. Jordan has increased its population by 25 percent by welcoming refugees from Syria. Their fiscal consolidation program was completely changed so the Jordanians could cope with the flow of refugees. The second thing that we are doing, and hopefully it will help the Europeans, is some analytical work on the economic impact of migrations and the ways in which refugees are either welcomed or not, and how much that can help countries where the aging of the population is becoming a big economic issue.

IC: The Germans seem to think this could be an opportunity in some way.

CL: They are right.

IC: You do think they are right?

CL: I don't want to prejudge because they have not done the analytical work, but I would bet that if the influx is well-managed, yes, it is bound to be a positive in a society which is aging and which has the fiscal space to accommodate it.
The simple economics of this is: More people equals more workers, and that grows the economy. In the short term it will probably cost money for Germany and other European countries accepting a lot of refugees and migrants, but this is a net positive since those people are likely to become permanent residents and workers.
According to a story in Deutsche Welle from 2014, Germany will soon face a shortage of as many as 1.5 million skilled workers. Sure not all of the refugees will be skilled workers, but some of them will be, and others can be trained.
Currently, foreigners pay far more taxes in Germany than they take out in benefits, according to a separate Deutsche Welle story:
A study by the Center for European Economic Research (ZEW), commissioned by Germany's Bertelsmann Foundation, shows that in 2012, the roughly 6.6 million foreigners living in Germany paid 22 billion euros more in taxes that year than the total sum of allowances they had been given, such as funds for training, education, social security or benefits.
Obviously refugees need help in the short term, but this move is likely to have a long-term benefit for everyone in Germany.
Popular in the Community