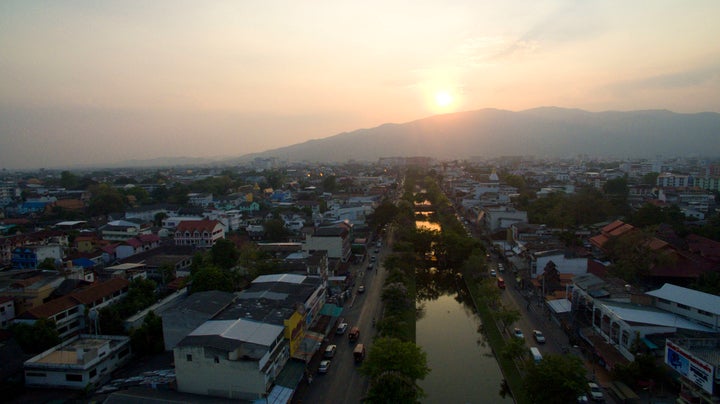 On a typical morning in Chiang Mai, Thailand, Marie Frederickson wakes up to the sound of temple bells marking the call for Buddhist monks to begin their daily meditation and prayer. This ritual is one of those cultural traditions that Frederickson, a Boston native who's lived as a semi-retired expat in Thailand for the last 15 years, doesn't take for granted.
"I fell in love with the place. The people, the food, the crafts, the landscape. Just about everything," she said. The view of rice fields, chickens, cows and the occasional water buffalo meandering by the kitchen window of her traditional Lanna (northern Thai) style home don't hurt either, she said.
At 73, Frederickson, a self-described "very, very active retired lady," decided to move to Thailand after a visit with her youngest brother and his wife left her "hooked." Today, Frederickson stays busy the way most retired people do: Reading, gardening, painting and cooking. She also volunteers with the local theater group and works as a promoter and online marketer for her housemate's company Best Tuk Tuk Tours.
Chiang Mai, nicknamed the 'Rose of the North,' is widely considered the country's cultural and spiritual heart. With no shortage of things to do, between its abundance of beautiful temples, charming riverside cafés and contingent of retired expats along with newly developed shopping malls replete with multiplexes and artisanal coffee shops, Chiang Mai has seen a steady rise in it retired expat community over the years.
"If you're going there just to retire, Chiang Mai is a really great place to do that," Steven LePoidevin, a Canadian expat and former Chiang Mai resident, said. "People go to Thailand, whether it's Bangkok or the islands for a number of reasons, but Chiang Mai in particular because there are so many other expats. And the cost of living is probably one of the cheapest in the world."
"You can live in Chiang Mai and still be living in the States basically," Mr. LePoidevin, who lived there for three years until recently with his wife, Nancy, said. "Most people I've talked to say they want to move to a place where there's a built-in community and a big number of expats already. Chiang Mai is the perfect place for that."
While the exact number of expats is unknown, the Chiang Mai Expats Living Guide estimates that around 40,000 documented expats live Chiang Mai, a figure LePoidevin said is definitely underreported. "You're looking at 40,000 expats and some people say there could be as many as 60,000 or even more because there are a lot of people there that are living off the grid. Of that 40,000 the biggest group there is still Americans and a lot of that is retirees," he said.
LePoidevin said while there's an eclectic mix of nationalities, Australians, North Americans and the U.K., are among the highest represented areas.
The Chiang Mai Expats Club (CEC) which hosts monthly meetups such as coffee mornings, brunch outings and outside group activities, is the "glue that holds many of the retired expats together," LePoidevin says. The fact that Thailand celebrates all of the American holidays including Christmas and New Years also make the transition much easier.
"The longer you live in these other countries, the more you realize how screwed over North Americans are," Mr. LePoidevin said. "I mean you can rent a really nice condo in downtown Chiang Mai for $500 or $600 dollars a month in a city of one million with five modern malls and a modern cinema across the street and great restaurants. You can't get that anywhere in the States anywhere in the downtown area."
For Marie Frederickson, her home in Chiang Mai is one she said she "never wants to leave."
"After almost 15 years I still haven't seen it all,' Frederickson said. "I love the local people. Their smiles, legends, superstitions and sense of family and generosity. The list can go on and on."
Michelle Gross is a Jersey City based travel, food and culture reporter. Her work has been featured in Vogue, Travel+Leisure, Food&Wine and Men's Journal. Please follow her on Instagram and Twitter @mtothegnyc
Related