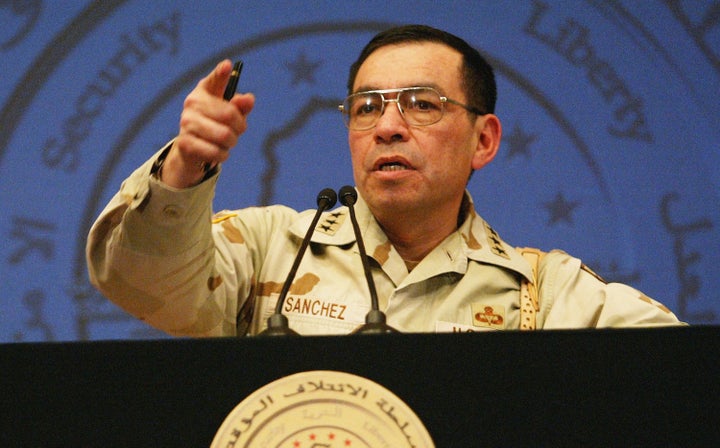 At a time when thoughtful debates about national policy are too often impossible in Washington's partisan and acrimonious environment, I was heartened to learn that General Ric Sanchez is running for the U.S. Senate in Texas. Ric served under me in the Army, and rarely have I served with a more competent, intelligent, and morally courageous man.
Those qualities became clear when General Sanchez served under me in Kosovo in a very difficult, complex environment. His experience in Kosovo was vital when General Sanchez was named the commander of coalition forces in Iraq, which was perhaps one of the most complex and difficult missions since World War II. The political leadership in Washington had failed across the board to create a strategy to get Iraq back on its feet, creating dire economic conditions and resentment that fueled the growing insurgency. U.S. forces were being drawn down just as the insurgency started to grow. Throughout this increasingly complex mission, his headquarters were dramatically under-resourced, General Sanchez led with honor, protected his troops, and worked tirelessly to complete his mission.
When the suspension of the Geneva Conventions created an unconstrained interrogation environment, General Sanchez didn't shy away from command responsibility. Within weeks of taking command, Sanchez issued orders mandating compliance with the Geneva Conventions to all forces under his command and aggressively began investigating every incident of abuse. When the ugly events at Abu Ghraib occurred, he immediately requested an independent investigation that included a review of his own actions. All of the investigations cleared him of any wrongdoing.
Sanchez has always had the courage to do what's right. A deeply religious man, Sanchez lives his life by a strict moral code. Throughout the challenges of his military career, including difficult assignments in the first Gulf War, Kosovo, and while in Iraq, he demonstrated great strength of character at every level. That commitment to doing what is right -- rather than what is expedient -- is sorely needed in Washington today.
While serving America, Sanchez saw firsthand how too often our national interests are harmed by politicians in Washington more concerned with their own political interests. Ric Sanchez will be a different kind of senator. Sanchez will bring an independent, common-sense approach and his Texas values to the U.S. Senate. His life story is a testament to the opportunity that exists only in America. As a senator, I know he will make his first fight about ensuring that those same opportunities are available to future generations of Texans. His first and only guiding principle will be to always do what is best for Texas, our nation and our people.
Washington could use a few leaders who care more about moving our country forward than about winning the next election. Texas will benefit from having a leader with the courage to always do what's right, and the competence to get it done. I am glad Ric Sanchez is running, and he has my full support.
REAL LIFE. REAL NEWS. REAL VOICES.
Help us tell more of the stories that matter from voices that too often remain unheard.