I was smack in the middle of wrapping up loose ends with work, deciding on what to pack and squeezing in a few last-minute doctor appointments when it hit me. "I need a Rick Steves," I thought. Two minutes on Amazon and it was done. Rick Steve's "Germany" would be delivered the day before I was flying out. But it wasn't until a week later, sitting in a café in Wiesbaden, that I actually opened the book. Oddly, Wiesbaden wasn't listed in the Contents. I checked the Index, flipped to page 536 and read: "Mainz, Wiesbaden and Rudesheim: These towns are all too big or too famous. They're not worth your time. Mainz's Gutenberg Museum is also a disappointment."
Well, I'm not going to duke it out with Rick, but...really? That's the best you can come up with? So, in response, here is the first in a series of letters to Rick sharing a few of the many delights of Wiesbaden, Mainz and Rudesheim. And next time I'll double-check the index before I purchase the book.
It's a glorious Saturday along the Rheingau, where vineyards cover the steep hills that drop down to the Rhine River. This river formed the northern border of the Roman Empire from about 50 BC to 400 A.D. The entire region exudes history, and this Upper Middle Rhine Valley is a UNESCO World Heritage Site.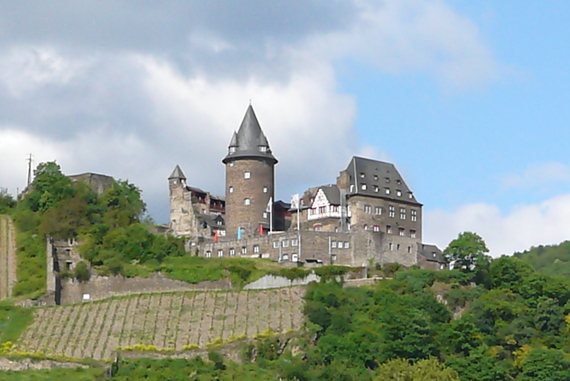 Now, from Mainz to Cologne, tourists can relax on the top decks of river day cruises, floating past castles and villages, sipping wines from local vineyards. Reisling rules these hills. It's the soil, mineral rich from the slate and possessing an exceptional ability to store heat (that's the "nutshell" version), that produces the crisp and fruity taste. Beyond Reisling, locals have loyalties to other, lesser known, grapes of the region: Silvaner, Muller-Thurgau, Dornfelder, Kerner, Portugieser.
I started my cruise in Rudesheim (convenient free all-day parking in certain lots close to the river... so ask ahead). Across the river is Bingen (quaint, historic and a little less tourist driven than Rudesheim.) At every curve is history -- another castle, another story. I have a booklet on the Middle Rhine, a useful investment. Concise descriptions of the passing scene -- the Niedelwald Monument, Ehrenfels Castle, Lorch, Rheinstein Castle, Reichenstein Castle, Sooneck Castle, Bacharach, Loreley, Oberwesel, St. Goar, Rheinfels Castle, Katz Castle...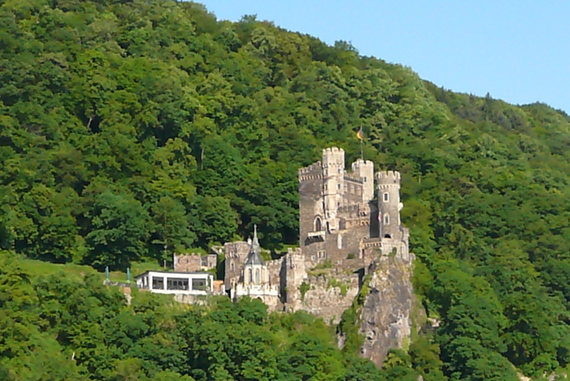 But then the castles started to run together. I put the guide away and just soaked in the sun.
The boat returned to Rudesheim by mid-afternoon. I knew what I wanted: a light lunch in an outdoor café so I could people-watch. And to visit the Abbey.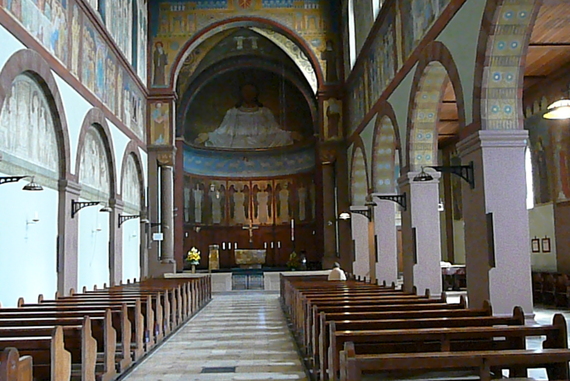 The Abbey of St. Hildegard sits on a hill above the village of Rudesheim. Their founder, St. Hildegard of Bingen, was a compelling woman who challenged conventions (and this was 900 years ago), struggling to balance faith and reason, the needs of self with the common good. Perceived as a prophet, she was insatiably curious, with a radical streak. Her values still influence the abbey today. In this abbey, about 50+ nuns live lives of prayer and labor, following the Rule of St. Benedict (which has been around for 1500 years.) St. Benedict had a lot of Zen-like approaches to life: every act has meaning and contributes to the larger good, every act is a form of meditation or prayer. Working in the kitchen, garden, laundry, vineyards or winery, bookstore, caring for elderly or ill sisters, creating ceramics or restoring old documents -- it's all prayer. Of course, they also pray a lot, which is what initially drew me to the Abbey. Cloistered monks and nuns follow monastic tradition and chant the Divine Office (specific sung prayers at intervals from daybreak to bedtime... like six to seven separate periods of prayer.) Visitors are welcome (generally for mid-day and Vespers). For me, to listen to nuns chanting the same Latin prayers that have been chanted for centuries is to be enfolded in history. It feels like a gift, a blessing.
It's also free, which is an extra gift for the frugal.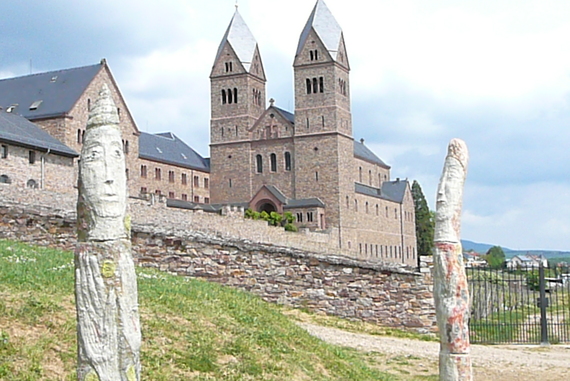 Visitors cannot tour the inside of the abbey (it's cloistered) but can see the murals and art in the church and walk paths and through vineyards. (More on hiking options in the Rheingau coming soon.) You can even plan a break from the whirlwind of travel and stay in the abbey guest quarters for a few days to rest, reflect and renew. Everyone is welcome regardless of ideology. Go to www.abtei-st-hildegard.de (there is a click to change to English). For specific questions about guest accommodations, e-mail: gaeste@abtei-st-hildegard.de.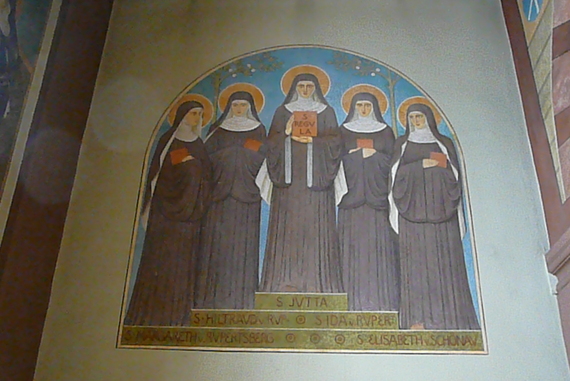 After Vespers, saturated with castles, vineyards, sunshine and chanting, I was ready for a leisurely dinner. On the way back from Rudesheim to Wiesbaden, I stopped at the Johannisberg Palace, an estate founded as another Benedictine Abbey (for monks) in 1100, with buildings dating to 1720. It's regarded as the world's first Reisling vineyard and still produces delicious wines. The palace sprawls above the Rhine, with views from the terraces of a restaurant that features regional and continental cuisine. To sit with a bottle of Reisling , bread and fruit and cheese, as the sun sets over the vineyards, seems a fitting conclusion to a day in the Rheingau.
"Not worth your time," you said.
This day -- the Rhine river cruise, being privy to Gregorian Chant in the abbey, and a bottle of Reisling on a palace veranda with an panoramic view -- begs to differ.
Next missive, I'll tell you about hiking and cycling in the Rheingau. And Wiesbaden's culture, music and dining. And then how the very best thing any American tourist in Germany can do is shed their American neuroses and experience a sauna day -- the Full Monty -- with the locals. I promise a step-by-step primer: Sauna 101. Wiesbaden is, after all, one of the top "bad" (bath) destinations in Germany. Once you get hooked on "infusions," you'll never be the same. And neither will your skin.
You gotta trust me on this one.
Susan Kraus is a therapist, mediator and travel writer. She gets a little cranky when places she really enjoys and cares about are dismissed. To see some of her past work, and get a preview of two novels due out on Amazon this summer, go to www.susankraus.com
Related