"I'm not talking to you until Christmas!" T whined.
"Fantastic!" I snapped back.
"Mooooooooom. Why can't I bring three Lego guys to school?"
"Nope. Nope. You said you weren't talking to me. Why are you still talking?" I turned up Morning Edition to drown him out.
Not my finest moment. Not his finest moment, either.
Most days are made up of way too many not-my-finest-moments. Every morning, I promise myself I will try to be a better mother to the boys. It is hard to focus on the moments beyond the mistakes.
On Sunday, I shared a magical morning with T. The boys watched as I ran my second 5K. Last year, three months after I started jogging, I ran the same race with disastrous results. This year, I'm two weeks out from my first half marathon. I've followed a 16-week training program and have worked hard to be prepared for race day. Running the 5K again was a lark. While I am extremely slow, I've been running so many miles that 3.12, a distance I'd only achieved once or twice before last year's race, didn't make me blink.
I ran the whole thing with a goofy grin on my face. As the leaders looped back around before I'd even reached the one-mile mark, I clapped my hands and whooped for them. I wasn't concerned about my snail's pace at the back of the pack. My boys were at the finish line to give me hugs and kisses.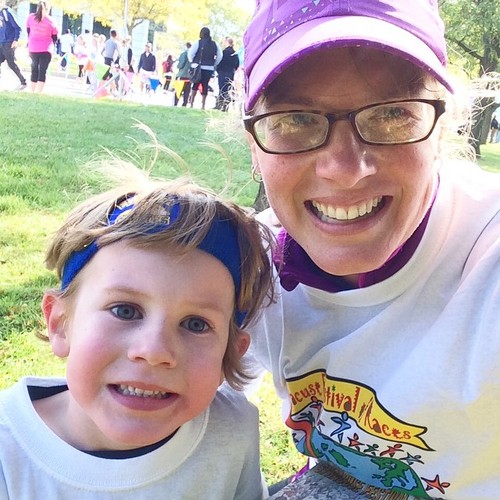 A couple of minutes later, the four of us made our way back to the starting line for the 3K community fun run. My husband walked it with C and some friends. T wanted to run.
It was up to him how much we ran or how much we walked. He started strong, darting through the crowds. I laughed as my much less nimble body chased after his. Just a few minutes in he looked at me, "Mom... Mom, my legs hurt." "I know, baby. But I believe in you! Keep going!"
His pace was all over the place, but most of the time he ran. About halfway through there was a water station and I asked if he wanted do grab some. He shook his head and told me he didn't want to stop. The effort was on his face, this race was hard for him, but he wasn't giving up.
Near the end he struggled, "I think I'm going to die!" he gasped. "It feels that way, doesn't it? But I don't think you are going to die today."
He was exhausted and proud when we crossed the finish line. We made our way to the sideline to wait for Z and C. I could not get the grin off of my face.
T walked a little bit during the race, probably less than half a K. He is 5 years old and he really surprised me. Not just because he ran farther than I thought he could, but because watching him muscle his way through the distance was just like watching myself.
How many times have my legs hurt since I started running on a whim last July? How many times have I seriously thought I was going to die if I kept going? How many times have I skipped a water break because I knew if I stopped I'd never start again?
Today I am strong and confident. I don't care that I'm slow, I am very steady. I am a positive example for my sons. T can see my confidence. He wants to be like me. My running has the potential to inspire him and his brother to be active. He sees me setting goals that feel impossible and then he watches as I work to achieve them. He thinks running is cool. Because I run.
I have an anxiety disorder and self-image problems. I don't wear the confidence with ease quite yet. That doesn't matter. It is getting stronger as I get stronger.
Did T tell me he didn't want to talk to me until Christmas less than 24 hours later? He did. Was my response an immature and bad example? Yup. Every moment isn't going to be one of parenting excellence. I'm still proud of the two of us for trying hard things. And for doing them together.