This April Rwandans will remember the 20th anniversary of a genocide the world did nothing to stop. Two years ago when I was in Rwanda I met a man who had lost almost his entire family in the killing spree. He warned me that critical to the future of his country would be the stories that people chose to share to mark the approaching commemoration. He was expressing a need to concentrate on stories and memories that can be presented in a way that encourages healing and reconciliation rather than re-traumatises or stirs up ethnic hatred.
Storytelling is fine as long as you can encourage people to act on the stories... Let's use our stories to encourage listening to one another and to hear not just the good news, but also the pain that lies at the back of a lot of people's stories and histories.
I agree that the only way out of an endless cycle of violence is the ability to listen to the pain of the other (the enemy), but if we focus only on pain and trauma that locks us into a sense of despair. The work that The Forgiveness Project does in restorative story-telling has taught me that our goal must be to use personal narrative to broaden perspectives and bring healing to those impacted -- whether victim or perpetrator -- as well as to motivate others regarding future life choices.
In Rwanda alongside the stories of murder and carnage, when neighbour killed neighbour, teacher killed student and armed gangs across the country at one point reached a killing rate of 7 people per minute, it is important to hear stories of people who acted with kindness, empathy, and self-sacrifice. At the Kigali Genocide Memorial in Rwanda I noticed for instance the story of Nsengiyuumra, a Muslim who during the genocide is said to have saved over 30 people when he protected or hid them in his outhouse. A survivor's testimony reads:
The interahamwe killer was chasing me down the alley. I was going to die any second. I banged on the door of the yard. It opened almost immediately. He (Nsengiyumra) took me by the hand and stood in his doorway and told the killer to leave. He said that the Koran says: 'If you save one life it is like saving the whole world.'
In the award-winning film Beyond Right and Wrong Dr James Smith, co-founder of Kigali Genocide Memorial Center, makes the point that although there are some remarkable examples of people who have been able to reconcile or forgive they are a minority and not representative of how the majority feel. "Yet" he concludes
"there is a co-existence....that allows society to function. I think that's the key to the future of Rwanda and... gives the second generation a chance to live together without that division and hatred that could lead to another spiral of violence."
Pieter Hugo's beautiful and powerful portraits published in the New York Times go further -- demonstrating that forgiveness has practical implications. "Forgiveness is not born out of some airy-fairy sense of benevolence. It's more out of a survival instinct," concludes Hugo.
I recently read this pertinent statement: "A story told at the right time in someone's life can shine a light sufficiently bright to illuminate the way ahead on the map of life." Stories of hope in bleak times can change lives and that is why I'm concluding with one of the stories from Rwanda that The Forgiveness Project has collected. Jean Paul Samputu is a musician who lost several family members in the genocide.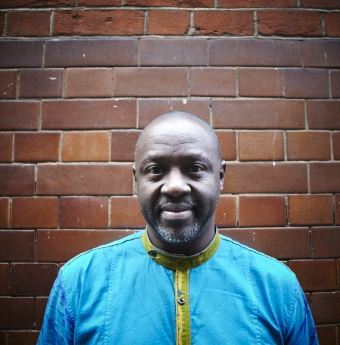 When the government started teaching Hutus how to hate, my father warned me to leave the country as I was a well-known Tutsi musician and therefore an obvious target. At first my parents didn't realise that they were also in danger because in the Butare south we lived side by side with our Hutu neighbours and my father would say, "I trust them, they are my friends." Even when I begged him to leave he said, "I'm 86 years old, I want to die here."

It took a long time in my village to mobilise the Hutus to kill because some were married to Tutsis. Imagine being told to hate this person you love and who you have been together with for so long.

So I left on foot through the forest and started a music tour in Burundi and Uganda. The news spread abroad quickly that Hutus were killing all Tutsis -- that's how I learnt that my parents, three brothers and a sister had been killed.

I returned as soon as the killing had stopped and went straight to my village. The survivors didn't know how my mother or siblings had been killed but they said, "Your father was killed by Vincent, your best friend, your father's friend."

I didn't expect this and when I heard the truth my life changed for ever. The fact that it was a close family friend who had done this destroyed me. He was two years younger than me and my closest neighbour, my closest friend.

The shock was so great that I started drinking and taking drugs to forget. I wanted to take revenge. I wanted to kill Vincent. But I couldn't find him, and so I started killing myself.

It took 9 years for me to deal with my anger, bitterness and desire for revenge. As I moved between Rwanda and Canada, where my wife and disabled daughter lived, anger and bitterness took hold to the point when I could no longer sing or show up on stage. I was an addict, an alcoholic.

All the time some of my friends were praying for me because they knew I was going to die. Then, one day, this miracle happened. In the midst of all this hell, I suddenly felt a strange peace in my heart.

Faith helped me to stop drinking. I had tried many things -- drugs, witch doctors, but none of it worked. So I took a bible and I went to a prayer-mountain, and spent three months away from everyone just to discover God's healing. During this retreat I heard a voice telling me that even if you become a Christian it's not enough, you need to forgive the man who killed your father because you cannot love again if you still have hatred in your heart. And that voice was telling me forgiveness is for you not for the offender.

Of course it took time to accept that message, but in the end I had no choice and one day I said YES! I'm ready to forgive. On that day I suddenly felt totally free. I felt a power that I cannot describe.

Since that time the songs flowed again; thousands of them. And that year in 2003 I won a Kora Award -- the most prestigious music award in sub-Saharan Africa. It helped me to go to America with my music where I started to tell everyone about this most unpopular weapon -- forgiveness. It's unpopular because it's a hard topic and a difficult process. Some people don't want to teach it to their children, even in the church, because they look in the mirror, and they cannot preach what they cannot do.

By the time I returned from America in 2007 Vincent had been released and I went to my village to speak at the gacaca (a traditional court) trial saying the reason I was there was not to accuse him, but to forgive him and to set myself free. I hadn't known Vincent was actually present until he stepped forward from the crowd and we met for the first time since the genocide. I then told him I forgave him. Telling him this gave me a great peace in my heart. I was a healed man. Afterwards we went to share a meal together and since that time we are often together.

He told me he was surprised that I'd forgiven him. Even though he had repented and asked for forgiveness he didn't expect my forgiveness. I asked him to tell me where my father was buried. He told me the place and then he explained to me the law of genocide. The law of genocide is that you must kill your closest friend first because if you don't then you will be killed. When Vincent told me this I began to understand how genocide can create a monster from any of us.
Related
Popular in the Community