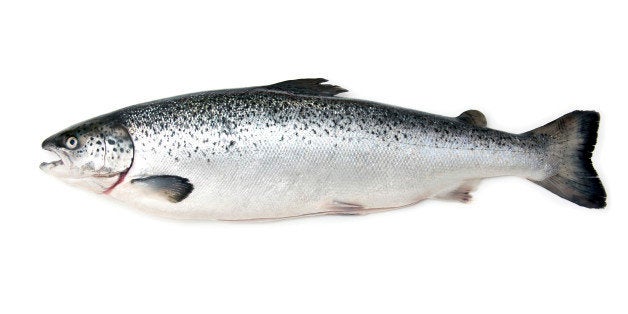 February is about love. It's about celebrating the people you love and showing them that you care, perhaps by treating them to a night on the town, a sparkling piece of jewelry, or a handwritten love note. Or maybe, by cooking them a beautiful piece of salmon.
When I think of heart-healthy foods, salmon is typically the first to come to mind. Rich in Omega-3s, salmon is filling, flavorful and versatile. Other versatile heart-healthy foods include beans, tomatoes, broccoli, whole grains, oats, olive oil, chia seeds and blueberries. Dark chocolate and red wine - classic Valentine's Day staples - are also on the list.
When sharing food with the ones you love, I think it's important to choose dishes that are as good for the body as they are for the soul. To feel energized, full and satisfied after a meal, I recommend choosing foods that are in their natural form; whole foods that come without processing. Considering seasonality and incorporating fresh herbs and spices is a great way to cook healthily without compromising flavor and variety. I know that people typically think of the color red when it comes to love, but looking at the long list of colorful heart-healthy foods above, I think it's time to expand that notion!
Beside the health benefits, cooking and eating are sensual acts that bond people in an important way. Food is a basic animal need, but what separates us as humans is the ability to discern different tastes and textures and appreciate food on an entirely different level. We experience food with all of our senses. We can see the beautiful array of colors in a mix of roasted vegetables, taste melted cheese as we pull it apart with our mouths, feel the firmness of fresh blueberries as we take a handful from the bowl, smell roasted chicken as it crisps in the oven, and hear a pasta sauce cooking as it sizzles on the stove. Cooking with or for the people you love is a special, sacred way to build a relationship or friendship. Truthfully, there are few better feelings than seeing someone smiling after tasting the food that you make. That sense of joy that people experience when they taste food that excites them is one of the main reasons I decided to be a chef.
If you want to spice things up in a heart-healthy way this weekend, I've shared one of my favorite salmon recipes below. It's super easy to make so you can focus on spending time with your loved ones, but it's still so darn delicious! It's amazing how much smoke flavor the salmon absorbs in just 25 minutes. Enjoy!
Bonus tip: When choosing a piece of salmon, look for a cut with bright orange meat and bright white fat. It should be shiny, glistening and moist. It should have a clean ocean smell rather than an overly fishy smell, and when you touch it, it should bounce back right away. If your finger leaves a dent or sinks into the fish, that is not a fresh piece of salmon!

Recipe:
HOT-SMOKED SALMON WITH TARRAGON REMOULADE
Prep: 20 minutes
Cook: 25 minutes
Serves: 4
Remoulade:
½ cup mayonnaise
1 tablespoon Dijon mustard
1 tablespoon finely chopped chives
1 tablespoon minced fresh parsley
1½ teaspoons minced fresh tarragon
1½ teaspoons Crystal Hot Sauce or ¾ teaspoon Tabasco
½ teaspoon fresh lemon juice
¼ teaspoon cracked black pepper
Salmon:
Applewood chips or your favorite wood chips
1 12-ounce salmon fillet
1 teaspoon lemon juice
¼ teaspoon smoked paprika
¼ teaspoon kosher salt
Olive oil
Preparation:
For the remoulade, in a medium bowl, combine mayonnaise, mustard, chives, parsley, tarragon, hot sauce, lemon juice, and cracked black pepper. Stir to combine. Cover and refrigerate until ready to use.
For the salmon, set up a stove-top smoker according to manufacturer's directions, using Applewood chips.
Brush fish with lemon juice and season with smoked paprika and salt. Brush smoker rack lightly with olive oil. Place salmon on the rack. (If you are using a skin-on filet, place it on the rack skin side down.) Smoke over medium heat for 25 minutes or until salmon reaches 120 degrees Fahrenheit.
Remove salmon from smoker. Let rest for 5 minutes before serving with remoulade and lightly toasted bread.