While young adult travelers coo over the endless opportunities for irresponsibility in locales such as Prague, Amsterdam, and Berlin, little old Lisbon is cast-off as an afterthought, forgotten in Spain's shadow to the west.
After my own excursion to Portugal's capital, I discovered just how unwarranted this shadow is. In reality, "Lisbon" is an incredible gem, heartier than an artichoke and with more history than a Dan Brown book.
Lisbon is the sister city of San Francisco, complete with cable cars, hills, friendly people, and a welcoming vibe. Not to mention the huge golden suspension bridge -- built by the same construction company that actually built the original Bay Bridge between San Francisco and Oakland some 30 years prior.
Stepping foot in Lisboa was like falling into all the images of home tucked safely away in my memory bank. Even our hours spent sipping on Mojitos and Caipirinhas in the meandering stone streets of Lisbon's trendy Barrio Alto neighborhood reminded me of more than one nightly romp among the Marina bars oft frequented by yuppie San Franciscans.
On a night out, locals and tourists mingle in the sloping, winding streets, swapping tales and life experiences. Words and people flow, creating an energy that buzzes between the historic buildings ad modern bars that line the narrow streets.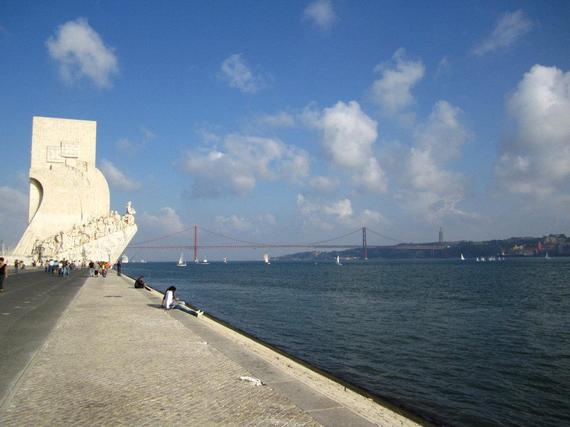 I think the best way to "describe" Lisboa is to compare it to a living, breathing entity. The city embodies a unique character, from its avenues of marbleized white tile to its hill-topping cathedrals, quaint cable cars and sweeping plazas -- Lisbon blends the old with the new, both structurally and culturally. For example, the oldest book store in the word resides in Lisbon, just a stroll away from the hilly streets of Barrio Alto where people from all walks of life flock to unite cultural differences through ginja, the local cherry liqueur.
The vibe that pulses from the heart of Lisbon invites a type of openness and tolerance rarely encountered so easily in just a brief weekend jaunt. In fact, after the free walking tour provided by our hostel, I came to the realization that the only negative aspect of Lisbon I discovered was the origin of J.K. Rowling's snaky character, Salazar Slytherin! [Her inspiration came about when living near the plaza where Portugal's past dictator, António de Oliveira Salazar, was assassinated].
Adding to the small-town feel of this European San Francisco was the "pastéis de nata," a cream-filled pastry found in the numerous bakeries lining the streets. Eating a pastéis de nata from Pastéis de Belem, founded in 1837, was truly the icing on an already delicious cake.

While some overlook Lisbon because of its geographical location, this is actually one of its stronger assets. Foreigners are often attracted to European locales because of the relative ease of traveling between cities and countries. But Lisbon is isolated beside Spain on the Iberian Peninsula. Yet, it boasts beautiful scenery that more than justifies a flight from Barcelona or another European powerhouse city.
Cabo de la Roca, the most western point in Europe, is a short train ride from Lisbon. It is comprised of a rocky coastline and coastal vegetation strikingly similar to Lands End in San Francisco or its neighboring outcrop across the water known as the Marin Headlands. Similarly, beautiful white sand beaches can be found up and down the coast, where surfing competitions are popular. To top it off, the Tagus River cuts through Lisbon with a wide berth, offering the illusion of being surrounded by a sea of serenity, much like San Francisco.
Not everyone can afford a trip to Lisbon or, likewise, San Francisco. But both cities, each western in their own right, are well worth a visit.
Related
Popular in the Community