I knew I'd be fascinated while listening to Sanjay Gupta speak at the recent New Jersey Speaker Series. He reminds me of the great neurologist and author Oliver Sacks who once said, "It is a privilege to share your stories so others may learn from your wisdom and experience."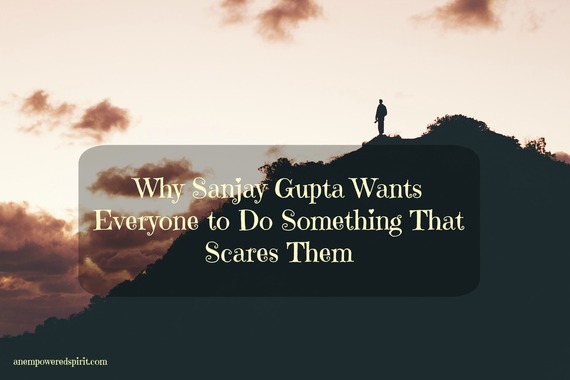 Like Sacks, Gupta is a true Renaissance Man. Here are a few reasons why I feel confident saying that:
His role as chief medical correspondent for CNN won him several Emmy and Peabody Awards. His medical training and public health policy distinguish his reporting on medical science topics that include brain injury, disaster recovery, healthcare reform, fitness, military medicine and HIV/AIDS.
He's reported from areas around the world that most of us have never heard of, so he's uniquely qualified in telling us that people are basically the same no matter where they live. They love their family, drive their kids to school, go to ATM's, laugh, play, hope, dream and feel.
While in Iraq he covered medical aspects of the 2003 invasion and performed surgeries on both U.S. soldiers and Iraqi civilians under nearly impossible conditions.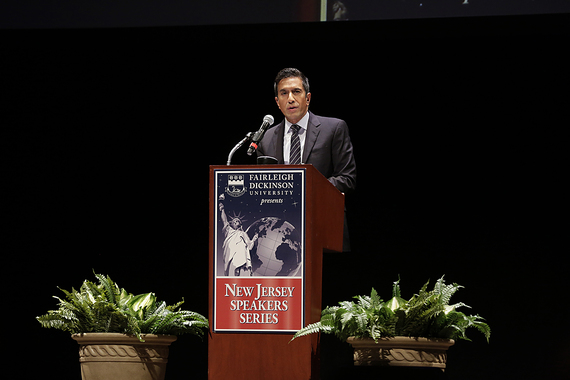 He's a practicing neurosurgeon.
And on top of everything Dr. Gupta is happily married and the father of three children who are so young they've never known a time when their father was not on television. The question they have is why can Daddy answer them on Skype and not when he's on-screen while reporting on CNN?
He's not only self-deprecating but, as most viewers already know, he's as true and caring a person as you'd think he'd be.
He began his talk by informing us that the fear of public speaking is ranked higher than the fear of death. Imagine that! So, he surmised, someone attending a funeral would rather be in the casket than giving the eulogy.
I wondered why he shared this odd fact with us right off the bat. It's because he wanted to share the advice his parents gave him, advice he's now passing onto his children:
"You should do something every day that scares you. Do something that challenges you either mentally or physically. It's what helped me try to do many things in my life. It helped me get out of my comfort zone. What does that mean? Ask yourself what do you want to do today, or what will you do that scares you?"
He asks us when was the last time we did something for the first time, because it's important for us to always challenge our beliefs and ourselves, and learn to be comfortable with that.
I loved that, because as we age we should always remain curious. It's what keeps our brains elastic and challenges us to continually learn and grow.
As I said in my last blog post I'll be facing one of my fears in November, and now Dr. Gupta has inspired me to even dare to look forward to it.
I want to thank Dr. Gupta for covering so many topics that resonated with me. Here are just a few:
Medical Marijuana: Dr. Gupta's opinion on medical marijuana changed after he took the time to scrutinize studies that seemed skewed toward failure. His findings led him to "be on the right side of science, but the wrong side of ideology."
He told the story of Charlotte, a little girl who had 300 seizures a day as her parents helplessly looked on. When traditional medicine didn't work, medical marijuana did.
There are countless stories of people struggling with illness that traditional medicine can't help, but medical marijuana does.
I had the opportunity to speak privately with Dr. Gupta, and told him that many people in the Multiple Sclerosis community live with pain every day. When traditional medicine failed them they found relief with medical marijuana.
He was fascinated and, despite a long line of people waiting to meet him at the cocktail party we were invited to in his honor, he asked me to tell him more. My heart was full.
Taking risks: Sanjay Gupta learned about taking risks from his parents. He learned from his mom who, while living in Oklahoma in the 1960's (and wearing a sari, something unusual in OK) went to school to become an automotive engineer. She drove to Michigan to find work, and as she reached Ann Arbor her car broke down. She knew no one. What was she going to do? She looked for a phone booth and leafed through the phone book to find an Indian sounding name. After making her first call she spoke to the roommate of the person she was trying to reach.
That man became her husband, Sanjay Gupta's father.
Longevity: "How long can we live? How long do we want to live? When does old age begin? The answer depends on who's being asked the question and most people think it's a little bit older than they are, except the millennials who think old age begins around 60."
The answer is, "How old do we FEEL?"
Most people over age 50 feel at least 10 years younger than their age. No one ever thinks they're going to get old, and most of us believe that old age is worse than it actually is.
According to Dr. Gupta we tend to think of longevity in terms of 3 things: activity, nutrition and sleep. If we think about the solution to these 3 things we should think about this:
"Instead of just sleep, maybe we should be thinking about rest. When does the brain and mind really rest?
Could a change of activity be a form of rest?
With diet we now know more about nutrition, and that sugar is worse than fat.
We need to push the plate away when we're 80% full; we should never stuff ourselves.
With exercise, burning fat and improving cardiac endurance may involve doing lower intensity exercise; doing things that are easier may provide a better payoff."
We're becoming more aligned with technology, are learning more and more about genomics and have so many obvious inventions right in front of us. The future looks bright.
Telemedicine: I was happy to finally hear someone from the medical community talk about the importance of using telemedicine in healthcare. This is a pet peeve of mine.
Over the years I've been to countless doctors and hospitals that don't use technology to create better patient care. A lot of vital information gets lost when switching doctors or forgetting your complete medical history. Just think how much better patient care would be if medical innovation were combined with modern technology. Dr. Gupta completely agrees.
Paying close attention to things: We need to respect everything, and never dismiss a thing that's around us. As a doctor and journalist this idea has been of great value to Dr. Gupta. He believes this also holds great value for everyone. If we begin being mindful, we'll lead a more joyous life by simply paying attention to the things that are right in front of us.
"You're also going to fully realize that every single life matters and you're going to care much more about the people around you."
As my friends and I were leaving we walked past Dr. Gupta in the hallway getting ready to leave. When he looked over in my direction I bid him good-bye, and with a smile and a gentle voice he wished me good luck with my work.
In my view it doesn't get much better than that.
Cathy Chester is an award-winning writer and health advocate who has lived with Multiple Sclerosis for almost 30 years. She writes about finding the joy in life despite disability. MS does not define her, so Cathy also writes about living a quality life in midlife, social good causes, animal rights, book and movie reviews, and the importance of using compassion and kindness as a way of making the world a better place. Her work has been published on numerous websites as she is passionate about helping others manage the difficulties of living with a chronic illness.