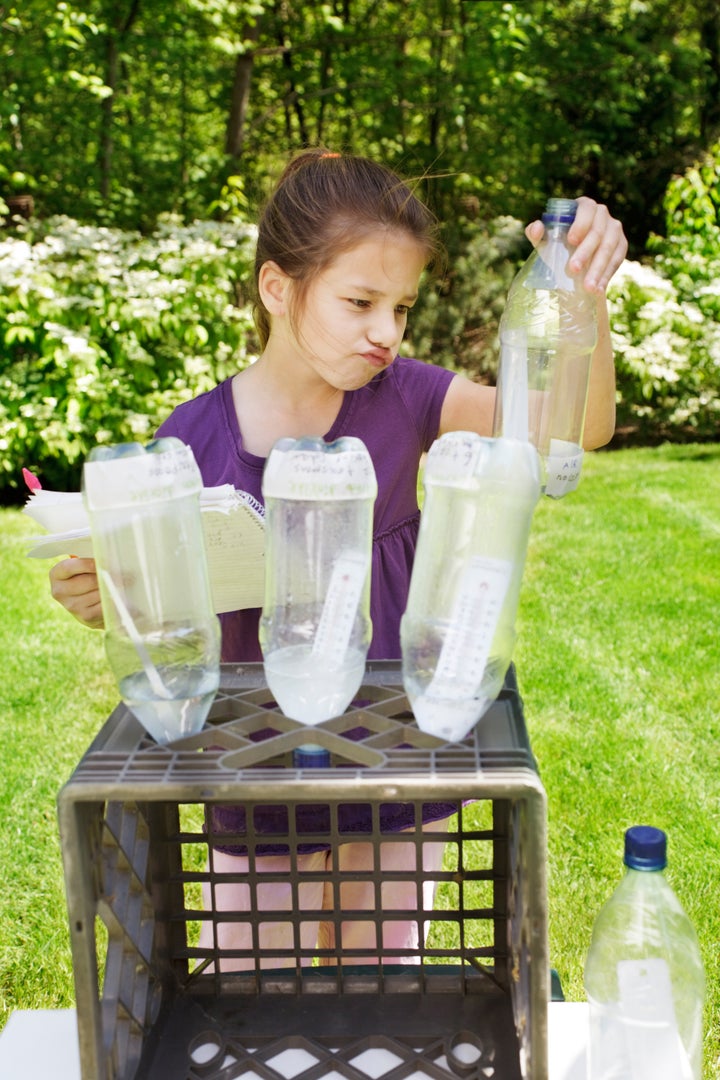 Science fairs had a rough 2015.
Remember the week when one mother's sarcastic image of her own science fair poster board went viral? (Her hypothesis was that everyone "hates" the science fair.)
There was also the week when Intel and Science Talent Search announced they would part ways, leaving the entire education community wondering if science competitions were becoming a thing of the past.
Critics were saying that science fairs were not achieving what they were supposed to. Instead of generating more interest in science, technology, engineering, and math -- the STEM fields -- they were inspiring races to the bottom, a constant reheating of unimaginative projects proven to get a good grade. Instead of rewarding resourceful students, they were rewarding those who had the most resources, whether it was over-involved parents or access to university research labs.
We understand why some parents would be frustrated if they felt that this accurately described their children's science fairs. That said, we would encourage parents and educators alike to embrace their science fairs more, not hate them. STEM, after all, is nothing less than the language of our new and still-rapidly changing digital economy. Jobs in these fields are growing three times faster than any other sector of our economy, and yet only 16 percent of American high school seniors, according to the U.S. Department of Education, are proficient in math and even interested in STEM.
Science fairs and competitions are helping to close this skills gap.
Consider the winner of this year's Siemens Competition in Math, Science and Technology, Maria Elena Grimmett, and one of our finalists, Andrew Chen. Maria Elena's entry into STEM began by wondering why her well water was brown. Starting in seventh grade, working at her kitchen table, she went on to develop an innovative method to remove a common contaminant from water. Andrew, meanwhile, has advanced from a fascination with James Bonds' use of futuristic gadgets to pushing forward important research in cancer and other deadly diseases.
Before Andrew and Maria Elena found the Siemens Competition and emerged as the next generation of STEM leaders, they found their school science fairs, which became an integral part of their STEM training and the basis for their self-directed curiosity and problem solving. Their stories underscore the important point that our competition very often recognizes STEM talent that our nation's science fairs first sparked.
I am seeing this now in my own home. My son has been working on his own science project, and -- as is the case with most worthwhile projects --it has not been easy for him or his research partner. But they have been doing it -- on their own -- practicing scientific thinking, challenging one another's assumptions, seeking guidance from their teachers and university mentor. In doing so, they have taken charge of their own learning; STEM has become real to my son in a way it wasn't before. Next year he'll pursue that ambition in college.
He has not (yet!) expressed a desire to be the next Steve Jobs. But even if he does, I am not sure he'd realize that all of the great innovators - even Jobs - had to learn the STEM skills he is learning now too. Consider the advice a Google executive gave to our competition finalists: be yourselves, he urged, and be bold, but make sure you keep learning STEM.
Science fairs, when done right, focus students on solving problems, not just acing tests. And even as some question their relevancy, they continue to nurture the spirit of innovation that guides success in our global economy.
Our competition finalists are living proof.
Related
Popular in the Community