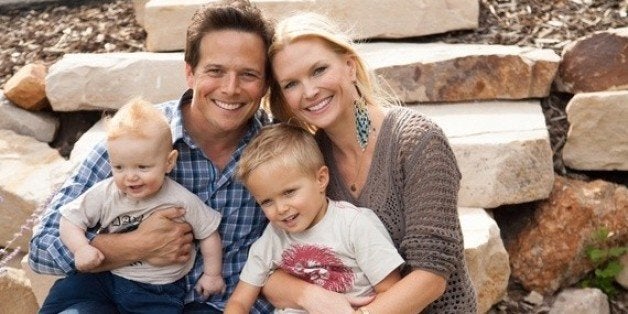 When it comes to his wife, Kelley, and his three children, Jackson, 5; Miller, almost 2; and Lucy, 3 months, actor Scott Wolf is "all in." He enjoys sharing equally in the day-to-day duties, including diaper changing and making lunches.
Wolf always new that he wanted to find a soulmate and partner to create a family with, however because he grew up in a less than ideal situation, he had an unclear vision of a future family.
"I grew up with a certain amount of dysfunction in my house and I don't know if I ever really knew what to expect in terms of what my family life would look like... I don't know that I could have ever dreamed it up to be quite like it is, and I owe a lot of that to Kelley, who is a remarkable human being, and a great partner and mom. She keeps us on track," says Wolf.
Kelley Wolf, who is a practicing life coach, says that the sexiest thing about her husband is his heart. The couple celebrated their 10-year anniversary the week after Lucy was born.
Wolf became well known for his role in the 90s TV series Party of Five, but more recently is playing a lawyer on the TNT crime drama Perception and guest starred on NBC's medical drama Night Shift.
Wolf -- a multilayered kind of guy, as can be seen in this interview -- was not only named as one of People's sexiest men alive in 2013, he also holds a BA in finance from The George Washington University.
Throughout my interview with him, Wolf talked freely and thoughtfully about raising three kids, his marriage, and growing up in an unhealthy environment.
How involved are you in day-to-day activities with your kids?
I would say extremely! I'm all in! I love it... Kids make you have long days and quick years. There are definitely days that are challenging and long, and there's a lot of attention that needs to get paid, but nothing compares to being a part of these new lives -- it's magical. My wife and I have a good partnership in it all.
Describe the dysfunction in your home growing up and how it affects you now.
I was 3 ½ when my parents got divorced. Then my mom got remarried -- that relationship for her wasn't the best... My mom is an amazing woman and loved us very much, but it wasn't always easy for her to control the environment completely. So how the house felt and how our day was going at home didn't have a lot to do with how we were and how we were behaving. It was more of a function of how the parents were doing -- if things were good or bad with them... It was erratic.
The general sense of our house [now] is, 'things are good.' We're creating an environment for these kids where they have consistency and unconditional love... In the big picture, I'm extremely grateful to be creating this with Kelley.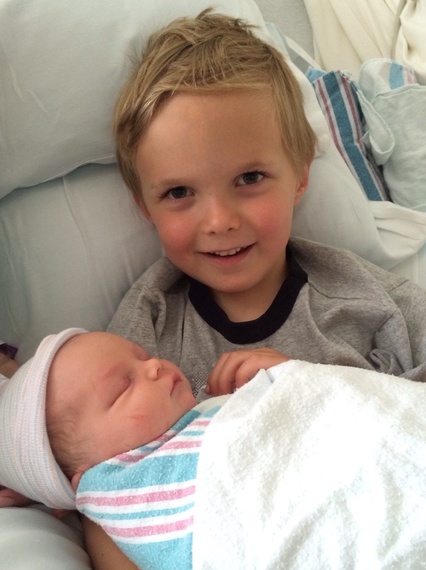 How do you keep the romance alive in you marriage after the babies?
It's obviously challenging -- it's the reason why everyone talks about it!
We've always loved just talking to each other and having great conversation. Literally, since the first night we went out in Soho in Manhattan, 12 years ago, that was the thing we loved more than anything. Obviously the rest is awfully fun too, but what we've found is that while the purely romantic stuff is harder to come by, as long as we maintain that real connection with each other that's what matters.
It could be the simplest thing -- just waking up an extra 45 minutes earlier in the morning and getting a cup of coffee and talking. I wouldn't have thought 25 years ago that a late breakfast would be the sexiest part of my day; it sometimes is and it's still pretty great!
Do you have worries that keep you up at night as a dad?
Having these beautiful little creatures running around -- it's literally like having your heart walking down the sidewalk, it's impossible to not worry at all. I find myself often being the voice of, 'their fine,' but the thought of them being hurt in any way -- even if my mind flashes though it, even if it's watching one of them run down the side walk and stumble, I get this awful little flutter in my stomach...
In general, I'm not as much worried in that way about the kids. My mind doesn't drift around there. There is so much life force coming from them... It all feels positive and glowing and my mind doesn't go to any other place.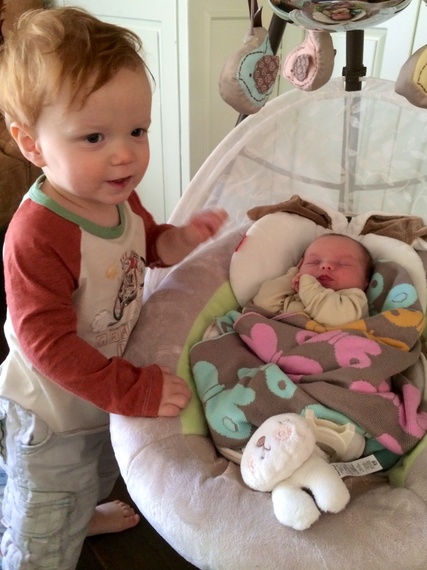 Is there something as a dad that you're doing that you don't see other dads doing -- something that's unique to you?
From a generational standpoint, I've had older guys in my family watch how affectionate I am with my kids. My father-in-law in particular has said to my wife he wished that was more commonplace back when he was a dad. A generation ago they didn't have permission to be emotionally connected.
What values do you want to pass on to your kids?
Honest, kind, respectful, true to themselves. What we want more than anything is for them to be who they really are. And through us loving them unconditionally, they can be absolutely, exactly who they are with no expectations other than being good people who are kind to themselves -- that sort of empowerment will help them have enough confidence to love being who they are.
Popular in the Community