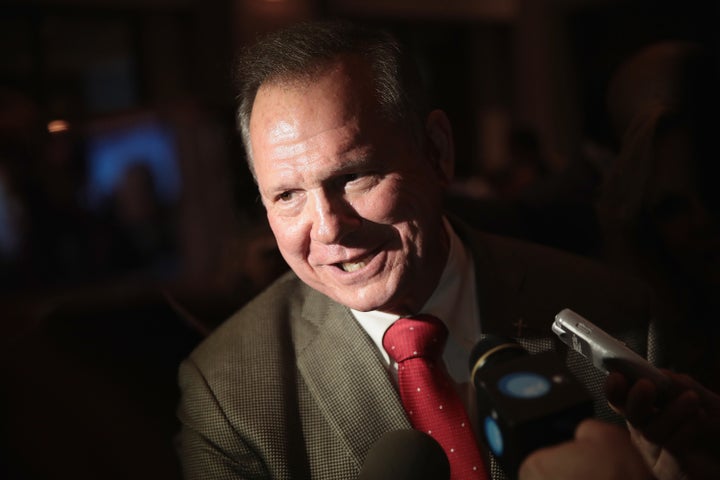 Controversial former judge Roy Moore won Alabama's Republican Senate nomination on Tuesday over incumbent Luther Strange. The only thing between Moore and the Senate now is the Dec. 12 special election against Democrat Doug Jones, whose odds in the solidly red state are decidedly low.
Moore was twice suspended from court as chief justice of Alabama for putting his religious views before his duty to uphold the law of land ― first for refusing to remove a 2.6-ton Ten Commandments monument from the state Supreme Court building in 2003, and again in 2016 for telling judges to defy a federal ruling on same-sex marriage.
The former judge's unabashed religious views and apparent disregard for the legal establishment have won hearts in the overwhelmingly Christian Alabama. But they have also raised a red flag for secular advocates who work to uphold the separation of church and state.
"The centerpiece of Roy Moore's political campaign is a commitment to Christian supremacy," Larry T. Decker, executive director of the Secular Coalition for America, said in a statement. "Throughout his career and his campaign, Judge Moore has flaunted his disregard for the Constitution and unapologetically asserted that his religious beliefs must take precedence over the law.
"Judge Moore's approach to politics is an attack on the separation of church and state and a rejection of the rule of the law."
In the wake of Moore's suspension for ordering the state's probate judges to defy the U.S. Supreme Court's landmark ruling on same-sex marriage, the Southern Poverty Law Center called it "the culmination of a judicial career spanning 25 years in which he often put his personal views above the law and the U.S. Constitution, frequently bringing religion into the courtroom and basing judicial opinions on his Biblical beliefs." 
The Rev. Barry W. Lynn, executive director of Americans United for Separation of Church and State, at the time called Moore "a dangerous demagogue."
Richard Cohen, president of the Montgomery, Alabama-based Southern Poverty Law Center, went so far as to refer to Moore as the "Ayatollah of Alabama."
"We are talking about someone who is truly, truly unhinged," Cohen told HuffPost in 2016. "He has concocted legal theories to justify his religious goals, but none that makes any sense."
One of the central themes of Moore's campaign is the notion, as The Washington Post's Michael Scherer reported, "that removing the sovereignty of a Christian God from the functions of government is an act of apostasy, an affront to the biblical savior as well as the Constitution."
Moore reportedly even carries with him at all times a pocket pamphlet he published that contains his legal theory of God's supremacy.
"I want to see virtue and morality returned to our country and God is the only source of our law, liberty and government," Moore said last week in a debate with Strange.
Decker noted that the Secular Coalition is careful not to endorse or oppose political candidates but that the organization felt it was necessary to "speak out" given Moore's constitutional track-record.
"Our nation was founded on the principle of religious freedom for people of all faiths and none," Decker said. "We urge the voters of Alabama to take seriously what it would mean for our country if they were to vote in a U.S. Senator whose sole mission is to destroy this bedrock principle of American democracy."
Calling all HuffPost superfans!
Sign up for membership to become a founding member and help shape HuffPost's next chapter
BEFORE YOU GO
PHOTO GALLERY
How American Religion Has Changed