Thousands of retail professionals will gather the third week of May at a big retail trade show in Las Vegas to meet and greet, take stock and talk shop.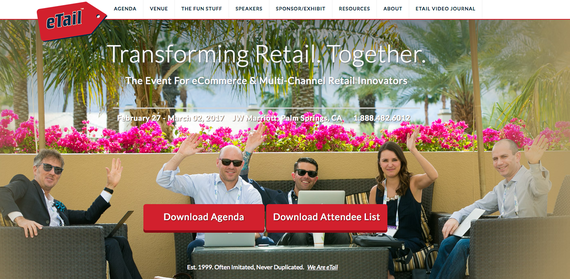 It's enough to make one wonder: Does the retail world really need another presentation-packed show featuring a cavernous hall full of vendors hoping to connect with retailers who are searching for an edge in an increasingly brutal business?
The answer, judging from Shoptalk funding, its expected attendance, its star-studded (in a retail sense) speaker lineup and its sleek and well-managed marketing effort is, yes.
The pace of change in retail, it seems, is approaching escape velocity -- the speed at which it becomes nearly impossible for a human being to keep up with new products, new ideas, new entrants, new sources of funding and new paths through the crowded field to keep up, get ahead or break through.
"I do think, given the fluidity and the speed with which the market is moving, that there really is, I don't want to say insatiable, but there is a very strong appetite, for more and more learning and sharing among all the participants in the market, just because there is so much going on," says Sam Shrauger, senior vice president of digital solutions for Visa, which is a sponsor of Shoptalk.
The market appears to be embracing the chance to gather together. Shoptalk organizers say on their website that they've sold out the 3,000-plus admission tickets they had planned to issue. (In the run-up to the show, the organizers were not available to speak with me.)
They've lined up luminaries like Ron Johnson, the father of the Apple store and the evil stepmother who led JCPenney on a downward path to a serious rough spot. Startup delivery upstart Jet will be there. So will 1,600-pound gorilla Amazon. And buzzy companies like Birchbox, Bonobos, Airbnb, Adore Me and Rebecca Minkoff will be there, too. And perhaps most importantly, more than 100 venture capitalists, according to Shoptalk organizers.
Or maybe most importantly, Lionel Richie, because what's a big show without a celebrity speaker?
"We know the founders of Shoptalk fairly well," Shrauger says, "and their ability to attract and create a good dialogue that is relevant to this time and place in retail, we think is really strong and compelling. So that's one of the big reasons that we were attracted to it. And given that it's an inaugural conference, and given the roster of participants that they have, they've done a great job already of curating a pretty powerful agenda and group of participants."
True, the value that attendees, who are paying $3,500 for a Shoptalk ticket, find in the big retail shows is no different from the value that doctors, lawyers, code writers, energy industry folks, academics, manufacturers and others find in their distinct conferences. The shows are a place for new ideas, networking, taking stock, recruiting, job hunting, getting a bead on the competition and making the acquaintance of potential partners.
But the need to do all those things in retail has accelerated geometrically in the digital age -- creating, for instance, omnichannel, or the notion that retailers need to provide a seamless shopping experience across all digital devices and physical stores.
"There is a lot of change going on across the board," says Howard Blumenthal, director of e-business product management, e-commerce growth and omnichannel experience at Advance Auto Parts. "Retailers are actually getting that they actually have to do omnichannel, not just talk about it. These things are very jarring for organizational structures."
Blumenthal, who traces his retail career to a five-store music chain he started at 14, has been going to retail trade show for years. He says he sees something different in Shoptalk, which is being launched by the team that runs 'Money 20/20', a show focused on retail payment.
Some of the big shows, he says, seem to feature the same speakers and cover the same ground. But as the retail industry careens forward through rapid change and disruption, there are new players offering potential solutions.
"Part of what's refreshing here, is that what they've tried to do, what they've very clearly tried to do, is broaden the approach," Blumenthal says of Shoptalk. "If you're really looking at more of an omnichannel environment, there are the investors, there are the startups. There are all these other groups that now play a role. And I think this is one of the first shows to try to bring more of that together."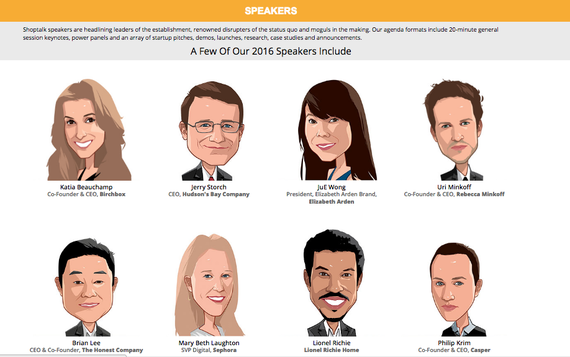 "I'm all about adjacency," says Walker, a 20-year retail veteran. "It's knowing who are the other people who are going to be there -- who are the other people speaking and who are the other people who are going to be listening."
Walker will participate in a panel discussion at Shoptalk. And, yes, he's excited to have a chance to get the word out about his company. But the panel will account for 40 minutes of his multi-day stay in Las Vegas.
"I don't speak until Tuesday afternoon," says Walker, who's arriving in Las Vegas on Monday. "We've got meetings scheduled all afternoon Monday and all morning Tuesday."
He'll talk to journalists, venture capitalists, bankers and other retailers. Yes, even potential competitors, because you never know when a competitor could become a partner or might have an idea to share or could become a sounding board. Yes, really.
"I think there used to be kind of the old, kind-of-Apple approach, where everybody thought that they had the secret sauce and everything had to be locked in a box, and you couldn't talk about it," he said. "Because people were like, 'If I share the idea, then somebody else is going to take the idea.' I think people have realized that this whole business operates so fast, that even if you openly launch something, there are going to be early adopters who are going to take the idea and build on it anyway."
That sort of connecting and sharing is hard to do in the hurly-burly of running a business day-to-day. Not to mention the logistics of finding a time to get together, or even to talk by phone.
"It's just the chance to exchange ideas and meet people you don't know, but you know about," says George Arison, the founder of Shift Technologies, which acts as an agent between used car buyers and sellers. "It's really convenient to have everyone in one place and to have a chance to talk together. Who knows what might come out of that?"
And who knew? There is room for another -- and apparently more -- big conferences and trade shows that bring those in the retail industry together. In fact, it turns out, that even in the age of digital disruption, it is best to get together face-to-face to talk about how to survive it.
Mike Cassidy is BloomReach's storyteller. Contact him at mike.cassidy@bloomreach.com; follow him on Twitter at @mikecassidy.
CORRECTION: An earlier version of this post incorrectly identified Visa as a Shoptalk presenter. Visa is a Shoptalk sponsor.
Calling all HuffPost superfans!
Sign up for membership to become a founding member and help shape HuffPost's next chapter