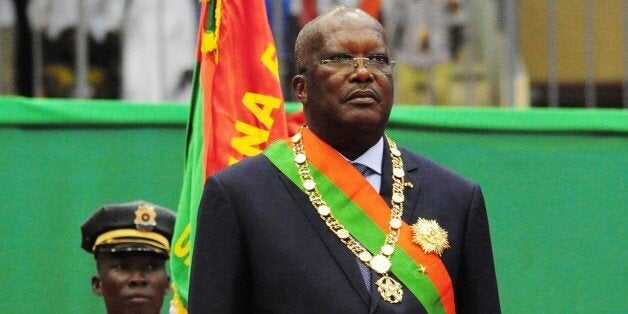 The results of a historic election in Burkina Faso, the first in nearly 30 years, were recently announced. After three weeks in office, the new government issued an international warrant for the arrest of Blaise Compaoré, the dictator who was thrown out as a result of popular protest.
Roch Marc Christian Kaboré, the leader of a newly-formed party called the Movement of People for Progress, was elected president on December 1, 2015. The West African nation's first election in decades was the direct result of peaceful protest that started in the summer of 2013 by a grassroots movement called "Le Balai Citoyen" or "The Civic Broom."
This movement, co-founded by reggae star Sams'K Le Jah and rapper Serge Bambara ("Smockey"), combined the simple symbolism of the broom and the idea of citizenship as they mobilized the people to clean up the country through progressive civic engagement.
We have all heard about Boko Haram and pirates off the coast of Somalia. But who has heard of the Balai Citoyen movement?
It is time to make room in America for more informed reporting on peaceful progress in Africa.
If we did more to support the cause of democracy in nations like Burkina Faso, we would not only be acting in accordance with our best values, we would also be acting in our strategic interest. One of the lessons from the wars in Iraq and Afghanistan (and the same will be true in Syria) is that military plans to clear and hold territory do not work in the long run.
Supporting meaningful freedom in African democracies is the most viable option for promoting peace and stability on the continent.
Starting in 2013, Le Balai Citoyen movement energized various sectors of civil society with music concerts, peaceful demonstrations and door-to-door campaigns. They astonished pundits and educated observers when they played a prominent role in effectively ousting a dictator who had ruled the country since 1987.
Blaise Compaoré was a master of the dictator's double discourse. He never missed an opportunity to present himself as the embodiment of African exceptionalism, above the misplaced reproach of Western observers. And yet, when he fled the country it was in a French helicopter headed for the Ivory Coast where he hoped to enjoy impunity in exile.
The problem with Compaoré was that he came to power with blood on his hands and he over-stayed his welcome. After 27 years as head of state, he wanted to amend the constitution so that he could run for yet another term in office.
Rather than simply sing songs about injustice, Sams'K Le Jah and Smockey started a grassroots movement whose main objective was to get Compaoré to step down, not to amend the constitution and to ensure a fair election.
It took just over a year of tenacious protest -- not without duress and occasionally violent repression -- to finally oust the dictator.
Compaoré took power via a coup in which Thomas Sankara was killed during the waning years of the Cold War. The circumstances of Sankara's assassination have been shrouded in mystery and his loss seen as a tragedy across the continent. Compaoré's dictatorship is widely considered to have been built on the tomb of one of Africa's leading proponents of autonomous development and pan-African pride.
Compaoré immediately overturned the Marxist-inspired initiatives Sankara had set in place. This ideological realignment suited the French establishment's increasingly conservative vision and Western allies whose influence was exerted elsewhere on the continent.
Sams'K Le Jah and Smockey resurrect Sankara in song and activists wear t-shirts with his image as they dance at rallies. While forcing Compaoré to face the facts about how he came to office remains critical to restoring justice, the road ahead presents a number of challenges.
We should bear in mind that Sankara also arrived in power via a coup. As recently as September, an attempted military coup threatened to derail the transition to democracy but activists returned to the streets and the cause of democracy prevailed.
Overcoming decades of dictatorship is a process that will likely take a generation to complete. Thus, while Burkina Faso's election is very good news, it comes with warnings about what is needed in the future to avoid a repetition of the past.
Calling all HuffPost superfans!
Sign up for membership to become a founding member and help shape HuffPost's next chapter