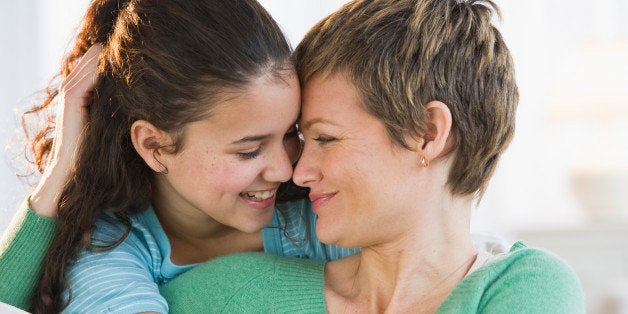 While all moms (and dads!) deserve to be celebrated, there are none more deserving than the nearly 10 million women in our country who are single moms. These women--warriors, really--single-handedly shoulder the day-to-day responsibilities of raising their families. Here are 5 reasons why single moms deserve a high-five this Mother's Day, and every other day of the year, too:

Single Moms are Strong, Flexible Role Models
One-parent homes, which make up about 25 percent of households--which have doubled in recent years--are redefining parenting [U.S. Census Bureau]. They are obliterating traditional gender roles, and showing their kids that there are no duties or expectations unique to men or women. Today's families helmed by single moms are proving that there is no longer a typical family, nor a typical single mom, either. Moms, and the kids they raise, can and do wear many hats. Thanks to the strong, admirable women who raise them, many of their kids are independent and capable of taking care of themselves,

Single Moms Raise Can-Do Kids
Kids raised by single moms learn responsibility from an early age. They are unlikely to be coddled or helicopter-parented, but are instead relied upon to help out and do their part to keep their family and their home running smoothly. Their contributions are valued. As a result, they grow up feeling competent, they believe in their abilities, and take pride in their hard work.

Single Moms Build Strong Families
A single mom is the coach, the manager, and the team's owner rolled into one strong mama. The bond she has with her kids is strengthened by the time they spend together as a team. Because single moms can't divide and conquer responsibilities with another parent, they often spend more time with their kids than their married counterparts. Furthermore, a study--which interviewed hundreds of families--found that single moms are often friendlier to their kids than married parents. Mom and the kids are in it together, celebrating the good times and supporting each other through the bad.

Single Moms Create Villages
No one knows how to assemble a network of support better than a single mom. Out of pure necessity, sociologists say single moms reach out to extended families, neighbors and other moms to be there for their kids when they can't. Therefore, kids of single moms often grow up with more people in their lives--bigger, richer villages. They can never have too many people to love them. Their villages enrich their lives, with each member bringing unique qualities and experiences that would have otherwise been missed.
Let's face it. Even for super star single moms, juggling competing priorities--caring for kids and earning a living--isn't easy. All moms--single or not--need a break. I'm hoping moms will hand over the reigns to a babysitter and take time to celebrate and reward themselves for all they do, day in and day out.
You can help celebrate and support single moms in need this Mother's Day by donating a babysitting gift card! Single Mom Nation and UrbanSitter have partnered for a Single Mother's Day Giveaway, where single moms in need will receive babysitting gift cards. Donate a gift card now or enter the giveaway by May 6, 2016 at: https://www.urbansitter.com/buy-gift-cards or nominate a single mom here: http://www.single-momnation.com/blog/2016/4/24/single-mothers-day-giveaway.