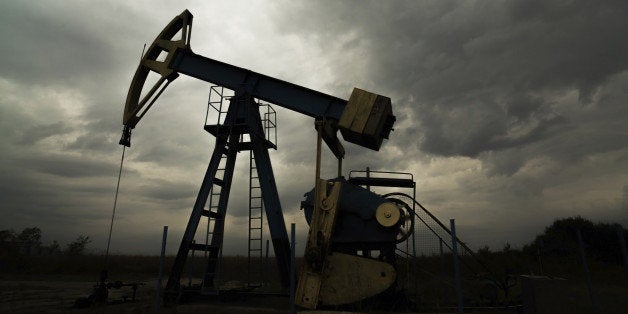 During the last few months, much has been written about the fossil fuel divestment movement rapidly expanding across United States colleges. While most mainstream attention has been focused on initiatives taking place at big-name institutions like Harvard and Stanford, the movement is present at colleges all around the country, regardless of endowment size.
Since 2012, students at Davidson College have been petitioning to divest the College's institutional endowment from fossil fuel companies. Last spring, the Board of Trustees rejected our appeals under the assertion that divestiture would not accomplish its goal of weakening or "motivating change in the fossil fuel industry." Their rejection letter further emphasized (what has now become a cliché in counter-divestment rhetoric) that academia can better combat climate change by promoting sustainability and energy consumption reduction plans on campuses and allocating resources to environmental teaching and research.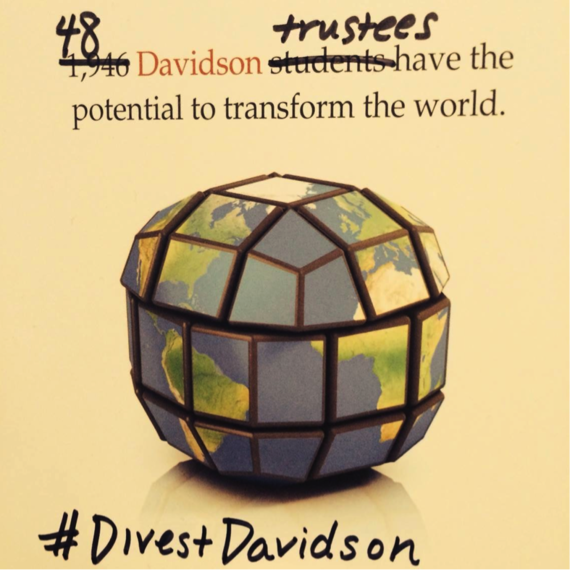 At the heart of these rebuttals lies a fundamental assumption that small-scale efforts can amount to astounding cumulative effects. According to this logic, an undergraduate thesis in environmental studies may not solve the climate crisis, but it does contribute to an invaluable body of knowledge, which ultimately will. Ironically, Divest Davidson is also only one of many voices in a growing, global chorus demanding real sociopolitical change against climate change perpetrators, facilitators, and deniers.
Much like in a democratic voting system where no individual vote can determine an election, no institution can single-handedly solve the climate crisis. However, a mass of individuals and institutions can. Small-scale campaigns like Divest Davidson lend valuable support and credibility to the national divestment movement, helping it gain the endorsement of famous environmental advocates like Bill McKibben and Naomi Klein.

In today's media-driven world, credibility can go a long way. President Obama has publicly acknowledged the student divestment movement twice in the past two years during speeches about his plans for climate action. But even if hundreds of institutions were to divest tomorrow, where would that bring us? A recent Oxford University study concluded that divestment is an effective sociopolitical tactic against the clout of fossil fuel companies, and that the movement to divest from fossil fuels is the fastest-growing divestment movement in history.
So for colleges like Davidson the question becomes, will smaller endowments suffer as a consequence? Research shows withdrawing monetary capital from fossil fuel investments will neither hurt university endowments nor directly hurt the finances of fossil fuel companies. But those preaching the "no impact" argument against divestment forget to acknowledge the greatest asset inherent in a prestigious higher education system: social capital.

America's higher education institutions have historically caused positive social change, precisely because of their position at the forefront of innovation, progress, and commitment to integrity and critical thinking - and not just by means of teaching and research. University divestment movements contributed to the stigmatization and subsequent regulation of U.S. tobacco companies as well as the fall of South African apartheid - the former for the sake of public health, the latter in the name of human rights; fossil fuel companies threaten both.
Shifting social capital can thus effect change in political landscapes, which play a key role in enabling the fossil fuel industry's profitable image and ostensible viability. Fossil fuel companies' profits, as well as their stock market returns, heavily depend on governmental tax breaks, subsidies, and land concessions. According to a report by the research and advocacy organization Oil Change International, fossil fuel companies spent 350 million dollars on congressional campaign sponsorship leading up to the November 2008 elections. In return, the same companies received about 20 billion dollars in federal subsidies during the following two-year period. The Divestment Movement is aimed at changing this type of political corruption.
Meanwhile, Divestment is part of a broader spectrum of environmental activism challenging the political status quo. On September 21st, 2014, more than 400,000 people took the streets of New York City for the People's Climate March, with thousands more participating in solidarity events around the globe, all advocating for immediate climate action. A group of Davidson students drove 10 hours from North Carolina to join the event. Bringing together people from all over the country, the march was a reminder of the thousands of diverse organizations and movements working to fight some aspect of the climate crisis from different angles.
For college students, divestment is the best angle. For a generation that feels increasingly disenfranchised and disillusioned with politicians' lagging reactions to climate problems, the national divestment movement provides a source of youth empowerment. While, sadly, in November's midterm election only 12% of voters were under 30, divestment might be the election we can't afford to miss. At the end of the day, institutional divestment is itself a major systemic change that does not rely on the whims of policy makers, many of whom do not accept the scientific evidence for global warming. Moreover, the world of academia needs to stand by that scientific evidence not just with words, but with actions.
There is hope in the fact that students of today are the alumni-donors of tomorrow. However, current alumni need to become more involved in campaigns at their respective alma maters in order to expedite this process, for example, by writing public letters to school officials. Students at Barnard College and Columbia University took more drastic measures with the creation of an alternative endowment fund. Donations to the fund will be withheld from the main endowment until the schools commit to divest.
Recently, Davidson College launched a $425 million, 5-year comprehensive campaign to boost its own annual fund. The campaign, titled "Game Changers: Inspiring Leaders to Transform the World, aims to ensure future students' opportunities to top-quality education. But how can we assert ourselves as "game changers," when the school remains invested in an industry that directly harms our future existence? Recruiting school donors as campaign allies could potentially make all the difference for divesting smaller endowments.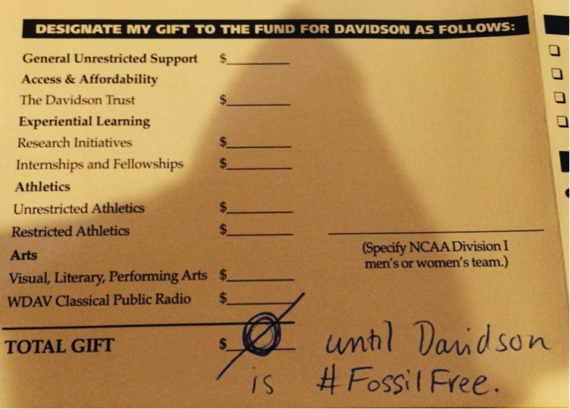 Davidson graduate Hayden Higgins '12, now associate outreach director at U.S. Climate Plan, recently received a donation card from the college alumni office, which he returned with a pledge that he will be giving zero dollars "until Davidson is fossil free." Higgins publicized his action through social media, in addition to writing an article for Davidson's student newspaper, where he states, "If Davidson's trustees want to count their dollars while the planet burns, they won't do it with my money."

Our work as students must be to expose the glaring contradiction in our college's stated priorities. With help from alumni and faculty members, we can pressure our school to put its money where its mouth is. As campaign co-founder Natalie Williford '14 said, "Davidson stands as a symbol and a leader to both universities and grassroots campaigns that look to our nation's most prestigious academic institutions as an indication for what fights to join." If we want to be game changers, we have to change the game.