"If you build it, they will they charge."
Increasingly, small businesses are installing electric vehicle charging stations as a way to attract new and loyal customers.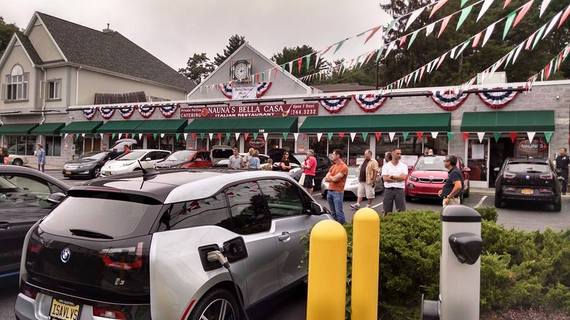 Photo courtesy of Tom Moloughney
The Carlisle House Bed & Breakfast in Carlisle, Pennsylvania, added an electric vehicle (EV) charging station for its guests to use during their stay. Owner Alan Duxbury said he's conscious of his environmental footprint and wants to do what he can to reduce it. He hears from customers that the charging station makes the B&B more competitive with big chain hotels nearby that aren't providing this special perk.
Redhook Brewery in Portsmouth, New Hampshire, recently installed an EV charging station thanks to a $3,000 rebate from PSNH, the largest utility in the granite state. Leaders in Door County, Wisconsin, installed two electric vehicle charging stations in their visitor center lot and have recruited three businesses -- the Bay Breeze Resort, the High Point Inn, and the Village of Egg Harbor -- to add charging stations to theirs too. "There are times when we, as tourism catalysts, are called upon to be leaders and visionaries and develop new and exciting opportunities in tourism development," said Jack Moneypenney, the president and CEO of the Door County Visitor Bureau.
The Center for Climate and Energy Solutions recently did an analysis of EV charging infrastructure financing and identified promising ways to get the private sector to fund more of that infrastructure. Said study author Nick Nigro, "Just selling electricity as a transportation service won't bring in enough revenue to pay for owning and operating the charging equipment." He argues that this is why charging business models must capture some of the indirect revenue that flows to other businesses, like automakers, retailers, and electric utilities.
Nigo said that business owners need to take into account how much additional business these charging stations can bring in by attracting new and loyal customers eager to patronize businesses that are supporting the transition to electric mobility. According the EV charging infrastructure company ChargePoint, the installation of an EV charging stations increases customer "dwell-time" significantly -- by an average of 50 minutes per customer, according to one business customer. This means more time for customers to spend money.
At Nauna's Bella Casa restaurant in Montclair, New Jersey, owner Tom Moloughney has two ChargePoint stations available for his diners and one ClipperCreek charging station out back for his own EV to charge. Moloughney said he initially installed the stations as a public service to help foster the adoption of electric vehicles but soon realized there are benefits for his bottom line too.
"Many of the people that come to plug in and eat tell me they only came to Nauna's because of the chargers in the parking lot, and that they didn't know of the restaurant before finding it on their EV charging app," said Moloughney, who has been driving electric since 2009. "I'm averaging about five or six electric vehicles per week now, and the number is definitely on the rise."
Drivers can find EV charging stations and potentially new places to visit and do business by using apps such as PlugShare.
If you're a business owner thinking about installing EV charging stations, reporter Brad Berman has helpfully devised a step-by-step tutorial. If you have experience in this arena, share your story. Maybe you'll acquire some new customers or find some new places to shop and fuel up.
Kathleen McBride and Christina Rohrbacher, Sierra Club interns, contributed to this post.