No, really. Reviews of the book have been largely positive and she gets major bonus points due to the fact that you can buy all the ingredients at your local grocery store -- you know, since nothing requires "moon dust." While putting the book together, Teigen was also cognizant of the reality that not everyone has a food stylist at their disposal. 
"We tried to keep all the photos really messy and we made sure they were attainable," she told The Huffington Post in an interview on Tuesday. "My worst fear is that someone would make something and it wouldn't look like the photo, and they would think they failed. Because I know I would do that. Everyone posts these perfect photos of food all the time and I would want to know if I did it right. So I didn't want it to be daunting or scary to people."
I confessed to her that I don't actually cook, so I needed the most idiot-proof recipe she has. Surprisingly, she suggested the recipe for John's Fried Chicken, which she said her husband, John Legend, has been making for 10 years now with Lawry's Seasoned Salt. It's a dish that's full of memories for the couple, as Teigen explained that Legend made it at a barbecue where she met all of his friends for the first time. "It's always been one of my favorite things he's made," she said. She also assured me that I will not be able to screw up her Lemony Arugula Spaghetti Cacio e Pepe. 
"Because if it's like, 'Oh, I put in too much cheese,' well that's awesome. If you put in too much pepper, that's fine. It's supposed to have this overwhelming pepper flavor," she said.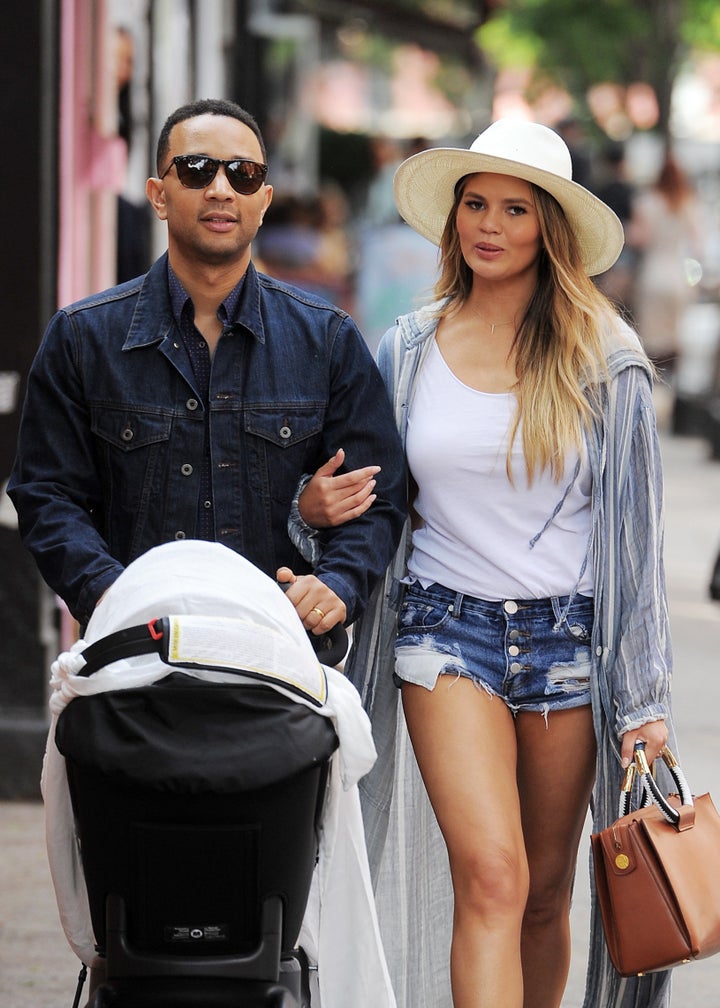 Of course, it was Teigen's choice to dine out with Legend recently that landed her in the news after hoards of angry Internet commenters, aka haters, criticized her for going to dinner just two weeks after giving birth to her daughter, Luna. Teigen experienced criticism at nearly every turn during her pregnancy, which is something that she can't quite comprehend. She chalked up the most recent "mom-shaming" incident as just "another thing for people to be mad at."
The 30-year-old said she's been a fan of mommy blogs for a while, way before she became a mother. But telling other mothers what to do is not something that has ever crossed her mind. 
"I would never be like, 'No! You are doing it the wrong way. This is how to do it.' And I don't know what possesses people to be like that at all ever, but people feel the need to speak their minds all the time," she told HuffPost. "Whether it's that, or it's Baklava, or it's Fruity Pebbles, or it's what she looks like in the car seat. It's just every little thing. So it not necessarily just mommy-shaming, I've just dealt with it for so long that it's just another form of them sharing their opinion." 
Despite having dealt with this kind of thing for so long, Teigen said it still surprises her sometimes that people can be so hurtful. 
"It's always funny to me when it's said very passive aggressively, like, 'Well, for one, I never left my child.' Well, whatever, more power to her. I'm like, OK, you think it's wrong, obviously, and that's fine, but I don't know what would possess someone to feel the need to write 30 lines on an Instagram comment about it."
"I just got the freaking update for [Instagram] the other day and I was like, 'Wouldn't it be cool if they ... nope, no they did not.' But I don't feel like it would hurt them and I feel like it would only give some of us some sanity," she said.
Teigen continued, "I don't really know what good comes out of the comments on an Instagram exactly. I personally don't look at them and feel better because of them, but I definitely feel worse sometimes. So I just think if people want that option, then why not give them the option?"
Interestingly, she said she's actually finding Twitter to be a friendlier environment and is "loving" Snapchat because she's able to put out whatever she wants and "people watch it, they screen grab it, but you really don't have to read anything hurtful. And I really just take to that now." 
And if you've watched Teigen's Snapchats, there's no doubt you've seen photos of her with her adorable daughter. When asked what the best thing about motherhood has been so far, Teigen said something most mothers can relate to:
"It's really cool to see her kind of slowly focusing her eyes on you ... she just takes in everything, but sometimes you look down at her and you wonder, 'Do you even recognize me? I'm mommy.' But you realize that they do. They smell you. They know how your skin feels," she said. "That been really cute and I think bath time is one of my favorite things on the planet with her, because her eyes just get so peaceful. And John knows this face that she makes when he's burping her, it's just so vulnerable and sweet. Her eyes get all big  and waiting for her burp and that, to me, is the cutest thing on the planet."
Calling all HuffPost superfans!
Sign up for membership to become a founding member and help shape HuffPost's next chapter
BEFORE YOU GO
PHOTO GALLERY
Chrissy Teigen and John Legend