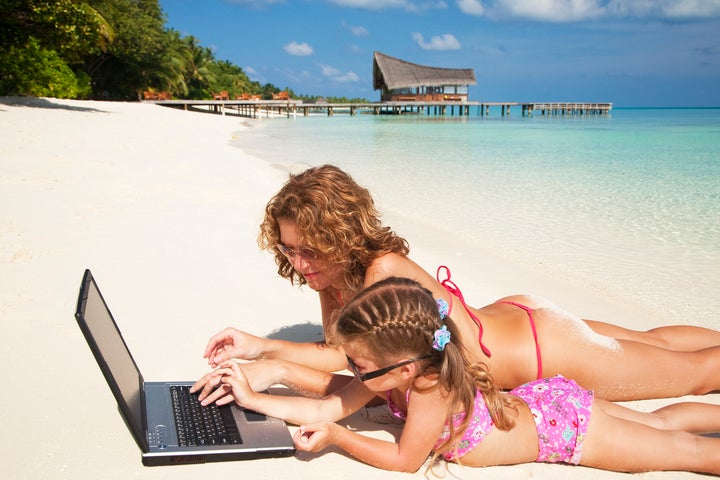 Let's face it – in the never ending work life balance struggle, those months of summer can prove to be the ultimate test of one's juggling skills if not one's sanity. So many working moms rely on the regularity of the school year that once it's gone, daily life often becomes frenetic and stressful to say the least. So many moms I know are plagued with the typical "summer is coming" stressors…
"Oh no, it's March and I'm already behind scheduling summer camps. I hope all the "good" ones aren't already booked!"
"If we make a trip to see Aunt Sue, I guess that means we have to visit Aunt Shelly too. That drive is going to be brutal. Do I have enough vacation left to do both???"
"Your camp starts at 10 a.m. and costs what????"
"Great, my big project will be finishing up at the end of July and I know I'll need to put in 10+ hour days until then. I will never make it to carpool on time!"
Although summer seems like it should be a relaxing time spent at the beach or spending quality time with relatives, the truth is that the workplace doesn't necessarily hit pause once the school year ends and working moms have to walk a very fine line in order to "make it work"! While no one has the recipe for work life balance bliss during those tricky summer months, here are a few of my best tips to help you keep your sanity and truly have a blast over the summer.
It is so incredibly tempting to listen to someone else rattle off their summer plans filled with African safari excursions and Great Barrier Reef diving expeditions and feel downright inferior as you plan your annual road trip to see Grandma Emma. Don't do it!!! Comparing your plans to others only sets you up for more stress so celebrate others, but be sure your plans are focused on your family, your budget, and your interests…not theirs. After all, a summer of jet setting can easily lead to a winter of debt so don't let jealousy tempt you to make choices you'll regret later.
Identify Preferred Camps the Year Prior and Get on Their Mailing List
High quality camps are often quite expensive, BUT many camps offer a 1 day sale (often in January) with discounts of 40 percent or more. It definitely pays to identify the camps that you're most interested in the year prior and find out when they have their flash sale. Call or email to ask them directly for the sale date and schedule a calendar alarm to remind you. If you can't reach anyone at the camp, sign up for their mailing list online and you may receive the sale information automatically once it's available.
Organize Summer Info in a Single Folder
Create a "Summer 2017" folder label for email and a hard copy folder as well. Label relevant emails as they come in for easy access later. Similarly, print information for relevant camps, childcare, trips and include them in a single folder. I also print out a hardcopy calendar (June-August) and handwrite in all details for each week (camp pick up/drop off times, pick up passwords, flight details, family reunion info, orientation/back to school dates, etc.). This becomes my go to source that keeps me organized all summer.
Discuss Summer Plans with Your Manager/Team Early
Navigating work demands becomes much easier if you provide significant advance notice to your manager/team so start planning major trips as early as possible (the end of year holiday vacation is a great time for a family meeting to start planning the summer). Ask about work demands before you propose time off so that you can identify preferred options for coverage during your vacation. Frequently remind others of your planned time off and bring your in charge/backup a muffin basket or box of chocolates before you leave. Also, consider requesting additional telecommute days during the summer for certain weeks when you anticipated particularly hectic drop off/pick up schedules in exchange for sacrificing telecommute days once school starts.
Remember that Less is More
We all hate those weekends that are so packed with birthday parties and errands that we're exhausted on Sunday night. Likewise, don't make the mistake of planning a summer that leaves your family feeling ragged running from one event to the next just praying for some downtime!!! While the summer requires lots of planning for events and activities, it's equally important to plan breaks from all the activity. Consider investing in a nanny to just watch the kids for a week here or there – even better find a nanny share to save on costs. Avoid scheduling anything for the few days right before school starts and block out time on your calendar for back to school errands and activities. Also, start to mimic the back to school wake up/homework schedule the week prior to allow the entire family a chance to get back in the groove.
Admittedly, summer planning can be stressful, but just take a deep breath, plan in small increments, and start early. Having an amazing low stress summer is so worth it!
Dana Brownlee is an acclaimed keynote speaker, corporate trainer, and team development consultant. She is President of Professionalism Matters, Inc. a boutique professional development corporate training firm based in Atlanta, GA. She can be reached at danapbrownlee@professionalismmatters.com. Connect with her on Linked In @ www.linkedin.com/in/danabrownlee and Twitter @DanaBrownlee.