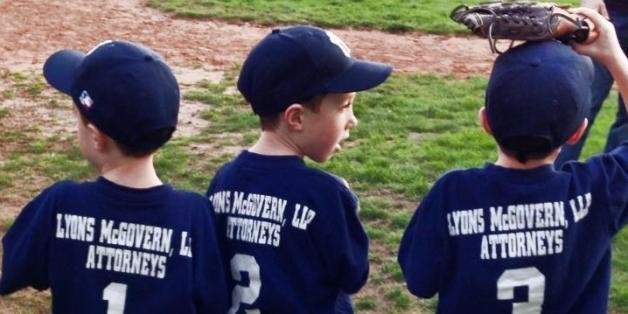 I gaze out the open window, grateful for the view. The early morning light peeks through the blooming dogwood tree swaying slightly in the breeze. Birds chirp merrily while squirrels play tag in our old sycamore tree. Spring is here. At last. We earned this spring. We suffered through the polar vortex, several arctic blasts, record-setting snow and so many snow days that I lost count. All through that seemingly endless bitter winter, we eagerly anticipated this spring -- the blue skies, the warm sun, the simple pleasure of an open window. But there's one thing we forgot. The onslaught of spring sports. And the scheduling challenge of juggling baseball, lacrosse and/or soccer in the already busy lives of active kids and working parents.
Despite being fairly organized, this spring -- with five kids on two or three teams each -- I can't tell who's coming and who's going, let alone who's on first at any given game. Homework is forgotten, family dinners are a distant memory and bedtimes get later by the day. With overtired kids and stressed-out parents, I have recently found myself praying for rain. Hoping for cancellations. Dreaming of flooded fields so we can hit snooze on Saturday, snuggle in front of a movie on Sunday or simply get to bed at a decent hour during the week. And if the chatter on the sidelines in our little town is any indication, I'm not alone.
After waiting and waiting for spring to arrive, it's beating many of us down -- especially after our collective victory over that horrid winter! Don't get me wrong; I still love the blooming flowers and the scent of freshly-cut grass. And I enjoy sitting on the sidelines, rooting for our home team. Heck, I've even been known to tear up when one of my boys scores a goal or my girl hits a double. But the constant go, go, go makes me yearn for days that are slow, slow, slow. And that's why I sometimes find myself singing this altered version of "Let it Snow, Let it Snow, Let it Snow":
Well the weather outside's delightful, but our schedule's truly frightful, baseball, lacrosse and soccer are a pain, let it rain, let it rain, let it rain!
Oh these games show no signs of stopping, and my brain feels like it's popping, with all this shuttling to and fro, I gotta say that I really miss the snow!
My work is slowly piling up and my 9-year-old can't find his cup, I can't leave the office for a game at four, or they'll permanently show me the door!
When this spring arrived oh so late, we all really thought it would be great, but sports overload is driving us insane, and now all the moms wish for rain!
Family dinner is a thing of the past, the other team just kicked my poor kid's a**, cleats, balls and bats litter our doorway, so there's only one thing left to say...
My team spirit is slowly dying and Spring, I wish you were good-bying, but as long you're here to stay, rain or shine let's all go outside and play!
Well, I had to end on an up note -- after all, if you can't beat 'em, join 'em. Spring is here, my kids love sports and like it or not, I'm facing years of juggling schedules of all sorts. If it wasn't baseball, lacrosse and soccer, it would be something else. But I'm not gonna lie, the forecast on Friday calls for rain and it makes me a little giddy inside to think of "family movie night" instead of "family freeze on a field night!"
Related