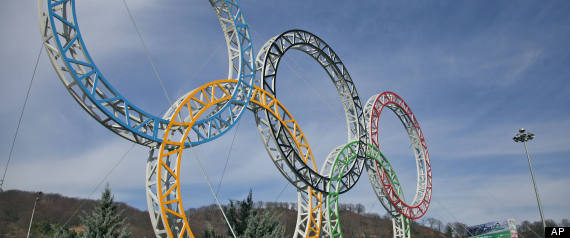 THE BIGGEST GAMES BY FAR
The Sochi 2014 Games will be the biggest Winter Olympic Games ever. This is most evident by the budget. When it's all said and done, Russia will spend an unprecedented US $50+ billion. Most of this money is going towards Game-time security and the development of Sochi's infrastructure and venues. But $50B is a lot of money, especially when you consider that Vancouver spend $7B in 2010, London $15B in 2012 and Beijing $43B in 2008.
Sochi will also award more medals than any other Winter Games: 98 medal sets in 7 sports and 15 disciplines. Compare that to 86 medals in Vancouver and 84 in Torino. To make it all possible, a team of over 60,000 staff and volunteers will help to accommodate over 600,000 guests during the 18 days of Games.
MORE COUNTRIES THAN EVER BEFORE
Although qualifications are still taking place, Sochi expects over 2,500 athletes representing 90 different countries. Vancouver and Torino hosted only 82 and 80 countries, respectively, so this is a considerable increase in Olympic participation. Seven nations are expected to make their Winter Olympic debut: Dominica, Malta, Paraguay, Timor Leste, Togo, Tonga and Zimbabwe. India has qualified for the luge and, in the spirit of Cool Runnings, Jamaica has again qualified for the bobsled.
NEW EVENTS & MORE EVENTS FOR WOMEN
The Sochi Games will considerably increase the number of events that are considered to be "Olympic." Twelve new winter sport events will be making their Olympic debut including three that are mixed male/female and five that are women only.
The new mixed events include biathlon mixed relay, a figure skating team event and a luge team relay. Yes, all of these events will involve both men and women participating together. Ski halfpipe and ski slopestyle are totally new additions to the Winter Games. Ski halfpipe brings skis into the snowboard-dominated halfpipe. Skiers combine tricks on a 565 meter downhill course featuring rails and a variety of jumps for the ski slopestyle event. Both events will have both men's and women's competitions. Slopestyle snowboard will also feature both men's and women's competition and a new snowboard parallel slalom will have sets of both men and women racing two at a time down the same slope on two parallel courses. Lastly, Sochi will bring equality to the ski jump. The women's normal hill event will mark the first time that women will compete in ski jumping at the Winter Games.
THE BIRTH OF SOCHI
Attracting over four million people each year to its tropical coast and dramatic Caucasus mountains, Sochi is already a destination for Russians. However, the Olympics will elevate Sochi to a global state of awareness. Russia hopes to attract millions of tourists from around the world in years to come. In the seven years since being awarded the Games, Russia has constructed five new power plants, a new sewer system, four new alpine resorts, 100 new hotels with over 27,000 rooms, a fully upgraded airport, a greatly expanded train network and nearly a million square meters of new roads and sidewalks.
For Russia, the legacy of the Games could be even more important than the Games themselves. There are plans for nearly every venue that has been constructed for 2014. Fisht Stadium will become a soccer stadium after the Games and will co-host the 2018 FIFA World Cup. Bolshoy Ice Dome will become a world-class entertainment complex. Shayba Ice Arena will actually be deconstructed and moved to another location in Russia. Iceberg Skating Palace will become a cycling track and Adler Arena will become an expo center. Ice Cube Curling Center, Laura Cross-Country Skiing & Biathlon Center, Sanki Sliding Center and Gorki Jumping Center will all become Russia's national training centers in their designated sports. The 2014 Games will define Sochi as the hub of Russian winter athletic training going forward.
PARALYMPIC FIRSTS
In 1980, the USSR organized the Summer Olympic Games in Moscow but refused to organize a Paralympic Games. This was largely because Russia didn't build venues that were accessible to the disabled - it just wasn't in their culture to do so. Since the USSR collapse, Russia has attended every Summer and Winter Paralympics with increased level of success. As the geographically largest country in the world with over 143 million people, an increased national awareness of universal accessibility is a very big deal. This represents a major paradigm shift among Russians as they look to promote social inclusion of people with disabilities throughout the country.
RUSSIA'S ONGOING "GLASNOST"
Glasnost is a term from the 1980s referring to an ongoing transparency or openness of the USSR. The USSR is no more, but Russia continues to open itself up to the world and redefine its often misunderstood image. In hosting an Olympic Games, Russia has the opportunity to showcase the best of what it has to offer. It has the opportunity to promote tenants such as sustainability and accessibility that were previously non-priorities in the country. It also gives the Russian people an opportunity to get involved and meet the world on their own turf. A culture of volunteerism was practically non-existent in Russia up until a few years ago. Now, over 200,000 Russians have applied to volunteer at the Sochi Games. Although still making some questionable decisions on the world stage, Russia is continuing the tradition of glasnost as they prepare to welcome the world to Sochi.
Calling all HuffPost superfans!
Sign up for membership to become a founding member and help shape HuffPost's next chapter