I'm often surprised at how many CEOs refuse to use social media. Perhaps they feel that having a social presence could be risky. Perhaps they fear that saying the wrong thing could ignite a PR nightmare - a firestorm not easily extinguished. Or, maybe they worry it could open them up to disgruntled customers who could threaten their company's reputation.
On the surface, this seems to make a lot of sense, but based on my experience, a social presence is a necessity for success.
Social media 'sociability' shows that I'm listening; that I'm open to engaging in conversation, and comfortable with technology. In short, it shows I'm a human being.
In fact, setting up a Twitter account and my own blog was the best thing I ever did. Not only can I communicate with my friends and co-workers, I'm better able to tap into my intended core audience.
Remember, constant communication is key to growing a business. I'm the first to say that there's no immediate value to penning a blog or tweeting a message to followers. It may even take valuable time out of my day. But the long-term benefits are difficult to ignore. Blogging, for example, helps nurture ideas. It also helps me build an audience and a following.
I now have more than 700 Twitter followers that I can speak to and listen to daily for inspiration and ideas I may not have thought about. Often, this 'social' interaction helps me shed further light on projects I'm working on.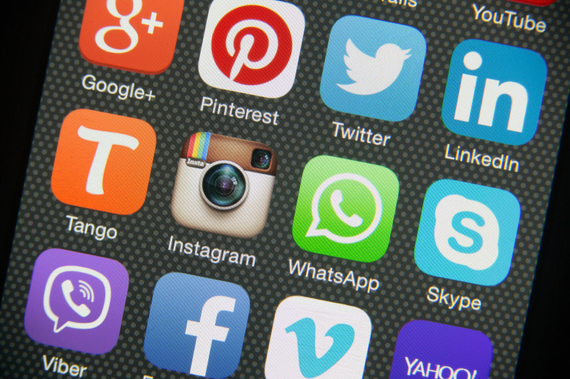 Blogging also helps me become more of an 'expert' in my field. More and more readers know who I am, and, for example, can depend on me for opinions on commercial real estate. Above all else, social media has allowed me to establish trust and rapport among my followers.
Studies have proven that most of us trust our peers more than any other source. We can log onto Facebook and Twitter to share similar experiences and research others' experiences with other companies and products. It builds trust and reliability.
It also allows us to communicate with like-minded people, seeking pertinent information that will help us make decisions. Realtors, for example, use social media to attend group meetings for networking and to discuss new trends in their field.
Simply put, without social media, I'm blind.
Incredibly, up to 60 percent of Fortune 500 CEO's don't have a social presence. It's my opinion that as a company's leader, the CEO should be present on social media at all times.
While Twitter has seen a modest year-over-year increase of 1.7 percent in the number of CEO'S on the site, as compared to 2014, frequency of use is down, according to Ad Week. Half of all CEO's tweet once a month or less, they note.
Those are startling statistics that I believe should be changed immediately.
The top three benefits of Social Media include:
No. 1 - Build your Level of Trust and Awareness
It's great that my company has created a new realty fund for people to invest in, but if we want to build momentum and communicate the reasons why we think our fund may be a good investment, we need to be where our audience is - and that's on social media.
We know that putting social media on the back burner is bad decision. By doing so, we greatly reduce the possibility for people to interact with our brand. Remember, people don't buy products from people they know - they buy products from people they trust.
No. 2 - Expand your Business Community
No one ever said being an entrepreneur was easy. I know this firsthand. At some point, you'll want and need advice and support from other entrepreneurs in your field of expertise. Social media is one of the best and fastest ways to create these connections.
For example, when it comes to investing or learning about commercial real estate, there's a great deal of information at your fingertips. While I'm always happy to help educate and provide advice with my blog and twitter page, I know how important it is to listen to other opinions. Here are some of the top Twitter accounts I follow in my attempt to broaden my sociability:
The Tenant Advisor
We follow Colliers' Coy Davidson most often. With more than 27,300 followers, he provides a good mix of important commercial real estate news and insights into the world of healthcare and how it relates to real estate and other services.
Duke Long
Duke Long offers great insight when it comes to commercial real estate, as well as the "occasional F-bombs" as he notes on his twitter page. With more than 7,700 followers, he typically offers a good mix of information related to real estate and technology.
Michael Lagazo
This is another great twitter account I follow daily for a steady flows of news on commercial real estate. This may be one of my favorite sources for daily insights on the subject of real estate.
Linda Day Harrison
Linda is the founder of TheBrokerList.com and she has a great deal of commercial real estate experience in property management.
Barbi Reuter
Barbi is the COO of PICOR Commercial Real Estate. She's an active blogger on the topic and very engaged on social media.
Of course, these are just a few of the Twitter pages I follow. You can also follow our dedicated Twitter list found here @hsrayat.
No. 3 - Expand Company Trustworthiness
The most respected PR firms specializing in crisis communications will tell you the same thing - in good times or bad, your public needs to hear from you. Hiding from an issue is a great way to destroy brand loyalty.
By owning the 'problem', especially in a social presence, the smallest gesture from a CEO can go a long way. Failure to protect your good name and your standing in society can hurt you for many years to come. Don't ever forget, your reputation is your most valuable asset.
The moment it's tarnished, you risk losing customers, sales, partners, and your business. This is another reason why social media presence is a necessity.
Think of social media as a vehicle to listen, engage, grow and show compassion. You'd be surprised how many CEOs and major companies would benefit from its adoption.