As of late, Spafford is the latest buzzword in the jamband scene. I'm not surprised in the slightest that everyone is freaking out so hard for this four-piece funk rock group hailing from Phoenix, AZ. Their sound is like everything and nothing you've heard before making them one of the next big things happening in improvisational music today. The band comprised of Jordan Fairless (Bass/Vocals), Red Johnson (Keys/Vocals), Brian Moss (Guitar/Vocals) and Cameron Laforest (Drums/Vocals) have only just begun their musical adventure in this world (as Spafford). If the start of their career together includes coast-to-coast tours-headlining venues across the country-while also supporting heavyweights such as Umphrey'sMcGee, which it does, then you better keep this band on your radar. They're coming for you and they're comin in hot! This fall, the band will embark on their most extensive headline tour and also plan to make their debut appearance at Suwanee Hulaween​.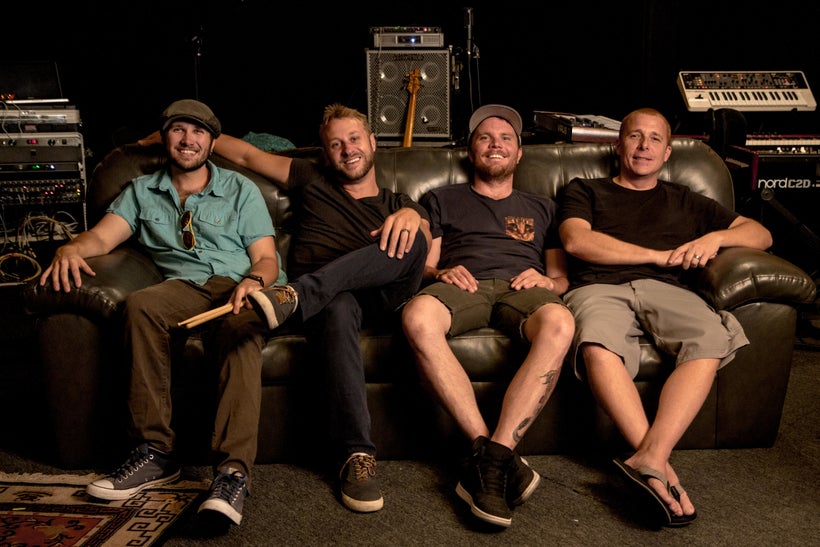 The guys have created something so unique in the form a new Spafford record, Abaculus: An Improvisational Experience​, ​out today, August 9th. Starting at 12 PM EST, the record will be streaming live via the band's official Facebook page.
Recorded in a single take at The Pound in Phoenix, AZ, this hour-long cut was entirely improvised, putting on wax what it means to be completely immersed in the moment, without expectation of what will come next. In the words of the band, "As a singular musician, one can only do so much. When we all come together, remove the ego, listen to each other, relax, and have fun, the end result knows no bounds."
Spafford took a moment to elaborate on the intention behind Abaculus for the Huffington Post. "Listening back to this improvisational session, we were all blown away by it's power. It had everything you could really want in an album: Danceable grooves with catchy melodies, multiple sections where the music changes drastically, and a very continuous and comfortable flow from start to finish. It was almost as if you could hear the lyrics along with the tunes," remarks the band.
They continue, "Upon further review, the experience sounded more and more as if it were rehearsed. We all listened and had the patience to let each section expand to become what it wanted to be. When you let go and let the music play itself and it's genuine, it creates the most magical moments. Essentially, that's what makes a good album great. That's what we felt we had done with Abaculus." 
Something deep and spiritual must have been the catalyst for this project, don't ya think? Wrong! Abaculus started on the hottest day of the summer in Phoenix, AZ. For Spafford, this summer has been a grind, and after several uninspired rehearsals, the band took a day to themselves. What did they do on that day? As bassist Jordan Fairless shares, "We loaded up, went to the waterpark, and spent the day riding every possible ride in the park. It was a day of chili cheese dogs, lazy rivers, and a whole lot of laughter. It was the most fun we had been allowed all summer."
At a loss for the direction to head in at the following rehearsal, Spafford took a step back to return to their roots. They held this particular rehearsal as a jam session, which is something they've done before. For this reason, the band explains that one person starts with a simple phrase or melody and everyone else is required to listen and find their part. There is no verbal or visual communication allowed. After a game of "Nose Goes" it was decided that guitarist Brian Moss​ would begin, and what came out of that day is now known as Abaculus.
After an hour of improvisation among band members — with alternating leads, melodies and movements— the music came to a natural end. They all knew something special had just transpired, and Fairless felt compelled to mix and master the recording, which was miraculously recorded from the getgo.
The word"abaculus" is defined as, "a small tile of glass, marble, or other substance, of various colors, used in making ornamental patterns in mosaic pavements," or in other words, small pieces part of a much larger work of art. The session resulting in Abaculus is a great example of four musicians — namely Fairless, Moss, Red Johnson and Cameron Laforest ​— coming together and contributing their individual pieces to a much larger work of art.
Spafford's new album is what dreams are made of. They've started a trend in improvisational records and it's going to be very interesting to see which bands follow suit. My butt (and the rest of me) is so excited to get out there and see Spafford do what they do live-in person. I'll see you on the dance floor!
I'm a weird and wild sequin-and-feather wearin' live music fanatic living in Burlington, Vermont with my hubster Dan. When I'm not at home facilitating retreats at This Wonderful Place (our very own retreat center), enjoying the local live music scene, paddleboarding on Lake Champlain, watching sunsets, or hanging out with my friends, I can be found galavanting around the world. Leading retreats for live music fans with a healthy twist, presenting talks and workshops, or dancing at shows and music festivals is where I spend the rest of my time. Life wasn't always this magical. It's given me some majorly sour lemons that kicked the sparkles out of me and caused me to fall from my unicorn. But I got up, dusted myself off and started to realize that good times don't have to end when the festival does. For tips and tricks on how to keep the festival rolling go HERE.
Abaculus is available digitally via iTunes, Apple Music and Spotify starting today. Starting at 12 PM EST, fans can tune into a live stream via Spafford's Facebook Page.
Go see Spafford do their thing LIVE:
8/10 - 8/13 - Scranton, PA ​- Peach Music Festival
9/2 - Chicago, IL​ - North Coast Music Festival
9/9 - Bellvue, CO​ - Canyon Jam
9/21 - 9/23 - Thornville, OH​ - Resonance Music Festival
9/27 - Charlottesville, VA​ - The Southern
9/28 - Baltimore, MD​ - The 8X10
9/29 - Philadelphia, PA​ - The Foundry @ The Fillmore
9/30 - Brooklyn, NY​ - Brooklyn Bowl
10/1 - Ithaca, NY​ - The Haunt
10/3 - South Burlington, VT​ - Higher Ground Showcase Lounge
10/4 - Hamden, CT​ - The Ballroom at The Outer Space
10/5 - Northampton, MA​ - Iron Horse Music Hall
10/6 - Cambridge, MA​ - The Sinclair
10/7 - Portland, ME​ - Port City Music Hall
10/8 - Albany, NY​ - Lucky Strike Social
10/11 - State College, PA​ - State Theatre
10/12 - Columbus, OH​ - A&R Music Bar
10/13 - Bloomington, IN​ - Bluebird Nightclub
10/14 - Ann Arbor, MI​ - Blind Pig
10/15 - Grand Rapids, MI​ - The Pyramid Scheme
10/17 - Madison, WI​ - Majestic Theatre
10/19 - Columbia, MO​ - Rose Music Hall
10/20 - Nashville, TN​ - Mercy Lounge
10/21 & 10/22 - Asheville, NC​ - Asheville Music Hall
10/24 - Charlotte, NC​ - Visulite Theatre
10/25 - Athens, GA​ - 40 Watt Club
10/27 - 10/29 - Live Oak, FL​ - Suwannee Hulaween
10/31 - New Orleans, LA​ - Parish @ House of Blues
11/2 - Baton Rouge, LA​ - Spanish Moon
11/3 - Houston, TX​ - White Oak Music Hall Upstairs
11/4 - Austin, TX ​- Antone's Night Club
11/5 - Dallas, TX​ - HoB Cambridge Room
11/7 - Lawrence, KS​ - The Bottleneck
11/8 - Omaha, NE​ - The Waiting Room
11/9 - Denver - CO​ - Ogden Theatre
11/11 - Denver, CO​ - Globe Hall *
11/14 - Seattle, WA​ - Crocodile Cafe
11/15 - Portland, OR​ - Doug Fir Lounge
11/16 - San Francisco, CA​ - The Independent
11/17 - Los Angeles, CA​ - Teragram Ballroom
11/18 - Flagstaff, AZ​ - Orpheum Theater
12/1 - 12/5 - Punta Cana, DR​ - Dominican Holidaze
Calling all HuffPost superfans!
Sign up for membership to become a founding member and help shape HuffPost's next chapter
This post was published on the now-closed HuffPost Contributor platform. Contributors control their own work and posted freely to our site. If you need to flag this entry as abusive,
send us an email
.