However well-intentioned, the conversations about race didn't work out at Starbucks. But that doesn't mean that informal connections in public spaces can't take us to a more vibrant and diverse America. I see the potential every Tuesday night when I hang out at the public library.
At the library, I'm already in the midst of the global community that demographers describe as our future. There are people of nearly every race, ethnicity, age, ability, economic circumstance. We are reading, studying, tutoring, writing resumes, accessing the Internet, searching for books, meeting in conference rooms, whispering in the carrels, thumbing through the magazines -- all in pursuit of the knowledge and know-how that will help us make sense of where we are and pave a path to where we want to go.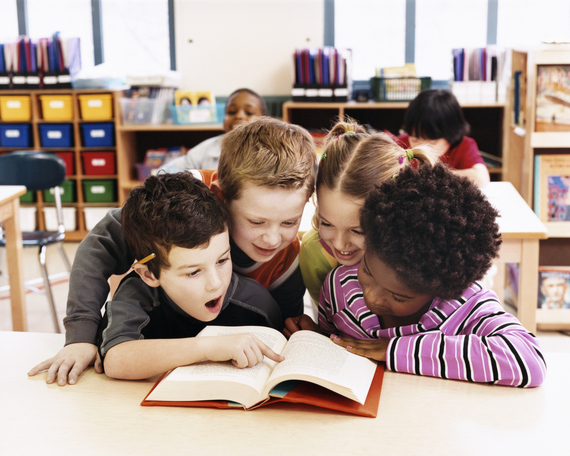 Outside the children's activity room, 15 or so of us parents and grandparents listen to our eight- year-olds roar with laughter during the library's weekly "Game Night." We're African- Americans, Asian-Americans, immigrants from Middle Eastern countries, descendants of European ancestors and Hispanics -- gathered somewhat randomly, strangers -- except on Tuesdays, when we pass an hour chatting about the things that unite us: love of children, commitment to learning, hope for the future, frustration with the traffic.
We're not doing the important work of excavating the foundations of structural racism, that's true. But we are doing important work: Establishing habits of engagement and respect; affirming and appreciating shared interests, aspirations and the peels of our children's laughter.
We've come a long way already, of course. In Alexandria, Virginia where I live, the public library was the site of a 1939 sit-in predating the Civil Rights Movement, when five young African-Americans who had been refused library cards on account of their race sat down with books in the reading room and refused to leave.
Today, the Alexandria City Library system is governed by a racially diverse Board of Directors, and a Black History Museum occupies the place where a "separate but equal" library was built in 1940 in response to the demonstration of the previous year.
Nationally, African-Americans are now well represented among those who use public libraries. According to a 2012 survey of nearly 3,000 people conducted by the Pew Internet and American Life Project, 62 percent of African-Americans, 57 percent of whites, and 44 percent of Hispanics used a public library in the past year. Almost half (48 percent) of African-Americans said their local library is very important to them, along with 43 percent of Hispanics, and 35 percent of whites.
Therein lay great opportunities for libraries, "the most democratic of public institutions," according to the Aspen Institute's 2014 report Rising to the Challenge. They are "the essential civil society space where this new America will make its democratic character." The Aspen report quotes Robert Harrison, city administrator of Issaquah, Washington, saying that "libraries are like Starbucks without the coffee: an important place to build social connections. Anyone can use it."
Many libraries are accepting the challenge, finding ways to put their resources to use to create more inclusive communities. For example:
•The librarian in Ferguson, Missouri -- only a few weeks on the job when Michael Brown was shot last summer and the nation erupted in protest -- kept the facility open as a community space for calm throughout the ensuing unrest and distributed "Healing Kits" for children, with stuffed animals and books about dealing with traumatic events.

•The American Library Association recently received a $350,000 grant from the National Endowment for the Humanities to expand its "Great Stories Clubs" to engage 8,000 additional at-risk youth "struggling with complex issues like incarceration, violence and poverty."
•Topeka and Shawnee County Public Library in Kansas received a 2014 Innovation award from the Urban Libraries Council for their work to train library staff to "convene conversations to help community members reconcile diverse perspectives and teach people how to reach consensus with the goal of making the community a better place to live, work, and learn."
•The Young Adult Library Services Association is implementing a professional development program to equip librarians with the tools and competencies needed to better serve youth in today's diverse and digital world. With support from HASTAC, they created digital badges to acknowledge and reward satisfactory completion of the curriculum by participating library staff.
Meanwhile, Starbucks has stepped up with actions that will mean more than words. CEO Howard Schultz announced last week that his company is moving into a new phase of its commitment to "Race Together." They'll be opening more stores in urban neighborhoods, hiring 10,000 "opportunity youth" who are not currently in school or working, and, between now and 2025, helping more than 25,000 employees finish college through a Starbucks College Achievement Plan with free tuition to Arizona State University Online.
With 11,962 Starbucks stores and 17,000 public library branches in the United States, could there be some synergy here? Might some Starbucks employees access the ASU website at their local public libraries? Might library customers stop by Starbucks and build community around tables? Could the buzz about a new future that is "more empathetic and inclusive" (as Schultz describes it) reach a tipping point through shared experiences in public spaces as different but as ubiquitous as coffee shops and public libraries?
The more dynamic and diverse future we envision won't be realized through programs and projects designed specifically for that purpose -- however well-intentioned. There's greater promise in the direct experience of being together, here and now, made real in the places that naturally attract us, the interests that already engage us, and the habits we're attached to -- linked in ways previously unimagined, like when we're grabbing a coffee, working a job, finding a book, taking our kids to Game Night.
Related
Popular in the Community