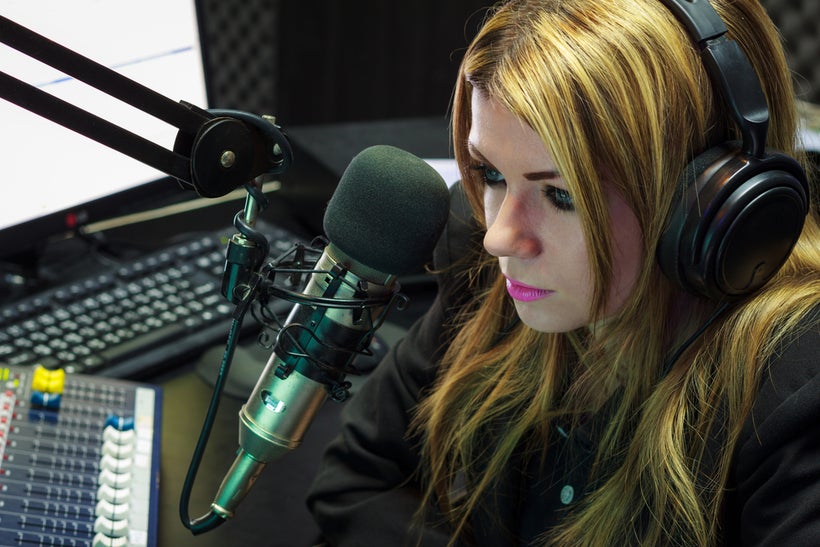 If you're not listening to podcasts, you're missing a lot. They combine the best of talk radio, talk shows, documentaries, off the wall comedy, and suspense - at times all in the same show. They can run ten minutes, half an hour, or a full hour. Making a podcast of your own? It's easier than you think.
This article launches a multi-part series about podcasting. If you've ever wanted to do a podcast but didn't know how to get started, I'll show you how to shape the germ of an idea into a series. In later parts I'll cover how to find people to interview and the technical stuff. Let's get started.
You might be asking how podcasts are different from radio shows. On a podcast, you'll often hear information and music that you usually can't find anywhere else. They are often aimed at niche audiences. Though some podcasts are distributed live like radio shows, many are not. They are recorded for later listening, or added to a listening queue on Soundcloud, iTunes, or other syndications, making for a completely different kind of listening experience.
We might think of podcasting as a "small" medium. It is intimate and personal. But its reach is getting bigger, because while well-suited as a digital megaphone for startups, small businesses and niche ventures, podcasting is becoming a go-to audio medium for bigger guys like NPR, The New York Times, The Atlantic, Slate, Fusion, Fast Company, investors like Jason Calacanis and funding platforms like Seedrs. The reason is simple. Podcasts are fun and easy to produce, easy to distribute, and the links they create for you add SEO juice to your domain name (backlinks would be the official term for that). You online network grows as people embed your podcast media on their own site, or share it in social media channels.
With podcasting, you can start small, with minimal equipment, with a passionate group of listeners, and easily scale to a larger group without spending much money. You can grow and keep your focus.
Podcasts are a great way to introduce people to your narrative over time. They help you build loyalty and long term interest in your brand, message or venture.
Where do you begin? With an idea that is strong enough to turn into a series.
Sometimes an idea can be the hardest thing in the world to acquire, but let's assume something. Let's assume that you're interesting or that your company is interesting and it has a good reason to be in the world.
Still with me? Good, because the reason we are headed off in this direction is simple. If you expect your listeners to be interested in you, you have to start by being interested in yourself. The very premise of your work has to feed your mind and soul as well as your bank account. It all goes together, particularly when you are creating media around your company or personal brand.
Lots of people have what they think is a terrific idea for a podcast and then discover that what they really have is a terrific idea for an episode of a podcast. Thinking in series is a different thing, and it makes you go deeper. It is a similar process to blog writing. The internet is filled with blogs that got started, went a few rounds, and then fell over from exhaustion, conceptional malnutrition, or some other malady. These "illnesses" are all preventable, and you prevent them right at the start. At the concept stage.
If you know why you are building your company or your brand, you will know how to build your podcast. If you have, for example, an education app that is helping kids become more enthusiastic about reading, then you are doing a podcast about literacy. If you have a product that is helping people exercise more at work, then you are doing a workplace fitness podcast. If you have an online platform that helps women return to work after having a baby, you are doing a podcast about women, work, and equal pay. If you have written a successful book that shows girls strong role models to help them see potential career paths, then you are doing a podcast about role modeling and careers.
If you read those examples, and they start you thinking about lists of topics and the guests to go with them, you are n the right track. If you are coming up dry - with no ideas at all - you can turn to Google.
Look at your mission statement or company slogan. Grab a few of those keywords and put them into the Google search bar along with the word *podcast. *Your search string might look like any one of these:
tech in the classroom podcast
office productivity podcast
real estate investment online podcast
health and fitness podcast
Google will return a list of podcasts on the topic, and you can check them out, get inspired, consider their topics, and learn about their guests. If you want to dig deeper, and you see links to the podcast on SoundCloud, you can click through and give a listen. Deeper still, you can see how many listens/downloads the episodes have, and get a sense of how popular certain topics or guests are. This is all good information that can influence how you plan your show.
In the next article I'll cover the building blocks of podcasting, such as how long your podcast should be, how often it should run, and notes on production planning. In later articles, I'll cover all the tech stuff.
Calling all HuffPost superfans!
Sign up for membership to become a founding member and help shape HuffPost's next chapter
This post was published on the now-closed HuffPost Contributor platform. Contributors control their own work and posted freely to our site. If you need to flag this entry as abusive,
send us an email
.