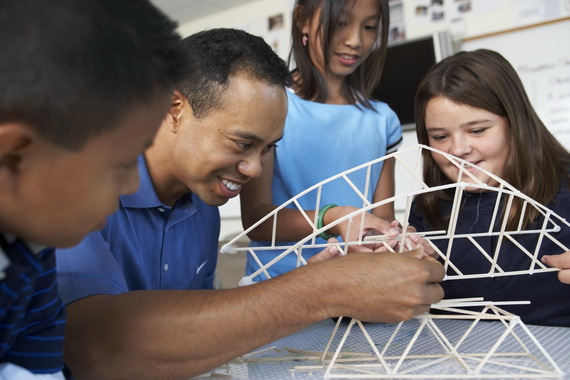 Photo by Laurie & Charles

We often refer to the Tiger Woods Learning Center as STEM City. While STEM (Science, Technology, Engineering, Math) is a widely discussed subject now, the national education community was just starting to recognize its importance at the time the learning center launched. So, how did we get here? Why did we decide to base our curricula in STEM more than a decade ago?
Well, in 2004, I spent significant time talking to young people from middle and high schools surrounding what was to become the flagship Tiger Woods Learning Center. The purpose of these meetings was to shape both the curriculum and activities for this unique after-school program. What was interesting about this process was the consistency in answers from varying areas around the city - a mixture of age groups, ethnicities and genders all echoing similar ideas. The results? Kids requested a place where they could go and apply what they were learning. Time to be creative, to use their intellect to innovate, create and invent. Moreover, they expressed frustration with the setup of traditional learning, specifically in science where a single class period was not sufficient to start an experiment and spend time analyzing, postulating and really learning from what they were doing.
While this was not a scientific study, the results mirrored societal discussions around the nation about the importance of STEM. A recent report conducted by Georgetown University looking at job growth included a section on 21st Century Competencies needed for jobs in 2020. What piqued my interest was a list of skills projected to be highly valued in high-wage, high-growth, high-demand jobs. Among them - active listening, speaking, reading comprehension, critical thinking, writing, monitoring, coordination, social perceptiveness, judgment and decision making, complex problem-solving, active learning, time management, mathematics, negotiation and science. So what are the implications for STEM?
STEM impacts every area of our life. Science is around us daily as we interact with the complexity of the natural world. Technology shapes our day-to-day, as we turn on our computers, smartphones, microwaves and countless devices that make our lives at home and work more efficient. Engineering provides us the thinking necessary to innovate, create and invent, tackling the challenges of a growing society. Math is utilized every day as we pay bills, buy groceries or measure items for our favorite recipes.
 
At the Tiger Woods Learning Center, our members and their classroom teachers are challenged to engage in STEM each and every day. Teachers develop STEM lessons that are interactive and project-based so that learning is both interesting and relevant to students' lives. Kids are encouraged to think critically, problem solve, make mistakes, learn and try again.
Having young people competent in STEM helps build communities and shape nations. Educators, parents and community leaders must all shoulder the responsibility to adequately prepare our children for the demands of the future. Simply put, it is vital that we teach these skills so that future generations are prepared for jobs that don't exist yet and are prepared to solve problems that we don't know are coming.
REAL LIFE. REAL NEWS. REAL VOICES.
Help us tell more of the stories that matter from voices that too often remain unheard.