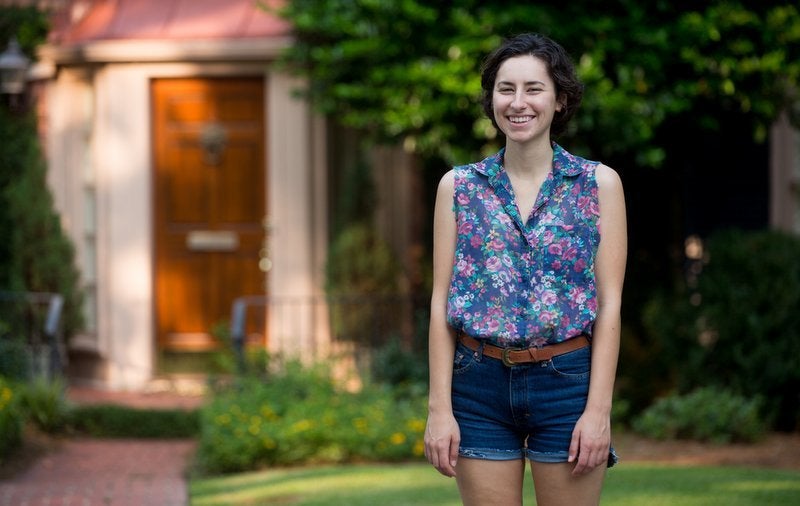 This week, the state of Maryland launched a "SmartBuy" program for first-time homebuyers that provides a forgivable second mortgage that pays off all of the borrower's student loan debt.
Buy a home, and get your student loan debt taken care of. What's not to like?
One issue for some homebuyers is that the SmartBuy second mortgage must pay off all of your outstanding student loans, or you won't qualify. Because the SmartBuy second mortgage can be up to 15 percent of the home's purchase price, a borrower purchasing a home for $200,000 could retire $30,000 in student loans. Many graduates have more debt.
The biggest catch is that you have to buy a house that was foreclosed on by the Maryland Department of Housing and Community Development.
Not everybody's dream home
One of the SmartBuy homes, a two-bedroom townhouse in Baltimore's Washington Village, is listed at $130,000. With the SmartBuy program's 5 percent down payment, a homebuyer could put $6,500 down and be looking at a monthly mortgage payment of less than $600 (the program even offers a $5,000 third mortgage for those who need help with the down payment). But over on the real estate website Trulia, the schools around this home are characterized as "below average," and crime in the neighborhood as the "highest" for the area.
If not all of these properties are everybody's dream home, the intentions behind Maryland's SmartBuy program are laudable. Student loan debt can be an obstacle to many would-be homebuyers, and other states have launched first-time homebuyer programs for recent graduates. Ohio's "Grants for Grads" program, for example, provides down payment assistance and reduced-rate mortgages for first-time homebuyers.
While these programs will help many with student loan debt buy homes, the demand is enormous. With $10 million in initial funding, Maryland's SmartBuy program is expected to help about four dozen homebuyers retire their student loan debt, The Baltimore Sun reports. More than 40 million Americans owe a cumulative $1.3 trillion in student loan debt.
That's a pretty staggering number. But what's surprising is how many student loan borrowers are becoming homeowners.
One in four homebuyers have student loan debt
Real estate data aggregator Black Knight Financial Services has documented a 40-percent increase in the number of mortgage holders carrying student loan debt over the past 10 years. Back in 2006, it was 5.4 million. Today, 7.7 million people are paying down student loans and a mortgage.
If you think about it, it makes sense that many borrowers are able to tackle both their student loans and a mortgage. Researchers like Brookings Institution fellow Susan Dynarski have noted that the earnings boost provided by a college degree means that the homeownership gap is not between "college-educated people who did and did not borrow, but between those with and without a college education."
Black Knight estimates that about one in four homebuyers who were approved for a purchase mortgage in 2014 also had student loan debt. But it goes without saying that many other would-be homebuyers are turned down for a mortgage because of their student loan debt, or could have qualified for a bigger mortgage.
Taming student loan payments
At Credible.com, we've analyzed data on thousands of borrowers that paints a clear picture of how student loan debt often inflates debt-to-income ratios, making it harder to qualify for a mortgage. We've also run some numbers that show how refinancing student loan debt at lower interest rates can reduce monthly payments, overall repayment costs, or both (I'm the founder and CEO of Credible.com, a marketplace for student loans and student loan refinancing).
We looked at several types of borrowers, and found recent graduates 27 and younger are refinancing student loan balances ($49,379) that are nearly as large as their annual salaries ($54,200). That's one reason recent graduates are most likely to refinance into loans that extend their repayment terms, which cuts their monthly payments by $221, on average.
Trimming their student loan payment by $221 a month could help a recent grad who prequalified for a $300,000 mortgage boost that limit to nearly $350,000. That additional homebuying power could be the difference between just finding a place to live or moving in to a dream home.
Refinancing is not for everybody. When you refinance federal student loans with a private lender, you lose some borrower benefits like access to income-driven repayment programs and the potential to qualify for loan forgiveness after 10, 20 or 25 years of payments. But for thousands of borrowers with stable earnings and credit, refinancing is generating savings that can open up doors.
REAL LIFE. REAL NEWS. REAL VOICES.
Help us tell more of the stories that matter from voices that too often remain unheard.
This post was published on the now-closed HuffPost Contributor platform. Contributors control their own work and posted freely to our site. If you need to flag this entry as abusive,
send us an email
.