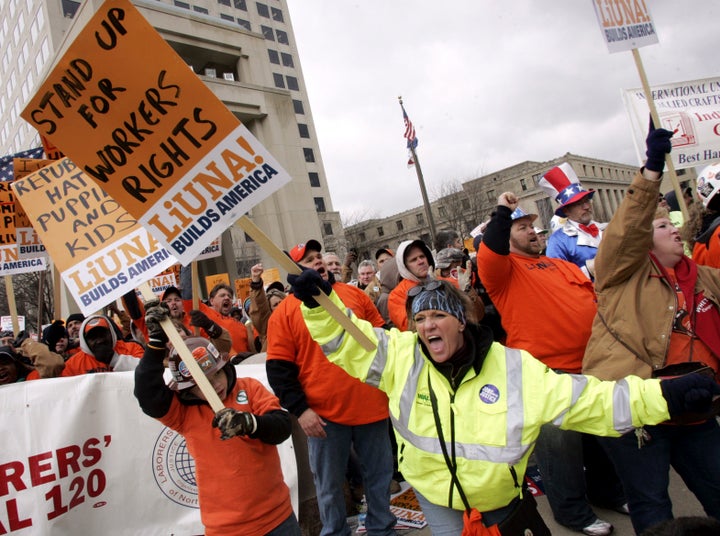 Many, many people work at our colleges and universities in order to ensure their smooth operation. There are, of course, professors, but also operating engineers, landscapers, clerical workers, janitorial staff and food service workers. What might be surprising is the fact that many of these workers are not actually employees of our schools, but rather of large, multi-national corporations including the "Big Three:" Aramark, Compass and Sodexho.
Starting in the 1980s, colleges and universities began a long process of corporatization that continues still today. As a way of cutting costs and "increasing efficiency," many schools outsourced their janitorial and food service staffs to these growing multi-nationals. According to Vicko Alvarez, a national organizer for United Students Against Sweatshops, the process of subcontracting "is a century-old strategy by companies to increase profits by creating intense competition between outside suppliers or providers." By creating a "race to the bottom," corporations, including colleges and universities, are able to cut costs while sacrificing the well-being of workers.
"Workers always suffer the most from this strategy of profiteering as it leads companies to make reckless decisions," Alvarez explains. In efforts to bid the lowest to gain huge contracts with colleges and universities, the companies that often purport to have the most ethical standards in the business squeeze the most work out of workers without increasing pay and intimidate and fire workers who speak up against the incredibly awful conditions they face.
These consequences can be clearly seen on my campus at American University, where Aramark has a contract with the administration to provide janitorial services. Last year, the university administration wanted to add four off-campus buildings into the contract with Aramark. At the behest of the university administration, Aramark agreed to take on these buildings for no extra cost. This meant that Aramark management passed on this extra work to the workers without hiring any additional staff. So while workers used to work 22,000 square feet in an average day, they now have to work around 27,000 square feet per day, a 23 percent increase. All of this has come with no additional pay for workers and the stated intention of further workload increases as the university builds new buildings. The increased workloads have caused workers serious physical pains and limited their abilities to take breaks from work.
The beauty of subcontracting though, is that when students have confronted university officials with these facts, they are able to blame Aramark for these problems and say that they are not responsible for the actions of an outside company. However, the truth is that these abuses stem from university decisions and if administrators wanted to correct the injustices on our campus, they could.
The effects of subcontracting can also be seen all the way in Indonesia, where workers at the PT Kizone factory contracted to provide collegiate apparel for Nike, Adidas and other brands found their factory closed after they organized a union. The owner of the factory fled the country without paying the workers the $3.3 million the factory legally owned in severance pay. While Nike has accepted some responsibility and agreed to pay part of the severance, Adidas continues to refuse to accept responsibility for their sub-contractor, and have maintained their position that they cannot be held responsible for the actions of their subcontractors.
How can we keep both our university administrations and these large corporations in check and help fix some of the problems that subcontracting causes? It all comes down to building student and worker power. Across the country and across the world, it has been proven again and again that there is nothing more powerful than students and workers uniting to struggle in common cause.
Popular in the Community