Consumer purchases are increasingly determined by the power of the crowd. Today's customer looks to crowd-sourced reviews to determine their final purchase and trusts the reviews that they read as much as a personal recommendation from someone they know. Savvy brands are capitalizing on this shift in consumer behavior with review-centric marketing strategies.
Fabletics is one such brand. Since its 2013 launch, it has grown by more than 200% to over $235 million in revenue and more than one million paying members. Shawn Gold, Corporate Marketing Officer of TechStyle Fashion Group (Fabletics' parent company), credits much of the brand's success to embracing the user reviews, or the crowd.
Fabletics powered such rapid growth by leveraging the prominence of reviews in today's customer journey. Consumer reviews can directly drive increased customer acquisition, improved loyalty (LTV), and customer retention for brands across all industries.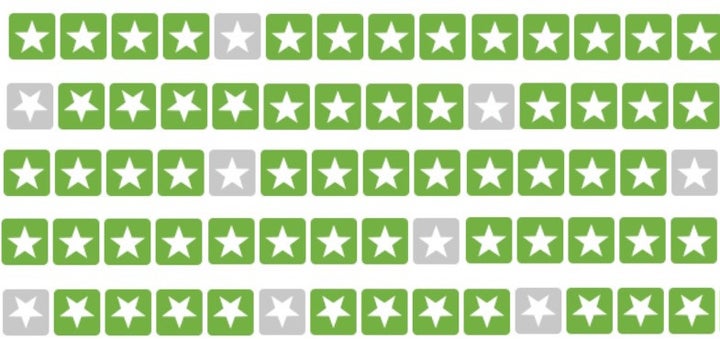 Consumers Trust Reviews. Like Really, Really Trust Them.
Today's consumers lead increasingly digital lives, and online reviews are now a significant factor in their decision-making process. People often research businesses before purchasing and read reviews to make their determination - effectively crowdsourcing their purchase decision.
Trust. A recent BrightLocal study found that 84% of people trust online reviews as much as a personal recommendation from someone they know, a stat that has increased every year the survey has been conducted.
"The fact of the matter is that trust is at an all-time low, and consumers just don't trust traditional marketing and advertising as much as they used to," says Trustpilot Founder and CEO Peter Holten Mühlmann. "There is now safety, trust and power in the opinions and feedback of the crowd. The smartest brands understand this and leverage it."
Frequent Use. Over half of the surveyed customers research a business at least once a month, an increase of 23% year-over-year. 50% of customers say they read reviews "regularly", up 51% over the prior year. 60% said that negative reviews cause them to not use a business, indicating a business' reputation is one of the most impactful customer considerations.
Commonplace Feature. 76% of top consumer brands reviewed by research firm L2 feature user reviews on their website and product pages to drive purchases. The number of brands including reviews on their website has increased by over 70% since 2014. Of all major site features, "user reviews" has seen the most dramatic growth. A recent holiday shopping study from Vibes found that only 33% of in store-mobile searches were to compare the price of the product; while over 65% were searches for reviews or for more information about the product. This tells us customers can even value reviews over pricing!
With Great Reviews, Comes Great Power (Revenue)
Authentic, genuine reviews boost business' bottom lines. They drive improved search rankings, capture more customers, and result in more revenue. As a business strategy, incorporating reviews into product offerings or as part of your approach to customer service earns repeat, loyal customers, with higher LTV and greater return on their customer acquisition investment.
Positive reviews improve search ranking. Two recent studies by Moz and The Local SEO Guide concluded that positive online reviews had significant impact on a brand's search ranking. Positive reviews made it more likely that a brand would appear in Google's Local 3-Pack and in the top organic local search results. Some review sites, such as Trustpilot, are Google Review Partners that help brands improve their Google Seller Ratings. On average, online ads with a Google Seller Rating see a 17 % higher CTR than the same ads without ratings. Plus, schema markup for review content may lead Google to award Rich Snippet stars in organic search results, drawing extra attention to websites and making them more attractive to potential customers.
Outside of Google search, research firm L2 found that products with more reviews on various e-tail sites (Target, Amazon, Walmart, etc ) rank higher in searches on the site than those with less reviews. Walmart and Target even allow brands to syndicate their reviews from other sites to help inform customers.
Reviews Drive Revenue. Based on BrightLocal's findings, a whopping 74% of people said they would take the next step in the customer journey (pursue purchase) after seeing user reviews on a product or landing page. Including reviews vs not including reviews on a product page increases the likelihood of the customer taking the next step to pursue purchase by 17%.
On the restaurant side of things, Yelp reports that an extra half-star rating leads to restaurants selling out 19% more frequently. Yelp also reports that a one-star increase in rating leads to a 5-9% increase in revenue. This is considerable, as single percentage points can mean all the difference in many industries, such as retail, food and beverage, luxury goods, travel and more.
Reviews Drive Valuable Repeat Customers. TechStyle increases their number of repeat customers by addressing and incorporating user reviews into policies and product offerings. Fabletics is obsessed with their customers, so much so that they actively collect, manage and respond to thousands of online customer reviews. They have nearly 30,000 reviews on Trustpilot (and counting) with an average TrustScore of 8.2.
"Probably our most important KPI is that 85% of our sales come from repeat customers and 17% of our new customers are from referrals," says Gold. "Focusing on user reviews, both acknowledging their importance in capturing new customers and using them to refine our product, helped Fabletics in particular overcome initial issues upon launch".
More Review Options Than Ever Before
With customers seeking out more reviews and brands tapping into the economic boosts the crowd provides, there are more review options than ever before.
Yelp's cumulative reviews grew by 26% and app users climbed by 22% compared to last year. They now have a record-high 25.8 million unique devices with the Yelp app installed, according to SeekingAlpha.
Trustpilot, one of the world's largest review sites, reports robust growth and a customer retention rate of 95%. The company has surpassed 30 million reviews of more than 160,000 business globally.
"20,000 new reviewers come to Trustpilot each day, not only to leave reviews but also to research and understand the brands from which they are buying," Mühlmann says. "The growing global trend is that a brand is no longer what the company says it is; it's what the customers say it is."
For TechStyle Fashion Group and Fabletics, that couldn't be any more accurate.
"Crowdsourcing benefits our brands in that it forces you to be transparent and customer focused," he says. "A lot of companies say this but very few truly put themselves in the shoes of the customer and see the world in their eyes. We run our business with empathy and data. If we don't know what people want, and we don't truly listen to their tastes and circumstances, it is impossible to improve their lives. Ultimately everything we do is confirmed by the direct opinions of our customers in their own language."
Related
Popular in the Community