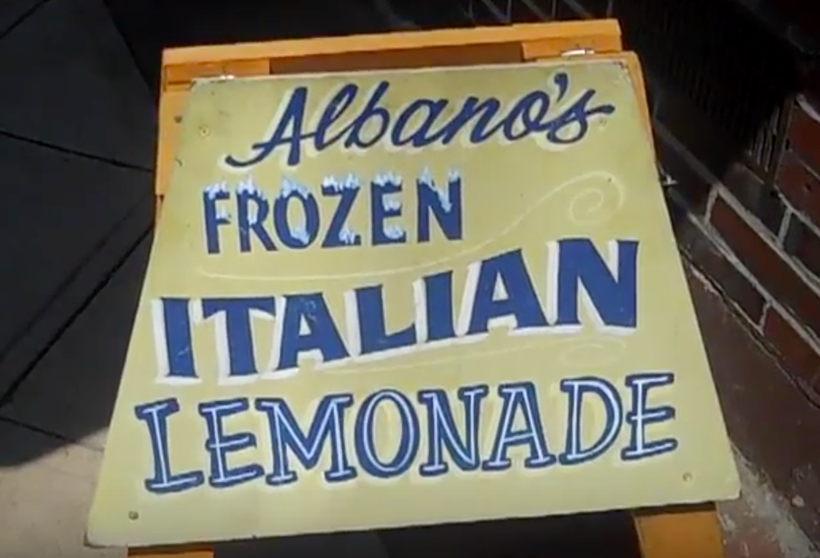 I miss it. In fact, I long for it, crave it, yearn it, and mourn its passing -- especially on hot summer days visiting downtown Springfield. That first sip of a cold, slushy plastic cup of Albano's Italian Ice marked the beginning of summer in Springfield. For me, it was required summer eating over the 30+ years I reveled in its perfection.
When I knew Albano's Market would be shutting down back in mid-2015, I brought a missive to Masslive.com to save the ice. I wrote an op-ed imploring that someone carry the torch and if no one was willing, I (even at the detriment of Irish-German lineage) would buy the Italian recipe and machine and make it myself as a cultural and gastronomical form of preservation of this Springfield treasure.
Shortly after my public petition, I was heartened to hear that I was not the only one who would miss it -- and in fact received many emails of rumblings that "the nephew" of the owners had the ice machine and would carry on the business. I secretly hoped one day it would just reappear for online ordering with a younger, hipster Albano descendent revolutionizing the business, bringing that joy to Springfield residents for another generation. Yes, I expected it would be more expensive, marketed with "organic, farm to table lemons and infused, local sugar" but I wouldn't care because it would be Albano's Italian Ice, the nectar of the gods. Yet, as the months and years turn older, I have grown impatient and thus decided to commit some words to fighting for the resurrection of this sugary, summer treat. It has come to this -- a last ditch effort, flailing public plea to the sentimental heartstrings of the gatekeepers of a soon forgotten institution.
I write to an audience of one, "the nephew," through the power of the online press, in hopes he is reading this and needs some motivation behind jumpstarting the family business. For your consideration, "the nephew:"
Albano's Italian Ice comforted my dying grandmother in the hospital. It was carefully brought to me in Boston in a small cooler, as the first thing I requested after 8 days on an IV in the acute care wing after a life saving surgery. It was that hidden gem food we delightfully shared with new visitors to Springfield. "You gotta try this – it's the best in the world," we'd say to college friends or relatives over the years. It was something that quite simply, always made us smile.
Albano's Italian Ice was a stalwart source of pride in a hurt city. It was Seuss and basketball. It was something Springfield was best at making, doing, and being.
I know nothing lasts forever, but if something can last a bit longer, even just one sip more, let's bring it back. Not just for me, but for everyone else who misses that sweet and perfectly sour taste of nostalgia, currently melting away in the recesses of a collective Western Massachusetts memory. Oh, and to "the nephew" – I'd prefer you to do it, but out of both respect and obligation to the grandeur of the ice, my offer still stands to buy the machine and recipe. Here's my email: matthew_weber@harvard.edu
Matt Weber is the Director of Digital Communications Strategy at Harvard University, and still seriously considering a career change to frozen ice sciences.
REAL LIFE. REAL NEWS. REAL VOICES.
Help us tell more of the stories that matter from voices that too often remain unheard.
This post was published on the now-closed HuffPost Contributor platform. Contributors control their own work and posted freely to our site. If you need to flag this entry as abusive,
send us an email
.