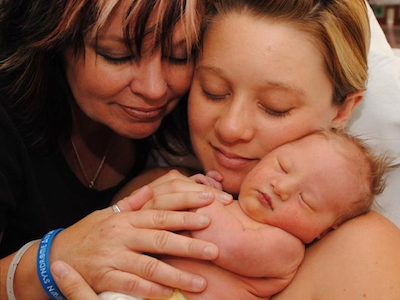 When my partner Andrea became a surrogate for another lesbian couple we had no idea we would end up starting over as new parents, especially to a child who has Down Syndrome (a disability which once scared the living daylights out of me) or that our lives would forever be changed -- for the better.
But that is exactly what happened and our tale is likely to repeat itself as more and more LGBT couples use surrogates to create their families. You can chose the perfect egg donor or the perfect sperm donor and your baby still may not be as you anticipated, but they are in fact perfect just as they are.
Andrea, the two intended mothers and I had gone through so much to make the baby using Andrea's eggs and donated sperm. It took 7 emotional months filled with zany characters, and highs and lows that we never expected, but finally we were pregnant. The intended Momma's were so happy they nicknamed their baby girl, "Peanut." The 4 of us were on a balloon headed for cloud nine when suddenly that balloon popped. Peanut was prenatally diagnosed with Down Syndrome. Doctors urged termination as they predicted every possible worst case scenario from a severe deformity to blindness. They successfully persuaded the intended Moms, whose dreams were being smashed to smithereens, to agree to terminate.
The intended Momma's knew they couldn't handle raising "that type" of child. They told us it was their decision and their decision alone to terminate. This was and is uncharted legal territory.
Even though I was deeply afraid of people who had Down Syndrome I knew, terminating wasn't only their decision and I knew we had to educate ourselves before extinguishing the life of this child who did not ask for any of this, who was here, who was not hypothetical.
Eventually, I faced my fears as I discovered a monster in my mirror and knew I could be a better person. After educating ourselves, Andrea and I decided to save Peanut. We chose to keep her even though we faced backlash for our decision. We gave our Peanut a name; Delaney Skye.
Our journey was crazy, sometimes funny, often sad but most of all inspiring as Delaney emerged a hero to many. We knew what happened to us could open eyes not only to misconceptions about what Down Syndrome really means, but also how surrogacy can have unexpected ramifications. We wrote our memoir Saving Delaney and made a video clip (below) to share Delaney's story and to help other people to think outside of their fears.
As more and more LGBT couples decide to have families of their own, choices need to be made on whether or not to adopt or use a surrogate/sperm donor. There are pros & cons and also possible conflicts which can occur that every couple should consider.
With or without a prenatal diagnosis of a potential disability other situations can arise which may warrant considering termination while using a surrogate; such as selective reduction when there are multiple fetus's. This exact conflict arose in January 2016, in California, when a surrogate who had previously agreed to terminate refused once the hypothetical multiple births became a reality. What may be concerning to some, is that she was hired via a prominent surrogacy placement company.
Interestingly, unlike Andrea who was a traditional surrogate -- meaning we used Andrea' eggs, this surrogate was a gestational surrogate -- meaning she has no biological link to the fetuses.
The woman gave birth and is now in court fighting for custody of the babies. With her high profile attorney she is now in the media challenging the validity of surrogating in its entirety. That would be devastating for the LGBT Community.
When couples decide to use a surrogate, the typical contract will contain a clause (what many consider to be an unconscionable clause) to terminate for "medical reasons" or "to selectively reduce one of multiple fetuses" at the request of the intended parents. This, what if is open to opinions as to what is considered a medical reason? More importantly, this clause is much too hypothetical.
As using surrogates become more and more common, particularly with LGBT couples, these conflicts are going to be more predominant. We're heading into uncharted territories and laws are going to have to be established. If the possible reality comes to fruition that the child may be deemed "un-perfect" by the intended parents, the surrogate may feel differently from what she hypothetically signed up for. All couples considering using a surrogate should understand this clearly before they enter into a contract.
In my opinion, "terminating" should always be at the discretion of the surrogate who is responsible for the growing inside of her. The right to choose doesn't necessarily mean choosing to terminate. She can choose life as well and no one should attempt to take away her choice regardless of any business arrangement or biological link. It is her body.
Intended parents need to be mindful ahead of time that there is no such thing as a designer baby, you get what you get -- be open-minded (hearted) and grateful. They must understand that if the baby is "imperfect," regardless if the surrogate agreed to hypothetically ahead of time to terminate the surrogate may feel differently when that hypothetical becomes reality and ultimately the intended parents have no choice. Putting pressure on the surrogate can have further negative consequences.
If intended parents are lucky, they may learn the lesson Delaney taught me; that "imperfect" child may open their hearts and pride to a love they would never have known and their lives may change for the better.
I, for one cannot imagine a world without Delaney in it.
Popular in the Community