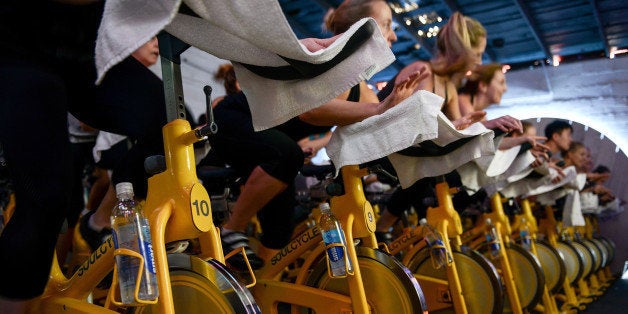 (Reuters) - Sweatworking, the growing practice of meeting clients for a walk, a run or a fitness class, is elbowing networking out of bars and restaurants and into boutique fitness studios.
A yoga, barre or spin class has become the new nine holes of golf, fitness experts said, chased by a post-workout smoothie rather than a three-martini lunch.
"Sweatworking was born out of a desire to connect with clients on a deeper level that wasn't so sales-y," said Sarah Siciliano, 32, an advertising executive who has been entertaining clients with workouts. "A lot of sales jobs revolve around drinking."
Siciliano, who is based in New York City, considers taking her mostly female clients, who range in age from 22 to 52, to yoga, spinning, bootcamp and dance studios a great tool to develop relationships.
"People like to move along with the trends," said Siciliano, who organizes her workout events.
"I do all the leg work but I exercise everyday anyway so for me it's a win-win," she said. "If you can knock out a client event and your workout at the same time, why not?"
Sweatworking began in the advertising world, but has spread to more traditionally conservative professions such as law and banking, according to Alexia Brue, co-founder of the wellness media company Well+Good.
"Now a lot of client entertaining in many industries has moved into boutique studios," she said, "especially to those with workouts that aren't super awkward, or super-sweaty to do with a client."
Gabby Etrog Cohen, vice president of public relations and brand strategy at SoulCycle, a national chain of 39 indoor cycling studios, said in four years sweatworking has become a regular part of her business.
"We get a mixed bag, a lot of people in financing and advertising," said Cohen. "We have groups that come in every week. One group comes every Thursday."
Part of the appeal, she speculates, resides in the dim studio lights.
"There's something about not wanting to sweat in front of clients," she said. "We ride in the dark so there's a sense of anonymity."
For 45 minutes and $35 per class, the studio provides an alternative to the traditional four-hour round of golf.
Cohen said the rise of sweatworking marks the distance traveled from the chain-smoking, inebriated lifestyle of the 1960's portrayed in the hit AMC series "Mad Men."
"We've taken 'Mad Men' and turned it on its head," she said.
(This version of the story corrects HBO to AMC in the second-to-last paragraph)
Related