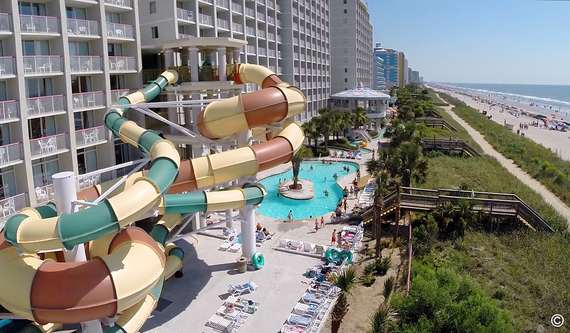 When the kids aren't in school, all they want to do is play video games or get out of the house. Resorts with water parks are an easy escape that will keep them active and entertained for days!
In Myrtle Beach, South Carolina, named the best summer vacation destination in the US, you'll find The Crown Reef Resort. Along with the $7.5 million dollar renovation on its interior, the property opened a $2 million dollar massive outdoor water park. The main attraction is a 4-story "serpentine-style slide" called EXPLOSION because of its fast speed and explosive water release. Other slides include the Twister and Kids Twister. Not to mention, the beautiful beach is also just steps away! Golfers know Myrtle for its array of courses, so they'll be happy too.
If you can't make it there this summer, here is a list of more resorts with water parks. Experiences and price points vary.