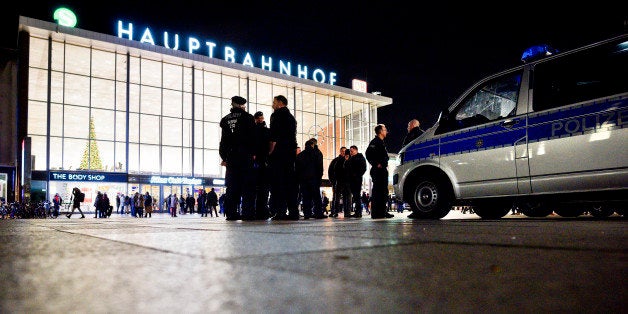 The image of a young boy who drowned in the Mediterranean and washed up on a Turkish beach deeply affected us all. It was a sign that things needed to change, and that we need to take in those who need protection. What would the alternative be?
If we close the borders, we'll find new images of thousands of people lingering on the European border. Is that what Europe should be? We don't want that. That's why we decided to take them in. And it was the right decision. Even after the events in Cologne, the decision stands, and that's also the right decision.
The lesson from the New Year's Eve attacks forces us to revisit the proliferation of a particular impression we hold of the new arrivals. News outlets are falling over themselves to report that the Syrian doctor would reinvigorate the German Economic Miracle 2.0. There were pictures of refugees handing out soup, tea, and flowers; of people holding up signs in train stations to greet the refugees. It was as if Germany had been waiting for refugees to arrive from the Near East. As if all refugees are so thrilled about arriving that they hand out flowers on shopping streets.
"Most refugees respect our laws. And most refugees will enrich our nation."
Since Cologne, we've realized that there are also sexist refugees, who regard our women as fair game, who steal, and who harass and grope women. In short: people who don't care about our country's rule of law. Yes, that's also part of our reality.
"Also part of our reality" doesn't mean that it's the absolute truth. It's true that there are some refugees who will need a longer time to integrate; some who don't belong to Germany; some who disregard our laws, who don't learn our language, and, if they've committed crimes, some who should go back to their homeland.
Critical voices are asking whether these people should really be sent back to Syria. Perhaps not, but the agreement between the European Union and Turkey states that Turkey may accept deported refugees. In exchange, Turkey receives 3 billion euros and a visa waiver, apparently starting October 2016. Turkey is a safe country of origin. The deportation of criminal refugees can even be acceptable under the Geneva Convention. It's legal, and sometimes necessary. Necessary for the security of Germany's citizens, who should be considered a priority. And it's especially necessary for those refugees who need to live in peace and security, and who respect our laws. And that's the whole truth: most refugees respect our laws. And most refugees will enrich our nation.
Yes, there are also problems and obstacles. But overall, Germany will profit from the influx of refugees, economically as well as culturally. Ultimately, we will be grateful for this success, which is first and foremost a success for aid workers and volunteers.
Realistically, this dichotomy also exists among our own society. There are German doctors, but there are also German hooligans who make it their life's purpose to riot in a stadium every Saturday during soccer season. And there's also Oktoberfest in Munich, during which, according to police estimates, some 200 unreported rapes take place every year.
Germans steal as well, just as they riot, rape women, and more. The question is, why do we expect better behavior from our refugees? With what right? Refugees are basically like us. They are just as diverse; academics, laborers, and bums. Just like your neighbor across the street. They're like us. They're people.
"The truth is we need time. Time for an orderly process and for integration."
That's also the reason why the right to asylum is enshrined in our basic law (article 16a GG, for anyone who wants to look it up). Because we're a civilized society that values and respects people. But we can't expect more from refugees than we can from our neighbors. There isn't a "good" or a "bad" refugee, just as people aren't "good" or "bad" in and of themselves.
The events in Cologne are disgusting, that needs to be clearly stated. On the morning that I read the news I couldn't eat my breakfast. I have sisters myself. The idea that my mother or my sister could be attacked, robbed, or touched against her will, made me furious. And by people to whom we extended our hands and our help.
My first question: What would be done to me if I started to grab and rob young women in the middle of Algeria, Syria, or Iraq? My second question: Can that be our measure? If I harassed or mugged a young woman in Iraq, I would be faced with the consequences in that very time and place. I'd probably be stoned. But the reason Germany is so successful, both economically and socially, is precisely the fact that we are different from those countries. We have a country with a rule of law. No, I don't want a situation like the one in Syria or Iraq. That's why I trust the law of the state and remain calm. That's the best thing, really: calm and objectivity. We must differentiate ourselves because we're a civilized society.
Criminals must be sent back to their homes. New arrivals who came here because they admire our country and uphold our laws are the ones with which we can build a future.
We can do it. We can get over Cologne, too.
Just stay calm and differentiate: don't place a general suspicion on any- and everyone, but also do tell the whole truth; that should be the motto. The truth is we need time. Time for an orderly process and for integration. Time for our state's rule of law. Time for reflection and differentiation. Time for our civilized character.
Germany is going to change. Not only in the wake of the refugees, but after that, too. There are going to be problems during the absorption phase. We can argue democratically, in civil society and in the legislatures, about how to overcome those problems. As soon as the first statistically verifiable results come in we'll say, "Yes, we did it. And we did it well." Germany will pull out of this crisis, too, as it has so often in its history.
This post first appeared on HuffPost Germany. It has been translated into English and edited for clarity.
REAL LIFE. REAL NEWS. REAL VOICES.
Help us tell more of the stories that matter from voices that too often remain unheard.