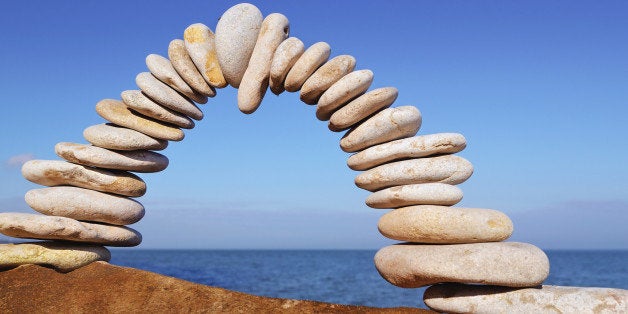 I'd never talked about balance until I was well into my 30s, and then the topic came up only after I collapsed at work in front of my colleagues from adrenal fatigue. My first real conversation about balance was with my doctor, who told me I needed to quit my job as an executive producer at a Fortune 50 software company.
Yup, that was the first conversation I'd ever had about balance. And it left me with few options: I didn't want to quit my job - I loved my job. Deep down I knew it wasn't my job or the company that made me collapse. I had a role in it, too, but I wasn't sure what role I played. I also knew I wasn't alone in this experience, because after I collapsed many people approached me wanting to talk or introduce a loved one who had also collapsed, if not at work, then at the mall, the gym or in the kitchen.

Thankfully, I'm stubborn and I didn't listen to my doctor. I kept working, but began to create awareness around why I was doing what I was doing. Like a scientist, I made myself a research subject. I spent a year learning to set boundaries, owning my yes's and no's, meeting with people who shared similar stories, and studying all I could on the topic - from brain and body science to mindfulness - to help me understand why I and many others around the world were doing what we were doing.

What I discovered during that year of research inspired me to start my own business seven years ago with the purpose of helping others make talking about balance a habit. I learned most people don't know what balance means for them, so talking about it often happens too late - when a balance crisis hits.
I envisioned what could happen if talking about balance was a proactive, ongoing conversation in our homes, schools and especially at work. I made it my calling and career to promote talking about balance in workplaces across the globe.

To talk about balance is to express who we are and what we need as our lives shift and change, as circumstances, events and personal growth take place. In talking about balance we tell others what we need to feel supported and to sustain ourselves so we can thrive at whatever we choose to do.
To talk about balance is to be human. And we do not stop being human when we walk into our workplaces.

Talk about balance - especially at work - is a conversation many of us avoid. It's not because we don't want to share our feelings and experiences; rather, for most people, it's a conversation we're not in the habit of having. Moreover, it comes with a mix of fear and shame of being perceived as weak if we dare set a boundary around our human capacity.

But if we can't talk about balance, then how can we expect to create sustainable environments -- at home, school or work -- where humans thrive and prosper, rather than repeat the burnout-recover-burnout cycle?

If we don't talk about balance, we can never hope to attain it. Let's get talking
Related