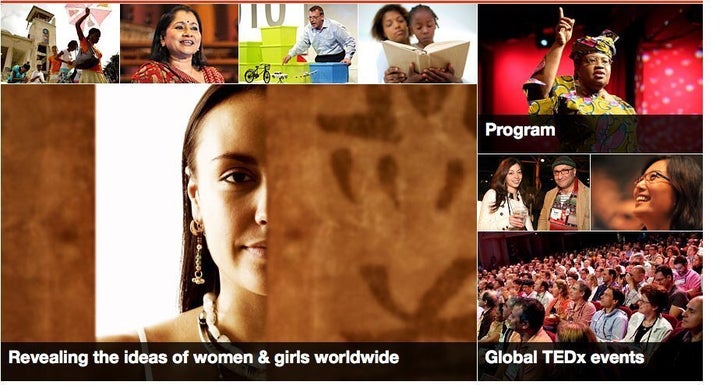 TEDWomen has been met a range of reactions, from "it's about time" excitement to concern. One blogger worries the event will "encourage further segregation." Salon asked, "Does the world need TEDWomen?" and suggested TED might instead increase the number of female speakers at its existing events.
Pat Mitchell, President and CEO of The Paley Center and the host of TEDWomen, took some time to respond to our questions about the event. Read on for her take on why it's happening, why now, why not TEDMen, and what she hopes the conference will accomplish. What do you think of TEDWomen? Who would you like to see speak there? Share your thoughts in the comments below.
Huffington Post: Why has TED, in conjunction with the Paley Center, decided to launch TEDWomen? Pat Mitchell: Chris Anderson, TED's curator, and I have been talking for several years about a TED conference that would focus on women and girls and we agreed that the time was right to capture an evolving narrative about women and girls in the unique way that the TED format offers. I really admired how they produced two specialized events -- TEDIndia in 2009 and TEDGlobal in Africa (2007) -- and believed that a similar opportunity had emerged to turn the TED lens on the stories of women and girls as architects of change around the world and across all sectors, to focus on how their ideas and innovations were shaping and reshaping the future. At The Paley Center for Media, through our programs on the role of media, we witnessed the growing interest in the ways that women work, think, learn and lead and the impact of their ideas across the globe and across the media landscape as well as all other sectors of life and work. We agreed that the two institutions together had an opportunity to produce a conference with significance.
PM: In my opinion, there's never been a better time. Investing in women and girls may once have been considered a radical notion or even a waste of resources, but in most places in the world today, women and girls are increasingly recognized as a critical link to greater prosperity, political stability, better health and public policy. In the West, of course, generations of educated, empowered women are moving into leadership across all sectors and the impact is measurable. It's an important moment in the evolution of the story of how women and girls in new, and sometimes, old ways are the architects of change across sectors and countries.
PM: It's an irresistible question, isn't it? But embedded in that question is a dangerous assumption: People tend to assume that the balance between the sexes is a zero-sum game, that when women win, men lose. But it's simply not true. In fact, it's quite the opposite: When women win, we all win. This is one of the key reasons that women are such effective change agents.
HP: One online commenter wondered whether TEDWomen was in danger of blurring the lines between "idea sharing" (TED defines its mission as "ideas worth spreading") and cause advocacy. What do you think?
PM: It sounds like this online commentator reacted to the name without reading about the event! TEDWomen isn't championing a cause; it's surfacing and sharing some of the most important ideas of our time. Our focus is on women as change agents, innovators and idea champions, and I think people will be both inspired and surprised by the program. We're exploring some fascinating territory! For example, there's been a flood of data in recent years showing how investment in women and girls in developing nations leads to economic growth, public health improvement, political stability... Why is that? How does it work? What ideas are these women championing? These are profound questions that matter to all of us.
HP: What is the mission of the conference?
Pat Mitchell: Now, I attend many women's conferences -- in fact, I went to six on four different continents in one month last year. The increasing numbers of these forums all over the world indicates to me a new awareness of the roles women and girls are playing in bringing new ideas and innovations to their communities and countries. These forums are also ways to discuss the challenges that remain for women to achieve their fullest potential.
TEDWomen will focus on the ideas and innovations championed by women and girls. These cover everything from community development to economic growth to biodynamic farming to robotics to medical treatments to the use of technology for personal safety and peace making. Men and women speakers will take the TEDWomen stage with ideas that are reshaping our future, and matter deeply to all of us.
HP: Some have wondered why TED is launching a distinct TEDWomen event, instead of focusing on increasing the number of women speakers at its existing conferences. What's your take on why TEDWomen is necessary? Are there plans to increase the number of female speakers at other TED conferences? If so, how?
PM: Thank you for asking that question! There are a few assumptions there, which we'd like to address head-on. First, the intent behind the conference is to explore in depth a subject we find fascinating and timely. We're seeking out talks about women and girls (not just by them). As with every TED, the speaker program will include men and women. And of course, TED will continue to invite extraordinary women to speak at all of their events.
It's important to understand that TED didn't launch TEDWomen to segregate women attendees or speakers outside the main conference, nor as an alternative to putting forward a balanced speaker program at other events. As my TED colleague June Cohen has pointed out, this was already a priority for TED. The launch of TEDWomen marks an enthusiastic "yes/and," not an "either/or."
Let's also look at the numbers. Over the past two years, TED Conferences have featured 30-40% women speakers. This isn't ideal, but it's actually much more balanced than many other, similar conferences, and obviously a priority for them. TED2009 had 38% women speakers. TEDGlobal, held this month in Oxford, had 30% women speakers, and they were an extraordinary bunch -- "Half the Sky" co-author Sheryl WuDunn, Women for Women International founder Zainab Salbi, Kiva co-founder Jessica Jackley... also powerhouses like novelist Elif Shafak and musician Annie Lennox.
There were similar lineups at TED2010 and TEDIndia, and many more remarkable women booked for TED2011. I know that TED is striving for a balanced program in all their conferences, and will continue to do so.
HP: Will TEDWomen be an annual, ongoing conference, or 2010 only? PM: At the moment, we're focused on creating the most extraordinary 2-day event we can imagine. Ask me again in December about the encore...
Popular in the Community