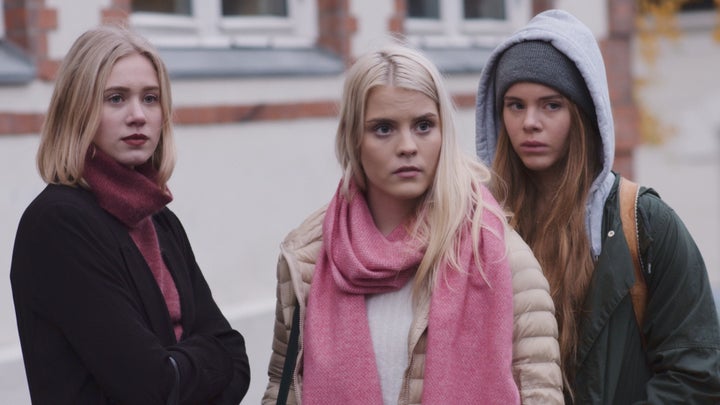 This TV star is to blame for a trend that is battling body image pressure in an innovative way. Have you heard about the #PostItSquad?
After taking Norway by storm, the teenage TV drama "Skam" has made its way onto the international scene. Elite Daily calls it the show "you're either already obsessed with, or haven't yet seen." The New York Times dubs it a "cult hit, internationally," and The Guardian warns that it could cause palpitations and push "American audiences over the edge."
In Norway, the show is credited with promoting a national dialogue on sexuality, teenage pressure, faith, rape and the LGBT community ― just to name a few.
Ulrikke Falch (20), who portrays one of show's main characters, is now using its massive following to call attention to the immense body image pressure young people, and especially young women, feel every day.
Falch, who has struggled with an eating disorder herself, knows the problem all too intimately:
"The eating disorder is always there. In your back. It's in your nails, while you hold on for dear life to the few things you still have left: control, lists, numbers, spreadsheets. The hollow space forms a knot in the pit my stomach ― made up of all that is no longer there," Falch tells the Norwegian daily Aftenposten.
Spreading to other countries
Falch has now teamed up with Susanne Kaluza, a Norwegian feminist and former magazine chief editor, to tackle the issue in a brand new social media campaign that is quickly gaining traction. Falch told me about the approach in a recent chat:
"We place Post-It notes with uplifting messages in schools, offices, the gym, the subway, in fitting rooms, and in other public places. It's simple, and everyone can join by using the hashtag #postitgeriljaen or in English #PostItSquad.
- The goal is for the trend to catch on outside of Norway as well, and it has already spread to the United States, Belgium, United Arab Emirates; Brazil and Russia to name a few, Kaluza notes.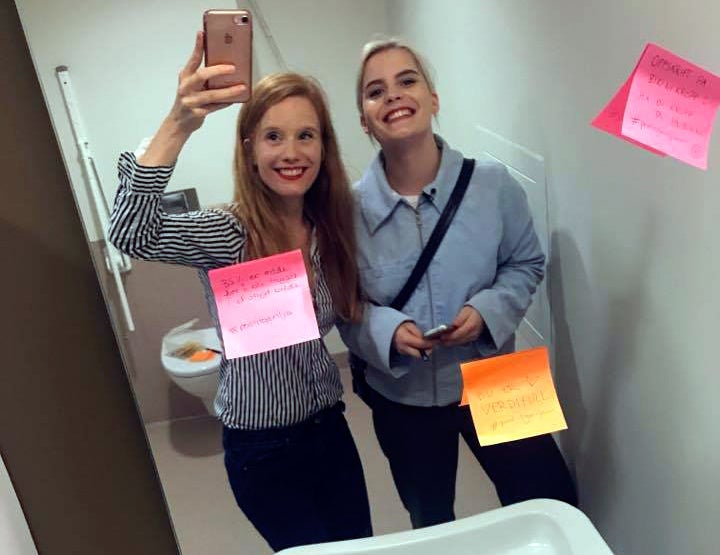 A Global Challenge
And it's good that the trend is spreading to outside of Norway, because the challenge is definitely not unique to the Norwegian context. Kaluza explains:
- According to the World Health Organization, as many as half of all fifteen year-old girls think that they are "fat", even though they are not even overweight. That's a tough phenomenon to counter, but we have to try. This is an attempt to take small steps in the right direction.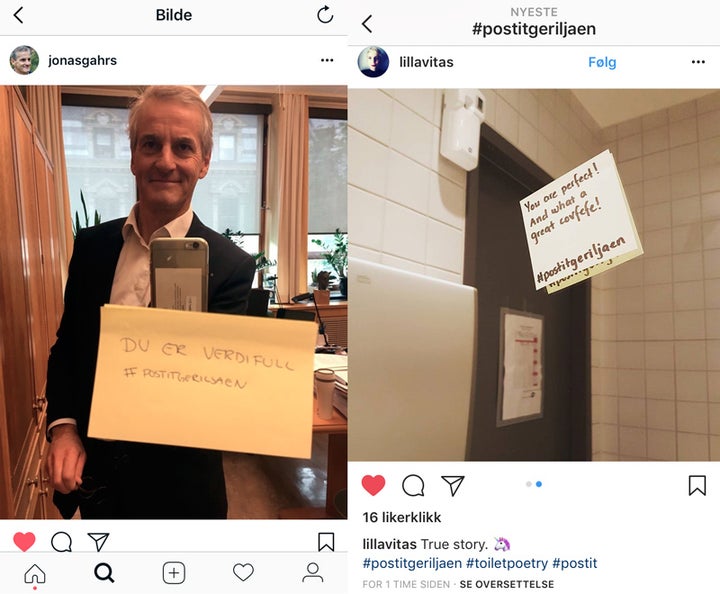 In just a few days, the initiative has spread like wildfire in Norway. ROS, a center against eating disorders, has plastered their mirrors with messages such as "You deserve to love yourself". Save The Children has joined by hanging Post-It notes like "You can change the world! #postitsquad". The Post-It Squad quickly made it to the National Parliament as well, where the former Foreign Minister and now leader of the largest political party, Jonas Gahr Støre, posted on his Instagram account.
In Oslo, some nurses have used the Post-It Squad in the Cancer Ward to cheer up their patients, while a group of teachers recently found notes with "Thanks for the awesome job you are doing! #postitsquad", left by a group of students.
Do you like this approach? Help out!
Do you think this is a good approach? Well, you can help spread it to young people all over the world. It's simple: Find a Post-It note, a pen, a public place, and upload it to Instagram with #PostItSquad.
Popular in the Community