ARK Invest believes innovation is key to growth. We seek to capture long-term out-performance and capital appreciation created by disruptive innovation. Rooted in almost 40 years of experience, ARK's aim is to identify large-scale investment opportunities resulting from technological innovations such as robotics, big data, machine learning, blockchain, cloud computing, energy storage, and DNA sequencing. ARK focuses solely on disruptive innovation and investing in leaders, enablers, and beneficiaries of disruptive technologies.
To learn more about disruptive technologies like autonomous cars, additive manufacturing, drones and 3D printing, Ray Wang and I invited one of ARK's best and brightest analyst to join us on our weekly show DisrupTV.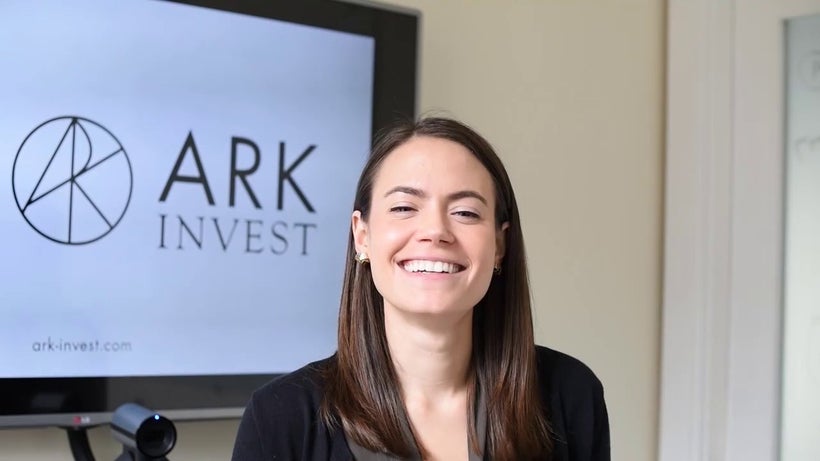 Tasha Keeney is an analyst at ARK Invest covering the Industrial Innovation strategy and The 3D Printing ETF. Keeney (@TashaARK) covers autonomous cars, additive manufacturing, infrastructure development, and innovative materials. Previously, she worked for almost three years as a management consultant for Applied Value, working primarily with manufacturing and automotive clients. Keeney has appeared on CNBC, BNN, Cheddar Live, and frequent webinars with Robotics Business Review. She has been quoted and had her research featured in The Wall Street Journal, Forbes, Wired, the Verge, Bloomberg, CNNMoney, and Marketwatch, among other publications. We spent most of our conversation focused on the disruptive impact of autonomous vehicles.
Here are some of the key takeways from our conversation with Keeney and her recent research related to autonomous vehicles:
1. Autonomous Vehicles Will Increase Automobile Traffic by 3X in 2030.
"ARK expects that before 2020 fully autonomous vehicles will become commercially available, enabling the rise and rapid growth of autonomous taxi networks. These networks should decrease the cost and inconvenience of point-to-point mobility dramatically, spurring a transformative boost in economic productivity. As a result, we believe traffic will increase almost three-fold by 2030," Tasha Keeney.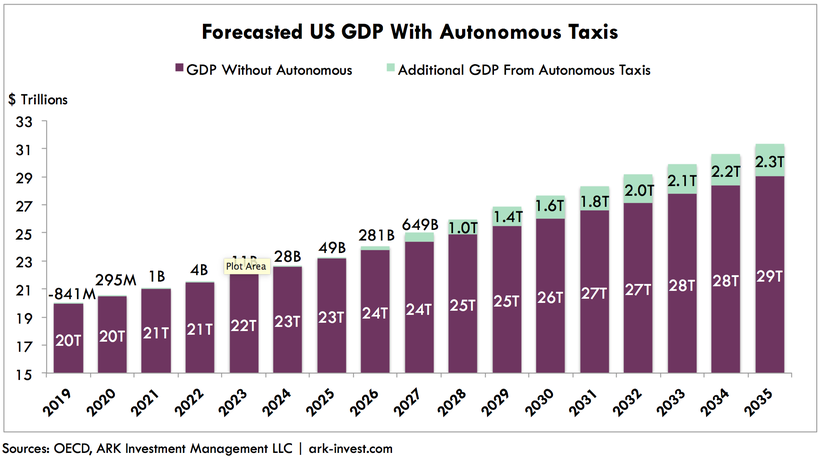 2. Autonomous Taxis Should Reduce the Cost of Door-to-Door Mobility Radically

3. Auto Accident Rates Should Decline By Over 80%
"Self-driving cars likely will have a dramatic impact on global health impacts. ARK expects auto accident rates to decline by over 80% as robots take the wheel from drunk and distracted drivers. Globally, ARK expects 5.5 million deadly accidents will be avoided by 2035. In the U.S. alone, autonomous vehicles potentially will have saved a roughly a total of 140,000 lives by 2035, most of them in their 20s," Keene.

4. Global market for autonomous vehicles - China's explosive growth potential
According to ARK's research models, China will become one of the largest markets for autonomous mobility-as-a-service, reaching $2.5 trillion by 2030.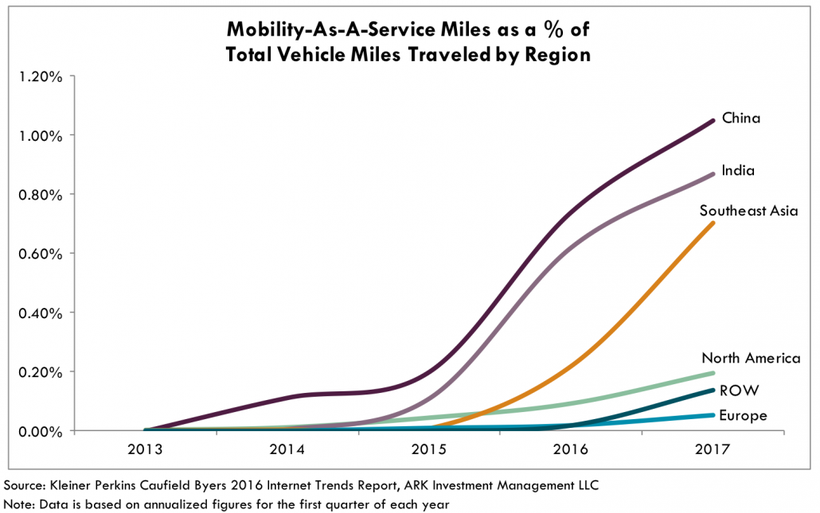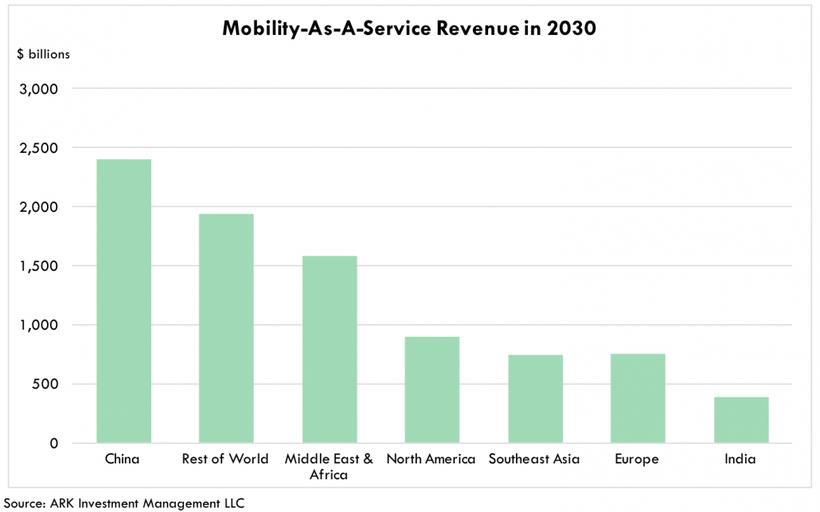 5. Tesla is Miles Ahead of the Autonomous Vehicle Race to the Future - According to Keeney, here are 8 reasons reasons why Tesla is the clear leader in the AV market:
Legacy automakers cannot adapt quickly enough to two monumental transformations: The price per mile of car travel hasn't changed in 100 years, and it's about to significantly drop with autonomous technology. In other words, the auto industry hasn't changed in 100 years, and right now its undergoing two monumental transformations – the shift toward both autonomous and electric vehicles. This requires an entirely new business model, and may be an insurmountable task for many automakers today.
Tesla Model 3 is the first mass market car with hardware capable of autonomous driving - The reason the launch of the Tesla Model 3 is such an exciting event is because this is the first mass market car being sold with hardware capable of fully autonomous driving. This hardware gives Tesla a massive data advantage. A rough estimate is that Tesla's second generation autopilot data could be worth 25% of its valuation today. Analysts are not talking about this so it's likely not being factored into any price estimates that we see for Tesla. Here's a video of Keeney discussing Tesla's future with Fox Business.
Tesla has a major advantage with its direct to consumer business model - The dealership network hinders sales of electric vehicles because lower maintenance costs give dealers less incentive to sell electric cars. ARK believes that EV sales are going to surpass expectations in the next 5 years, and Tesla will be well positioned to take share.
The autonomous taxi market could be worth 3X the value of all auto manufacturers by 2022. ARK estimates that the autonomous mobility as a service, in other words autonomous taxi networks, will be a market measured in the trillions and Tesla is by far the furthest ahead of any automaker.
Tesla is first and foremost a data company - With this hardware, Tesla is the only automaker collecting data from its customers vehicles on the road, giving it a massive advantage over any other company developing autonomous technology because of its fleet size. Most companies have fleets of autonomous test vehicles that number in the hundreds or much fewer. To give perspective on how much this data is worth, if you look at a new startup called Lvl5, this is a company that's created a camera product that Uber and Lyft drivers can mount onto their cars to collect autonomous data. In return, the driver gets paid up to 5 cents per mile by Lvl5.
Data is a huge opportunity for Tesla, and it's not being talked about at all today. Lvl5's system is one camera, Tesla has 8 cameras on each car plus many other pieces of hardware for autonomous. If we assume that the price of that data is 5 cents per mile (likely more as the company is surely planning to charge its customers a higher price for it in the end), assume that the price of the data Tesla is collecting is worth at least 40 cents per mile (8cameras x 5cents). By the end of 2018, ARK estimates that Tesla could be collecting data worth over 2 billion in sales on an annualized basis. Assuming a software-like multiple, this would mean data alone is worth 25% of today's $60 billion valuation. Except no analysts are actually accounting for this opportunity, so you can think of the data opportunity as additional value on top of today's valuation. 
Tesla is the only company using software upgrades improve vehicle performance using data - Right now Tesla is the only company that collects this data and then pushes software updates to its customers that affect vehicle performance. Mary Barra said GM is working on this, but it involves totally redoing the architecture within the car and GM expects it to happen "sometime before 2020". Meanwhile, Tesla has this now. This is a very important piece of the puzzle to launch fully autonomous cars.
Tesla is not hindered by the traditional dealer network. Maintenance on electric vehicles is much lower than traditional gas powered cars, so dealerships have little incentive to sell electric vehicles at all. 
Keeney also talked to Ray and I about 3D printing, additive manufacturing, drones, disruptive business models, and companies like Amazon and Google with their vision of using emerging and disruptive technologies to gain market share. Please watch our video conversation with Tasha Keene to learn more about disruptive innovation and latest trends on these incredible new emerging technologies.
Calling all HuffPost superfans!
Sign up for membership to become a founding member and help shape HuffPost's next chapter
This post was published on the now-closed HuffPost Contributor platform. Contributors control their own work and posted freely to our site. If you need to flag this entry as abusive,
send us an email
.