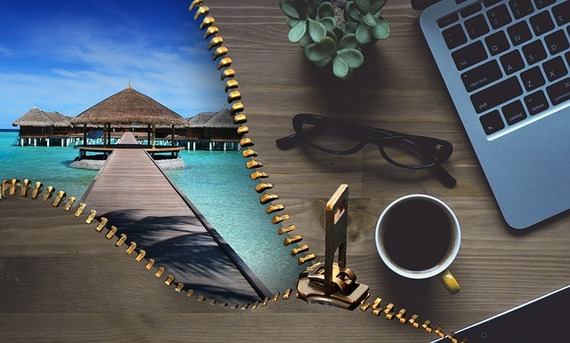 It begins a with a daydream, usually on a Monday morning, sitting at the office. The light at the end of the tunnel is the blinding glare of a computer screen, a digital clock ticking down the hours until you can go home, sleep and begin the cycle again on Tuesday.
The daydream begins the same way as it always does: the weekend is over and the gritty instant coffee is seasoned with the tears of realization that Friday is far, far away. Unopened emails continue to load, each bold subject line a sharp jab. You close your eyes, take a deep breath and dream of a world without cubicles, no more clocking in for work and no micro managing. This is a dream that may seem out of reach, but it's not as uncommon as one would think.
Meet the digital nomad. This Individual quit their day job in search of freedom and adventure. They stuck it to the man and traded job security to pursue freelance opportunities or start an online business. They work when they want, from wherever they want, fueled by the desire to experience the world not as a short vacay, but as a way of life. I'm not gonna lie, life as a digital nomad is hard work that takes patience and perseverance. Long hours, unpredictable earnings and business risks that don't always pan out are all part of the game. There are also location factors to consider, such as cost of living, personal preferences and most importantly: internet reliability.
Thailand tops the charts as a favorite destination for digital nomads, and it's a no-brainer as to why. Not only is it a country of incredible beauty with a fascinating culture and friendly people, but Thailand offers digital nomads affordable living and plentiful work resources that can help beginners find roots in a foreign country while making the transition to working independently.
Thailand has something for everyone
Would you like to post up on a picturesque tropical beach with a cold Leo in hand or work in a quaint cafe with strong, local coffee and a mountain view that isn't a screensaver? Nomad List ranks Bangkok as a top city for digital nomads, focusing on factors such as climate, affordability, internet speed and city size. The capital city is famous for its extravagant temples and bustling markets, but as a major international hub, offers all the modern comforts of home. With Suvarnabhumi Airport at the heart of the city, cheap domestic flights through airlines such as, Lion Air, Nok Air and AirAsia make quick weekend getaways a breeze. If you're craving salt and sand, head to Phuket in the Andaman Sea or Ko Samui in the Gulf of Thailand. For mountain trekking and delicious Isan cooking, head to Chiang Mai; another travel favorite with a blossoming digital nomad community.
Fast internet and coworking space in Thailand
Finding a place to settle with fast, reliable internet can be one of the biggest challenges for a digital nomad, especially in developing countries. Southeast Asia is coveted by travelers and expats alike, but Thailand is one of the few countries in the region that boasts satisfactory internet above 10 MBps and caters to digital nomads with quality coworking spaces. All you need is a monthly membership and your laptop to access a coworking space in Bangkok. The Work Loft, a full-serviced office in Bangkok, not only ensures stable internet, but offers amenities such as private meeting rooms and a cafe. Other popular options include Punspace in Chiang Mai and Stash in Phuket. Look for coworking spaces that offer free trials for newbies. I took advantage of the free 14-day trial from The Work Loft and didn't pay a thing for working space while in Bangkok.
Affordable living and comfort
Coming from a western country, the cost of living in Thailand is quite affordable, especially if you're just starting out and on a strict budget. As the second largest city in Thailand, Chiang Mai offers a subtle mix of hip, urban style and creative innovation while retaining that slow-paced living that a hectic metropolis, such as Bangkok, may lack. Nimmanhaemin is a prominent area, with stylish boutiques, lush gardens and artsy cafes dotting the streets. It's possible to find a modern, fully furnished studio apartment starting around $300 a month. Gorge yourself on fresh, authentic Thai curries and noodle dishes for less than $5 a pop and feed your caffeine kick with strong local beans brewed straight from the mountain farms of the North for under a $1. Renting a scooter for no more than $8 a day is the way to explore all Chiang Mai has to offer. You don't need an international driver's license to rent, but it's something to consider since police will pull drivers over to check, and will fine those without a license.
Thailand is perfect for meeting other digital nomads
Perhaps you're making the leap to living the digital nomad lifestyle all by your lonesome. It can be daunting to bunker down in a new country where you don't know anyone and english is not widely spoken. Don't fret- Thailand is one of the biggest tourist destinations in the world, also favored by expats. Every month, events and workshops are held in Bangkok and Chiang Mai for digital nomads to meet and network. Western restaurants and bars are plentiful, making it easy to connect with other foreigners and english speakers. Chiang Mai has a meet up every Saturday morning for anyone to join in a challenging hike up Doi Suthep mountain. Don't forget those coworking spaces I mentioned, where you can befriend other folks that can relate to the travel/work lifestyle.
Thailand visa requirements
And, we come to everyone's favorite topic of travel: visas. Though the visa requirements are constantly changing and it's important to stay abreast of new developments and procedures, Thailand is still a fairly lenient country when it comes to staying long or short term, with various visa options to choose from. Apply for an education visa to study the Thai language and become bilingual while pursuing your online business. A self-defense visa allows you to work with a professional and learn vital techniques for protection or if you aren't sure how long you'll stay and prefer a month-to-month visa, there's always the good ol' border run for a tourist visa. But, beware: border runs are getting increasingly strict, especially with foreigners who have overstayed or have done multiple back-to-back border runs over a long period of time.
Support HuffPost
A No-B.S. Guide To Life
Related
Popular in the Community