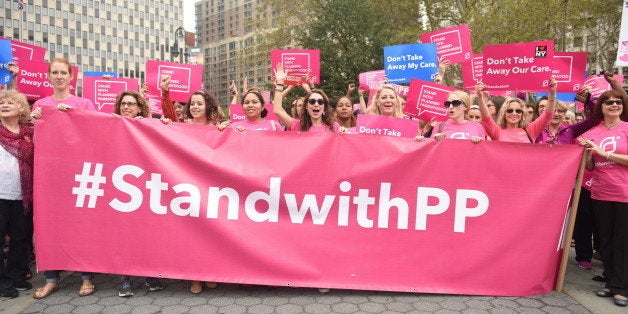 Today, the Senate voted to defund Planned Parenthood, an obvious and outright attack against women, their bodies and their reproductive rights. The president has vowed to veto their decision, so this vote is nothing but a political ploy to gain potential votes in the upcoming elections. It is also a clear message: women, their bodies and their right to reproductive health care are in danger.
And when I talk about supporting Planned Parenthood or continuing to fight for reproductive rights or being pro-choice or the necessity of ensuring women have access to safe, affordable abortions, someone inevitably asks me, "Aren't you so thankful you don't have a daughter? Your son will never have to deal with any of this. That must be a relief."
But I am not relieved. Not at all.
I am not relieved, because defunding Planned Parenthood does directly affect my son. The stifling of women's rights is a problem he will -- and should -- face head-on and with overwhelming passion.
The idea that reproductive rights and the fight to keep them is a problem for women, and only women, represents a fundamentally flawed way of thinking. It's a division of our humanity, because women's rights are human rights and every human should be fighting for them, not just the humans who identify as women.
My son has already benefited from Planned Parenthood and my access to safe, affordable abortions. Because I have a choice when it comes to reproduction, I am able to tell my son that he was a choice, and we chose him. I can tell him that we wanted him, and decided to have him, and if his father and I weren't ready and were not capable of bringing him into a safe environment, we wouldn't have. He will know he is wanted because he will know that I had a choice.
My son will remember that.
My son could have a daughter of his own one day, and he will see and feel and endure every attack on her body as if it is a personal attack, because it will be. He will fight for her rights and her abilities, because he knows that she deserves them at a basic, human level. He won't be able to fathom someone else telling her what she should do with her body, what she can do with her body, or forcing her to take matters into her own hands, potentially putting her body -- and her life -- in danger.
My son will fight against that.
My son will want and yearn for and work towards gender equality, so that the women he shares this world with will have the same abilities he does. He will want them to be safe and healthy and cared for, because he is a human being who cares about other human beings. Right now, even at 1 year of age, my son cries when he sees someone else cry. He becomes upset when mom and dad are upset. He has not learned that, and he has not been told to react like that. It is him simply being a human, and that natural reaction is something he will carry with him as he grows and matures and realizes how difficult this world can be, not just for him but for everyone.
My son won't stop acting like that.
And if my son has sex with a woman and she becomes pregnant, and that pregnancy is unwanted and they decide they aren't ready to be parents, my son will hope that his partner will have access to a safe, affordable abortion facilitated by a clinic like Planned Parenthood, with competent medical staff and complete support. Because, if that happens, my son will join a long list of men who have benefited from women's reproductive rights and a woman's ability to choose when she becomes a mother.
And my son will never, ever, forget that.
Today, the Senate voted to defund Planned Parenthood, an obvious and outright attack against women, their bodies and their reproductive rights. Today, because a group of political leaders believe they can use women's bodies for votes and, in turn, vote against them, my son was attacked, too.
This isn't just a problem for women. This is a problem for us all.
And like my son, you all should know that.