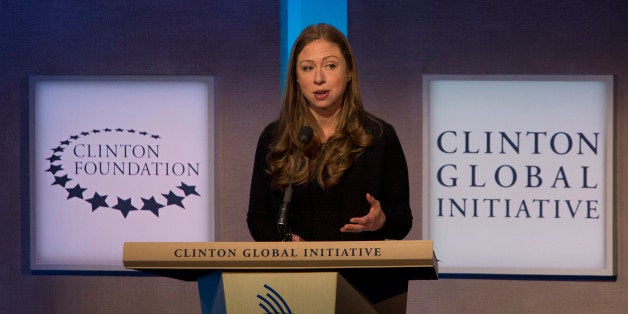 This week, the Clinton Foundation will release its quarterly list of donors, including members and sponsors of the Clinton Global Initiative (CGI). As someone on this list, I want to share why I choose to support the work of CGI and its parent foundation.
It's now widely recognized that solving the world's most pressing problems requires all sectors to work together -- government, business, NGOs, and others from civil society. So we know we need to do this. The question is: how? The answer of course is that we need opportunities for these sectors to come together, to listen, to learn, to exchange ideas and build trust. While the need for convenings of this type is rising, there remain very few institutions that have both the influence and credibility to bring these types of organizations and individuals together, and hold them accountable for the changes they pledge to make.
In my nearly 30 years working in business and philanthropy, I've seen several organizations aim to create this space and I applaud most of them. However, these convenings tend to draw the same 100 or so "usual suspects." I'm a huge fan of these "usual suspects" -- individuals and organizations who got the message years ago and are already working hard to do their part. But those 100 disciples -- no matter how big or how committed -- can still only do so much.
That's why CGI matters. It fosters thousands of unexpected, informal, and cross-sector discussions each time it convenes a meeting. I personally have left each CGI meeting with at least 10 meaningful new contacts and having experienced at least 10 "a-ha" moments -- moments where I learn important facts or ideas that I'd never heard before, despite being a pretty well-connected and well-read individual. That exposure and dialogue, which includes but isn't limited to the "usual suspects," is in my opinion the greatest value of CGI.
And the results speak for themselves. Through convenings such as the CGI America meeting to strengthen the domestic economy, the CGI University meeting for college students and the main CGI Annual Meeting timed to coincide with the U.N. General Assembly, CGI members have developed and launched more than 3,400 commitments on topics ranging from food security to literacy to women's empowerment over the past decade. These commitments are now improving the lives of more than 430 million people in more than 180 countries.
Successfully doing this, year after year, requires that bias and conflicts of interest are minimized and that operations are conducted in a transparent manner. In my experience, the Clinton Foundation, which is the parent organization of CGI, has done just this. For example, President Clinton always clearly discloses his own biases or points of view before engaging in public debate with a session participant. And the Clinton Foundation discloses all donors, CGI members and sponsors on a quarterly basis. This is in part why it has been recognized by multiple third party charity evaluators, including GuideStar and Charity Watch for its "commitment to data transparency" and "for keeping its overhead and fundraising costs low."
Of course, these days, this high degree of transparency combined with the Clinton name, is also inviting intense scrutiny and even some criticism. Even though I understand the need for such scrutiny, I think the critics are really missing the point.
The heart of CGI is smart people, with good intentions, committed to partnering in new ways in order to accomplish valuable and life-saving work for those in need - humans, animals and the planet. Why not simply applaud both the work that's being done and the fact that it's even possible in the first place?
Sensational headlines may get attention but I'm less interested in headlines than trendlines - many of which are now moving in the right direction. I would ask that if we really want to scrutinize something, we scrutinize all the life-changing work CGI has done and it's all too rare ability to bring people together to make the world a better place. Why? Because we need even more of that, not less.
Popular in the Community