As a new business owner, I know firsthand the challenges entrepreneurs face. However, as I look around at the business community, I notice there aren't a lot of people who look like me.

The Center for Global Policy Solutions, a national non-profit, is examining the issue with the release of "The Color of Entrepreneurship: Why the Racial Gap among Firms Costs the U.S. Billions." The report found that closing the racial gap in privately held firms with employees would add 9 million jobs and $300 billion in worker income to the U.S. economy.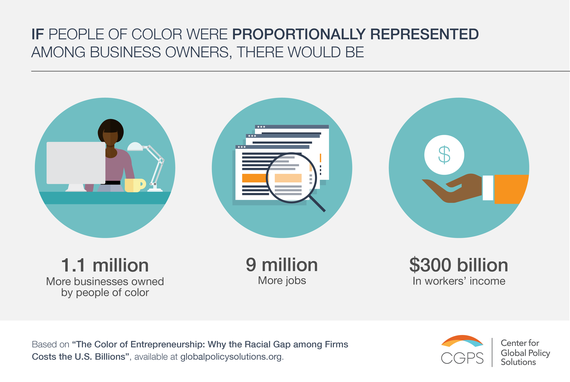 "The economy at large suffers as a result of the underrepresentation of people of color among business owners with employees relative to their share of the labor force," said Algernon Austin, the report's author and a Senior Research Fellow at CGPS. "Interest in entrepreneurship among people of color is quite strong, but access to the resources to do it successfully is often a challenge. If we help create the economic and social circumstances for these individuals to start and grow their businesses, society overall can benefit from more jobs, less poverty, and greater economic output."
According to the report, among the factors that lead to business success are existing family wealth that can be invested as startup capital, work experience in a business owned by a family member, college education, and being foreign-born.

For me, the road to opening my own business was a venture decades in the making. I had a number of things working to my advantage: The fact that I was born in Guyana, graduated from college, had the opportunity to work with my parents in their real estate ventures, and benefited from their generosity in providing me with 50 percent of the down payment for my first investment property. These all created the perfect storm to increase the likelihood I would be successful as an entrepreneur. Lucky me!

But what about those that aren't so "lucky"? "The Color of Entrepreneurship" uses data from the U.S. Census Bureau's Survey of Business Owners to examine changes in the economic status of privately held businesses owned by people of color during the depths of the Great Recession, between 2007 and 2012. It presents findings by race, ethnicity, and gender, and offers policy recommendations to expand access to entrepreneurship, including:

• provide a tax credit to promote venture capital investments in minority businesses;
• provide a tax credit for new low-income entrepreneurs; and
• encourage the use by credit rating agencies of alternative data such as rent and utility payments in establishing credit histories.

The report explores average annual sales, average annual pay per employee, number of paid employees, the firms that have added jobs and those that have lost jobs between 2007 and 2012.

Additional key findings include:

• Non-white businesses with employees added over 70 percent of the total 1.8 million jobs created by privately held businesses between 2007 and 2012.White-owned privately held businesses employed 51million people in 2012, which was about 2.5 million less than in 2007.

• Asian American women's firms had the strongest numerical growth--37.6 percent.

• Black women's firms had the largest decline in average annual sales--30 percent.

• Among firms owned by men of color, black men were the only group that registered a decline in the number of businesses--2.3 percent.

• Among businesses of color, average sales grew most for Latino men's firms--7.2 percent.
The release of the report kicks off the 2016 Color of Wealth Summit, comprised of the 3rd annual Asset Builder Champion Awards (ABC Awards) on the evening of April 20 and "Inclusion Revolution: Race, Economic Mobility and the Future of America," which is free and open to the public (click here to register), on April 21. The ABC Awards will honor U.S. Representative Maxine Waters; Pitzer College President-Elect Melvin Oliver; First Nations Development Institute President Michael E. Roberts; and Highlander Research and Education Center Board Member Meizhu Lui for their significant contributions to addressing racial wealth disparities nationwide.

"Inclusion Revolution: Race, Economic Mobility and the Future of America" will convene leading policymakers, business leaders, entrepreneurs, academics, the media and public in dialogue about the racial wealth gap and solutions for strengthening entrepreneurship and economic development in communities of color.

In addition to panels on "Banking on Business to Close the Racial Wealth Gap: Strengthening Entrepreneurship in Communities of Color" and "Equity-Centered Development: Inclusive Strategies for Building and Improving Low-Income Communities," the day will feature "Sharkathon: Chewing Over Innovative Ideas for an Inclusive Economy," an interactive session of entrepreneurs with ideas to bring vulnerable populations into the financial mainstream and business leaders ("sharks") who will vet the ideas and offer an insider's perspective on what makes a proposal investment-worthy. One Sharkathon winner will receive a $10,000 planning grant generously provided by the JPMorgan Chase Foundation.

As far as I'm concerned, the "color" of entrepreneurship should be as vibrant as the rainbow that makes up America and clearly moving in that direction will pay off for us all.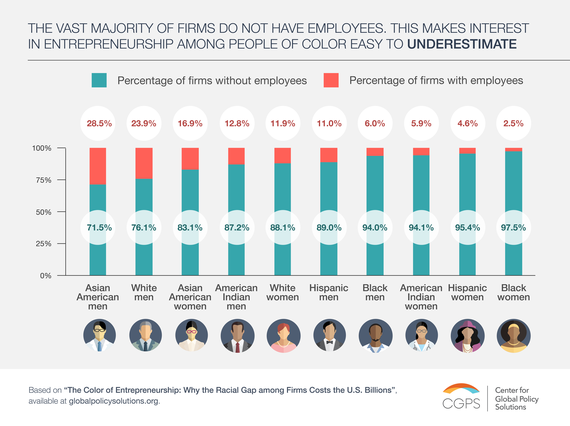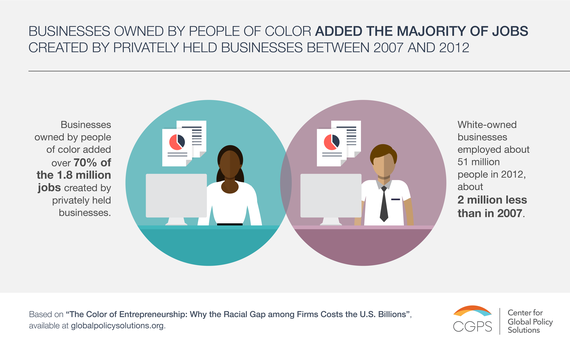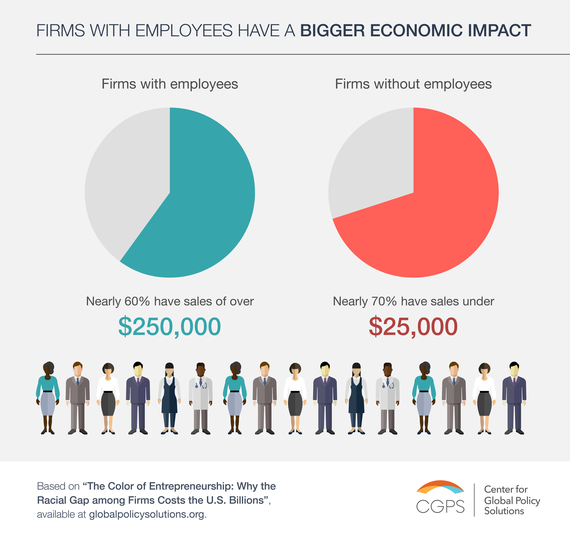 REAL LIFE. REAL NEWS. REAL VOICES.
Help us tell more of the stories that matter from voices that too often remain unheard.