When we describe the vision and the mission of Schools for Sustainability, Inc. (S4S) we frequently get a response that is something like, "Of course, what a great idea! Why hasn't someone thought of that already ?" And then we frequently get the question, "Why the Dominican Republic?"
Schools for Sustainability, Inc. envisions sustainable high schools all over the world. Each school will adapt to it's environment. Schools in the Sahara, Haiti, and Israel will employ ingenious sustainable farming and water harvesting methods as they are desert environments. Schools in urban areas will utilize rooftop and vertical gardens as space is the major challenge.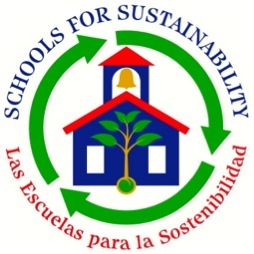 With that said, the first school will be in the Dominican Republic (DR). The first and simplest answer to "Why the Dominican Republic?" is that we have immense cultural capital in the DR. A number of our team members are Latino or Afro-Caribbean in their cultural origins, and several team members speak Spanish fluently. Beyond that we have excellent social and political contacts in the DR. For instance, we were fortunate enough to meet and make a good impression on former President of the Dominican Republic, Leonel Fernández.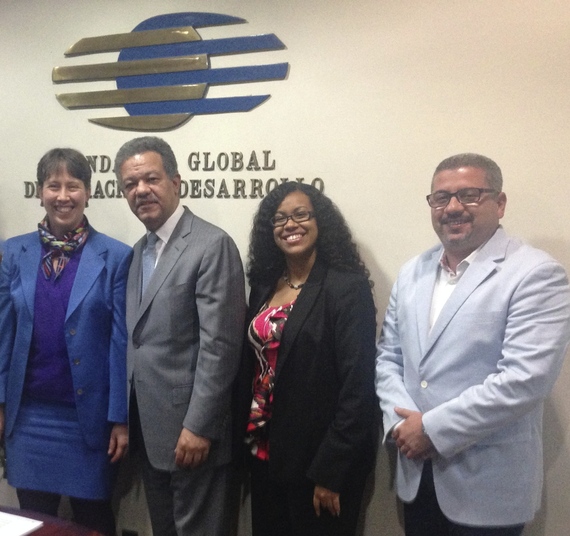 Adrienne Redd (Schools for Sustainability, Inc. Advisor), Leonel Fernandez (former President of the Dominican Republic), Alyssa Ramos-Reynoso (CEO of Schools for Sustainability), and Cesar Fernandez (Engineer and Advisor to Leonel Fernandez)
The second, and most important reason for our service, is Schools For Sustainability, Inc's passion and drive to decrease the root causes of economic, social, and cultural poverty that we believe are residual effects of historical colonialism across the world. As children, many of us learned the sing-song rhyme, "In fourteen hundred ninety-two, Columbus sailed the ocean blue..." Few have thought about how the world was turned upside down and never righted again because of that particular instance of European contact with the New World.
The first Christian church and the first paved street in the Americas (Calle de las Damas, laid in 1502) and many other firsts can be found on the island of Hispaniola, of which the DR occupies the eastern half. The DR is a living, breathing museum of the history of the contact between dominators and exploiters with indigenous people.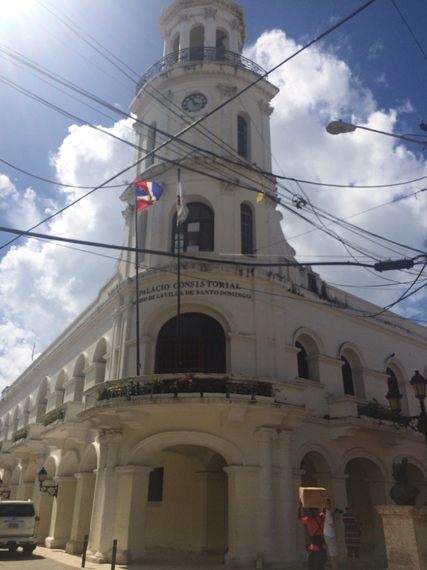 Part of Schools for Sustainability, Inc.'s long-term aim is to shine a light on the roots of poverty, climate change, and inequalities in public health, via education.
Our schools will address poverty as our students will have skills that will enable them to obtain better paying jobs or to build their own businesses.
Our schools will mitigate climate change by teaching sustainable practices about water collection and purification, food production, waste management, and energy generation.
Our schools will improve inequalities in public health because according to the United Nations when communities have access to food, water, shelter, and economic opportunities the public health of the community as a whole improves.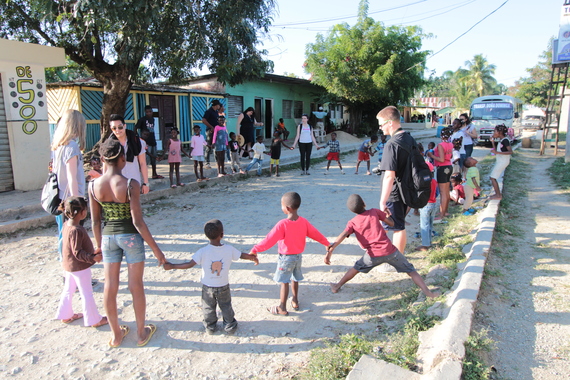 Schools for Sustainability, Inc. (S4S) volunteers playing with the future S4S students once the school is built, after we spoke with their families about their major challenges and needs.
Another reason for selecting the Dominican Republic is that it is on an island. The island and the spaceship became important metaphors for the need to care for our resources, not pollute and squander them. In a very real and practical sense, islands like Hispaniola must conserve their soil, utilize their waste residues, and protect their water. And in a symbolic sense, islands must set an example for the rest of the planet. And on an island, or a spaceship or a planet, we must all be part of care for our resources. As Marshall McLuhan said, "There are no passengers on spaceship earth. We are all crew."
When we talk about this project - of having students at a school feed themselves and manage their own resources, people ask if it is possible. The reply is that 1,000 years ago feudal estates fed themselves and managed their own resources; and didn't have anaerobic digesters, or solar panels or many of the other technological advances of the past millennium.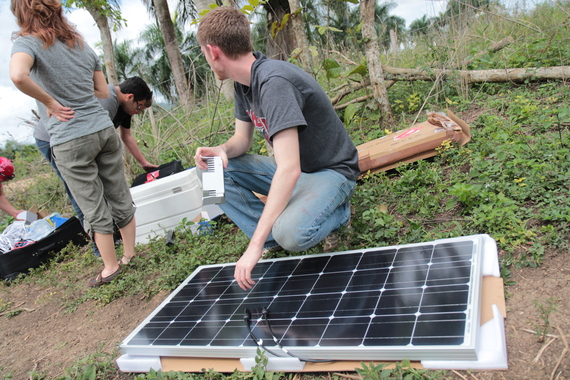 S4S volunteers installing a solar panel to the aquaponic unit built. This system will provide fish and vegetables without waste.
The Taino people, the native inhabitants of the DR, were among the first to use aquaponics. Not having refrigeration, they created ponds fed by fresh water, and stocked them so they had easy access to fish. This is why the first project S4S built was an aquaponic unit with Arcadia University volunteers. In selecting the Dominican Republic for our first school, we honor and follow the example of the peaceful and innovative Taino, who were driven into extinction by Columbus. They were gone 50 years after he arrived on the island. We pay homage to the Tainos by doing more with less.
This article was co-written by Adrienne Redd, former Schools for Sustainability, Inc Advisor.
REAL LIFE. REAL NEWS. REAL VOICES.
Help us tell more of the stories that matter from voices that too often remain unheard.